November 2000: I am the way
an advent labyrinth. photographs here
If Christ is the Way, then the way is also the destination; therefore this labyrinth had no centre except a blood-red cross of tape, and could be walked in either direction. The items and texts about Christ's life were placed on it at random. these included a sleeping bag with a poem; a wooden cross with nails to hammer in; an illuminated globe; a cup of wine vinegar [unmarked, to surprise those who drank it!].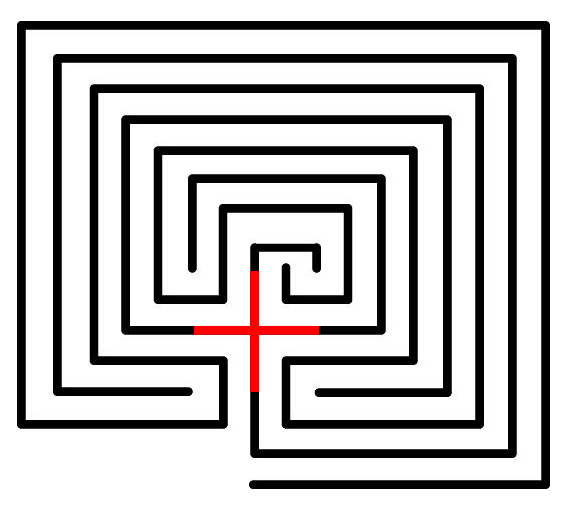 Labyrinth design for 'I am the Way', taped on the Polygon floor including the central cross in red tape.
the handout read:
The Way
'I am the Way, also the truth, also the life. No one gets to the Father apart from me'
Labyrinths were a feature of many medieval cathedrals - one of the best remaining examples is found in Chartres Cathedral in northern France. They are marked out on the floor, but unlike a maze have only one path - there are no dead ends. People walked the labyrinth slowly as an aid to contemplative prayer and reflection, as a spiritual exercise, or as a form of pilgrimage.
The inspiration for tonight's labyrinth is Jesus' words "I am the Way". It's a unique design for tonight that just has a path. There's no centre you're headed to. The point is simply to be on the Way.
There are various prompts on the labyrinth loosely connected to the theme to help you reflect and pray. But the main focus is the path itself, the Way, the road. Take your time, walk slowly, there's no rush, savour the journey. Sometimes we can get overly focused on doing. Tonight focus on being, being yourself, being with God, being on the Way, following the Way. You don't have to do anything - just be.
There's a cafe at the back where you are welcome to sit before or after walking the labyrinth.
'The key to finding your way is to trust the road. Don't leave it when it goes through hard places. Return to it when the wonders of some sight have drawn you aside. When it winds back on itself, there is a reason. There are no shortcuts to be taken, no helicopter rides to lift you out of trouble. The road has its own wisdom and the followers of it eventually arrive at their next destination with many new stories to share.' (from Godzone)