Labyrinth / Saturday 8th January
Another movie of the labyrinth, shot on Mike Rose's mysterious new camera - we were all wondering what it was doing.
---
Labyrinth / Saturday 8th January
A couple of movies of the labyrinth. The church heating was not on so we kept our coats and hats on! Our feet were cold after walking the labyrinth in socks. The cafe in the Polygon was thankfully nice and warm afterwards.
---
Labyrinth / Saturday 8th January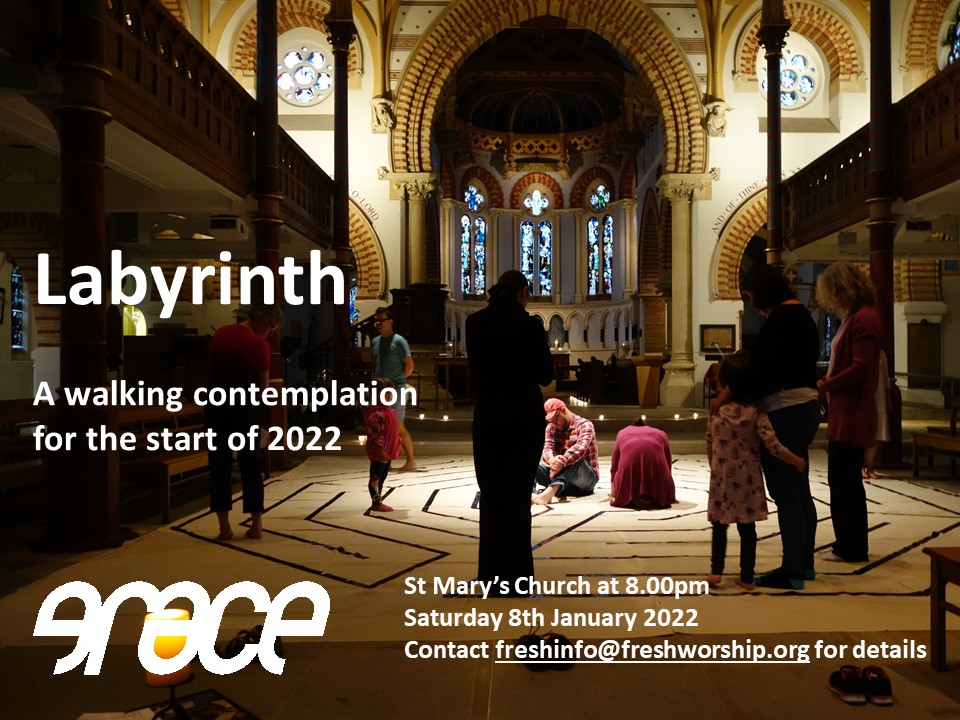 We start the new year walking the labyrinth – a prayerful space where we can reflect on the past, connect with God and look forward to the opportunities and challenges of the year ahead.
There will be a café afterwards with space to catch up and relax.
---
Nine archive page
The Nine archive page is here. Our first hybrid service!
The slideshow for the service (pdf version) is here. It contains most of the words and images.
The Apple Music link for the playlist is here.
The Spotify link for the playlist is here.
---
Nine / Saturday 11th December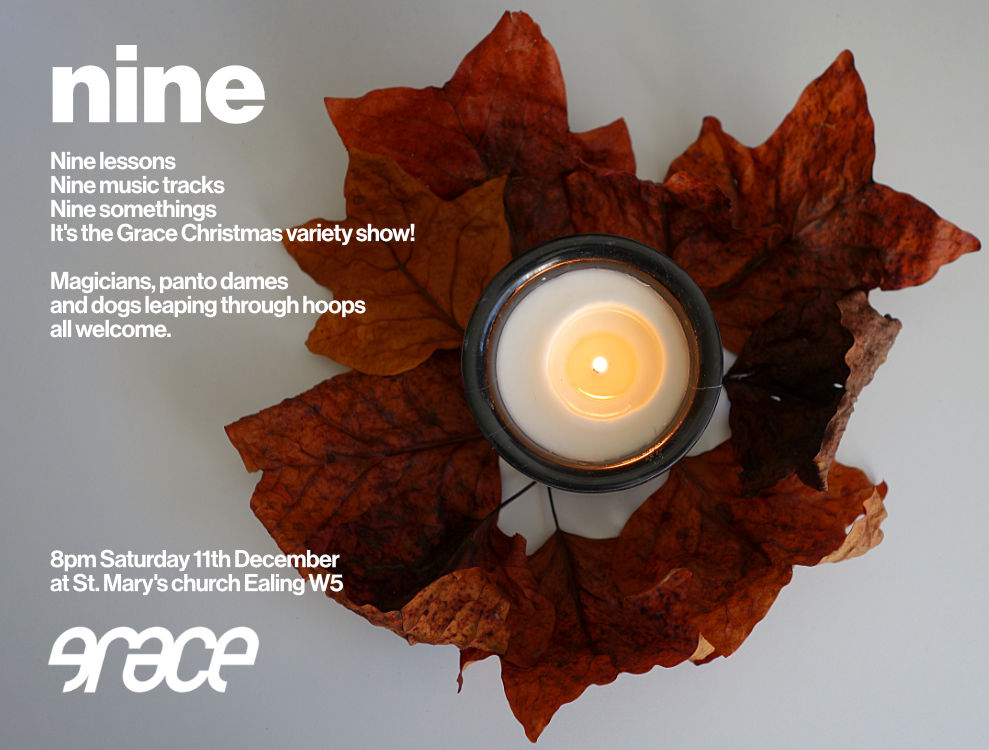 We are going traditional and are planning on doing our version of 9 readings and tunes.
Essentially 9 people or groups have a reading to 'do something with' whether this be through art, a discussion, a presentation of some ideas, an activity to complete, a sermon (unlikely) - anything goes, together with a song that you think adds something or complements the reading.
We are hoping for a hybrid event this year so that some of our Grace diaspora will be able to join us and (hopefully) contribute from wherever and whenever they may be.
Cafe afterwards with mulled wine and mince pies.
---
Wolf Fields labyrinth - marking out
In May and July we joined people from St. John's Southall and A Rocha to clear the ground for the labyrinth. In October we laid a groundsheet over the cleared area. On 18th November we marked out the labyrinth pattern on the groundsheet.
The initial setting out lines were in chalk, then we drew the pattern with white paint to survive the weather until the final materials arrive. We used black paint to correct the white paint, painting out unwanted parts of the lines and mistakes.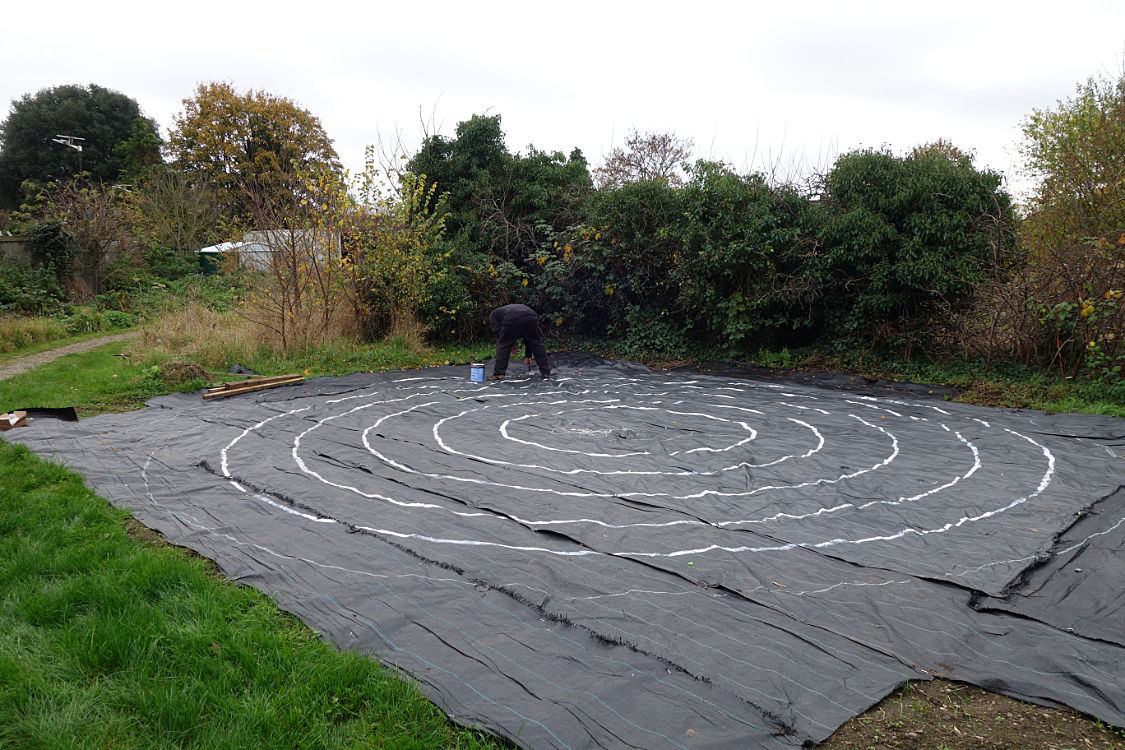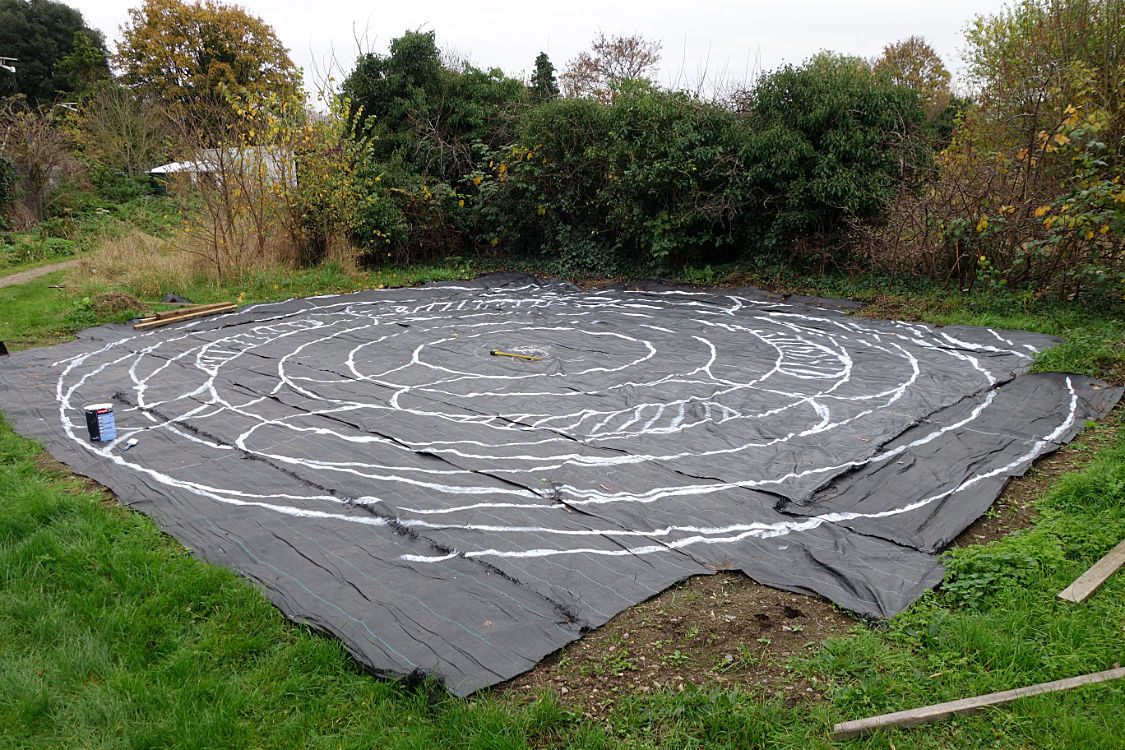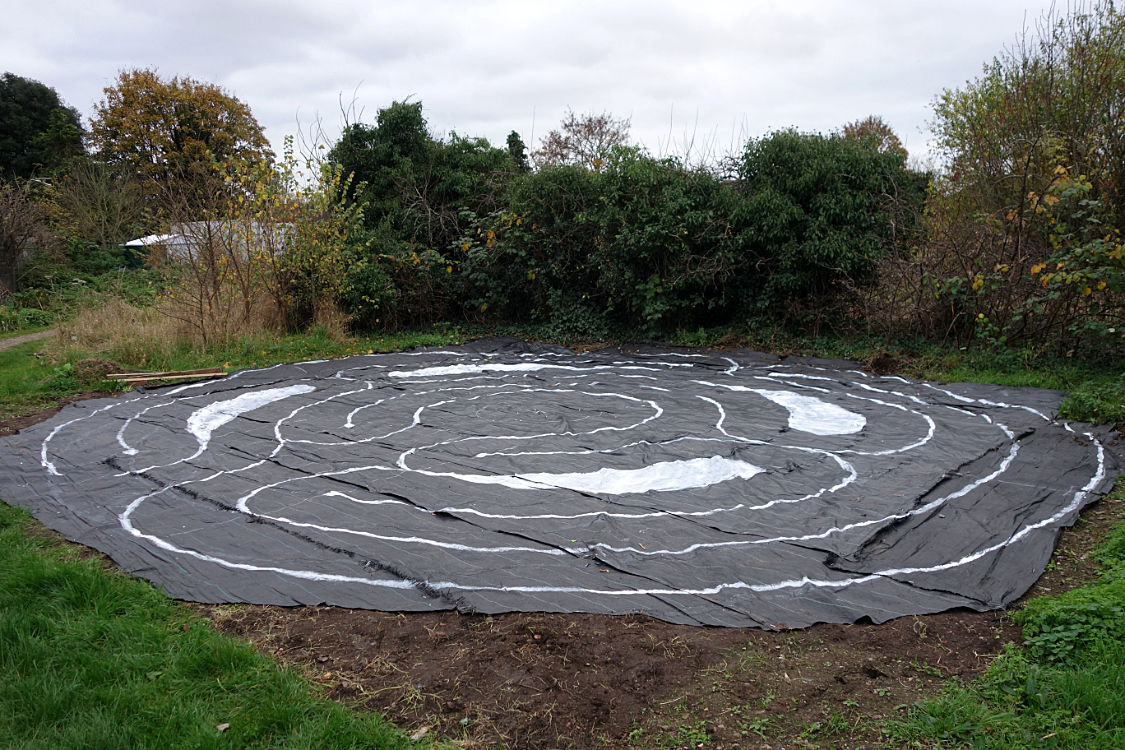 For the final construction we propose to use circular timber stakes hammered in along the lines, the tops left about 50mm above surface to retain wood chip path filling. The filled-in white shapes will be cut out for planting.
There are more photos here on Flickr.
---
Planetary Mess photos and archive
Planetary Mess in the archive here.
Photos are being added here.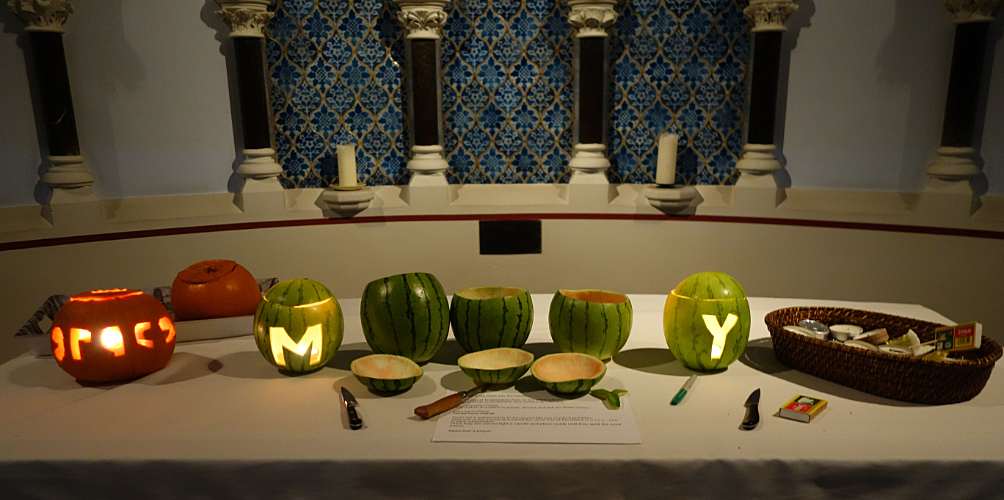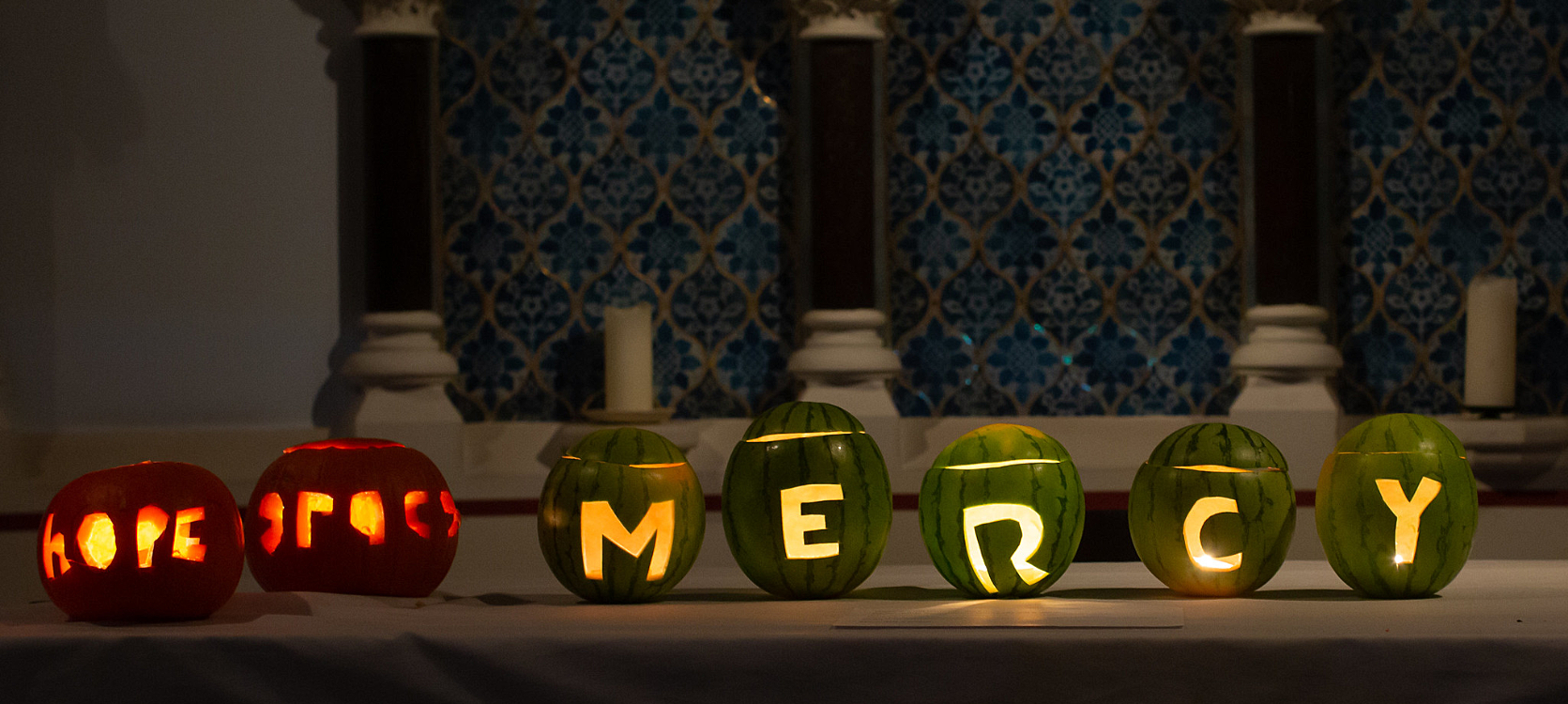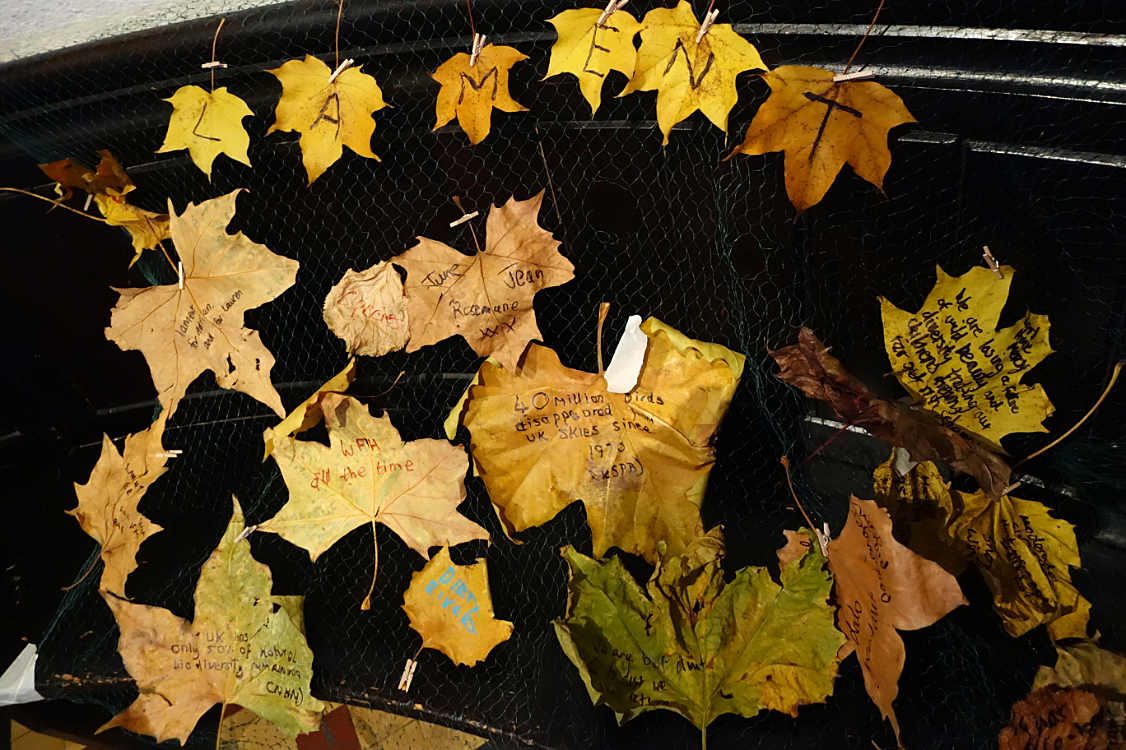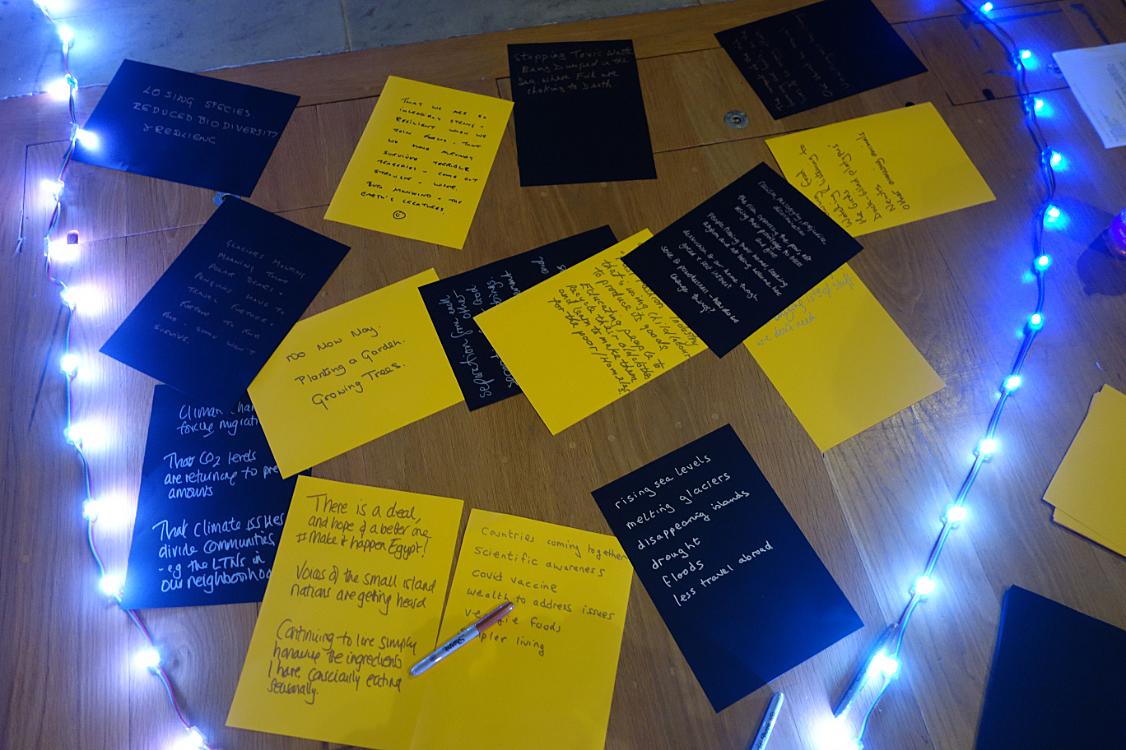 ---
Planetary Mess / Saturday 13th November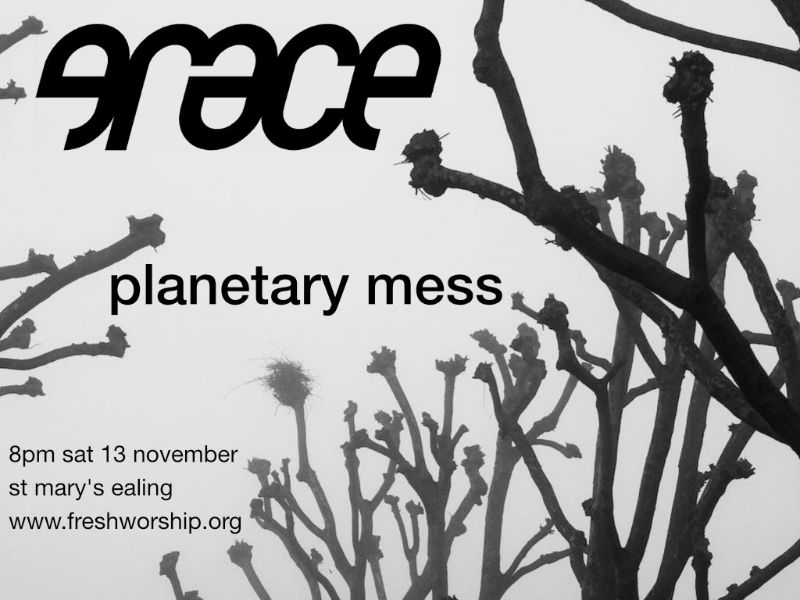 Our November Grace falls the day after COP26 ends. We will share bread and wine using the planetary mass liturgy which still feels so poignant. There will be space for prayer, lament and reflection. We'd love to see you there. A simple cafe will follow.
---
Archive now updated for 2021
The services for 2021 to date (October) have been added to the archive - see the 2020-21 and 2021-22 sections here. The 2019-2020 services have also had much material added, eg Advent, Labyrinth, Space, so dig around.
Also the March 1999 lent eucharist - this was probably a Gracelet, but a significant one.
---
Embers / Saturday 9th October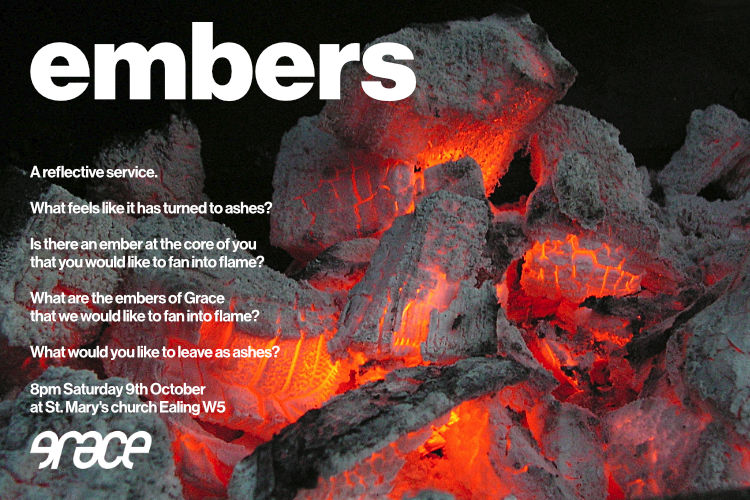 A reflective service inspired by Jon Hopkins' track 'Sit around the fire'.
It feels like the past two years have left many things burned out and reduced to ashes, but among the ashes may be embers that can be nursed into flame again.
What for you feels like it has turned to ashes? Is there an ember at the core of you that you would like to fan into flame? What are the embers of Grace that we would like to fan into flame? What would you like to leave as ashes?
Join us at 8pm in real life at St Mary's Ealing.
Café afterwards, possibly with burnt offerings.
---
Gracelet / Autumn dates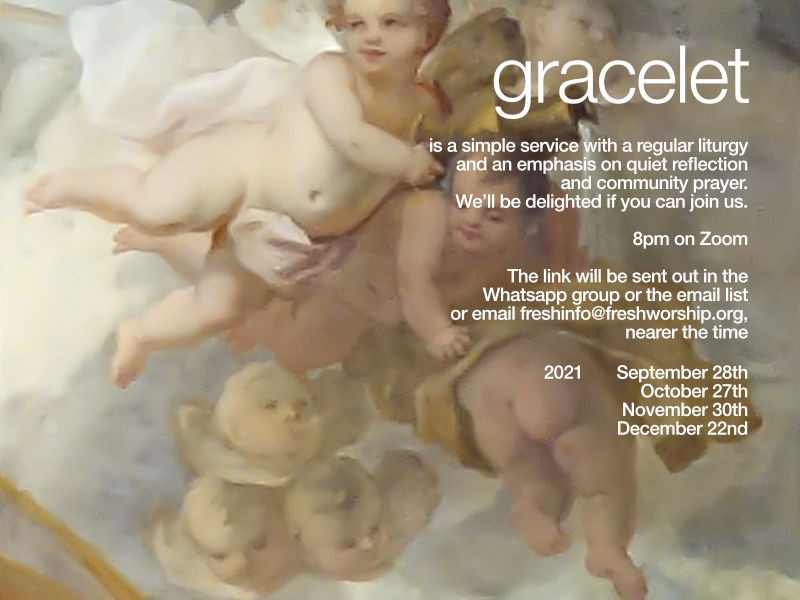 Gracelet is a simple service on Zoom, with a regular liturgy of quiet reflection and community prayer. We found it valuable during lockdown so we are continuing it even though the main services are back in the church.
Gracelet is in the fourth week of every month, alternately Tuesday or Wednesday. A flyer is above, and the dropdown menu at the top of the page has the dates also. 8pm unless otherwise noted. The Zoom link will be sent out in the Whatsapp group or the email list, or email freshinfo@freshworship.org nearer the time.
---
Unlocked / Saturday 11th September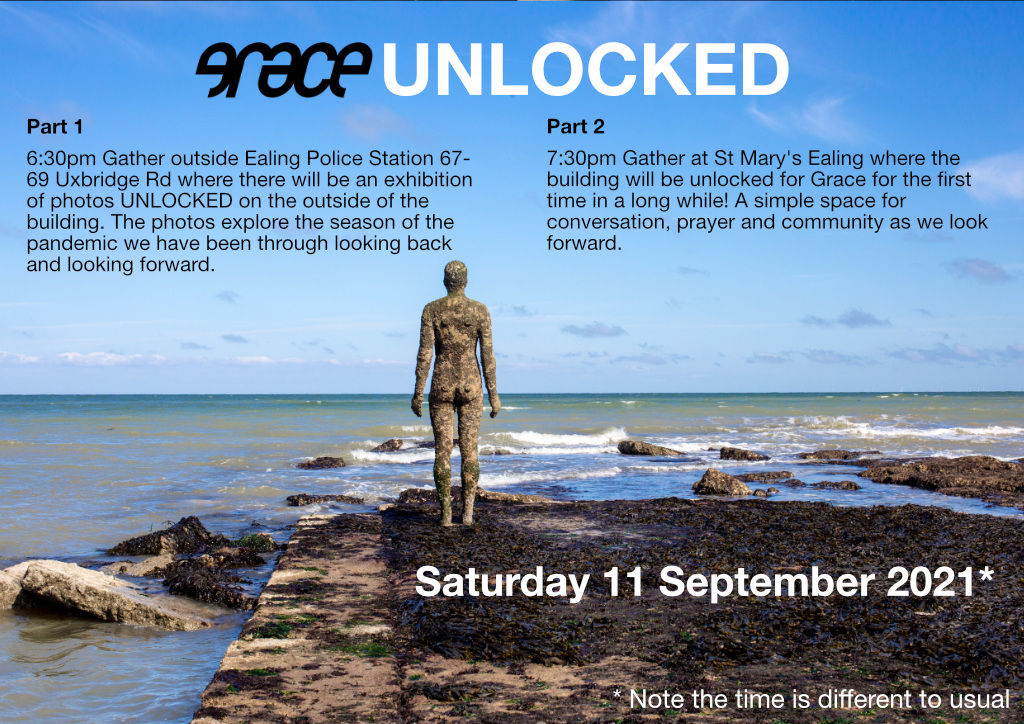 At the start of a 'new year' for Grace, we return home to St Mary's church after a long absence.
However, we are going to meet earlier than usual, 6.30pm outside Ealing police station, 67-69 Uxbridge Road W5 to spend time at a photo exhibition. We will walk then down to St Mary's where we will gather from 7.30pm.
---
Labyrinth work party & barbecue / Saturday 10th July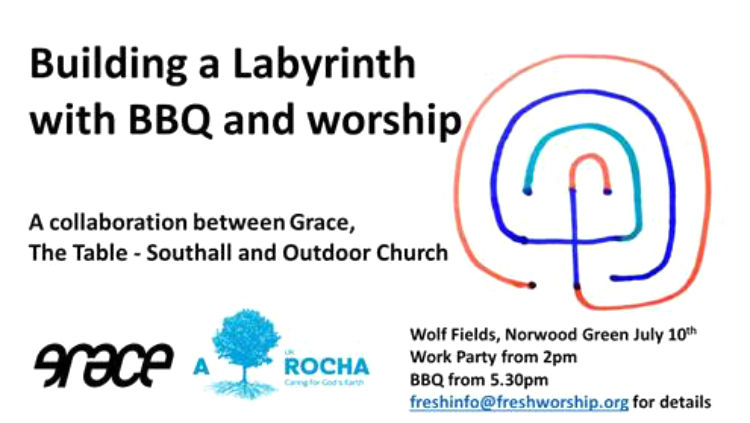 Many of you joined us a couple of months back for a work party at Wolf Fields to help Idina from St Johns Southall and a team from A Rocha to start building a labyrinth. We are steadily making progress. We hope to get confirmation this week as to Deanery funding to support for the project, we have also been working on some designs to fit the available space that we hope to share soon.
The next steps are to continue clearing the existing space. We made great progress last time and many thanks to those who were able to help. Now that we have cleared a lot of the rubble we need to finish clearing the brambles and also to dig out more of the rough ground and fill the pot holes that a couple of us "accidently" discovered last time.
We are therefore planning another work party jointly with the group from 'The Table' and the 'Outdoor Church' this Saturday 10th July starting at about 2pm and then finishing with a BBQ and a simple service led by the 'Outdoor Church Group' from around 5.30pm. Contributions of food and drink would be appreciated.
If you would like to join us for either the BBQ or the work party please drop an email freshinfo@freshworship.org .