Turn - Saturday 10th February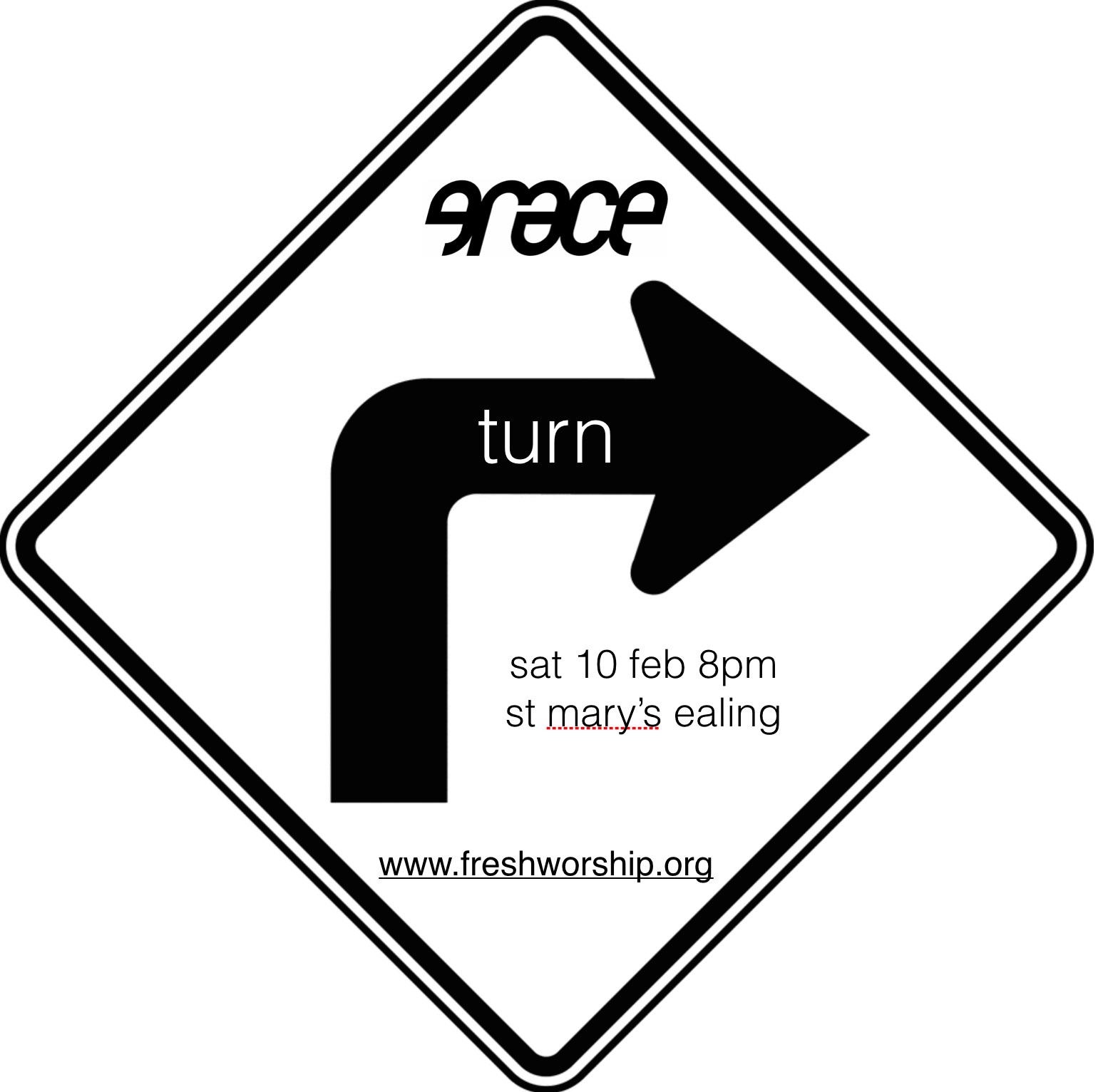 Join us at Grace on February 10th for the first of two services exploring the themes of Lent. Themes for both are taken from words in the Ash Wednesday service 'turn away from sin and be faithful to Christ'. First up is 'turn' - face down your vices and join us in Grace's very own 3 step programme.
Followed by Grace café which will be serving up pancakes.
---
New Year - Saturday 13th January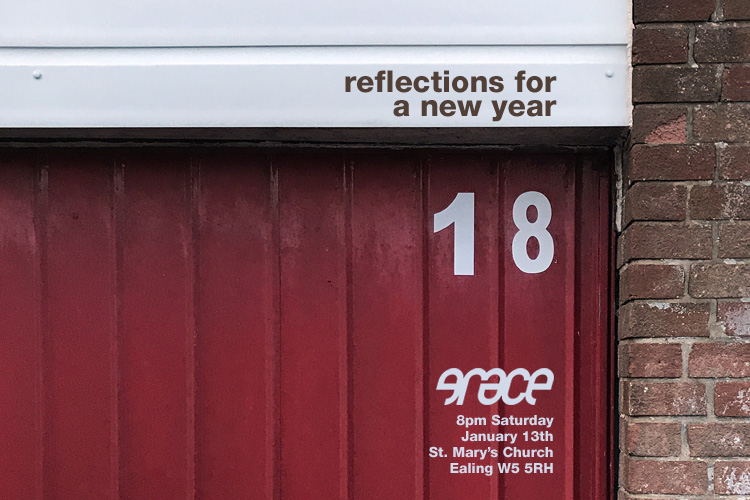 All are welcome to join us for a reflective service to start the new year. Café afterwards as usual.
This photo ended up on Flickr's main feed on New Year's Day for some reason - the only photo with the number 18 perhaps! 2000 views in a couple of days. 18 is just the garage number - I didn't realise it was the year until afterwards.
---
Get ready! - Saturday 9th December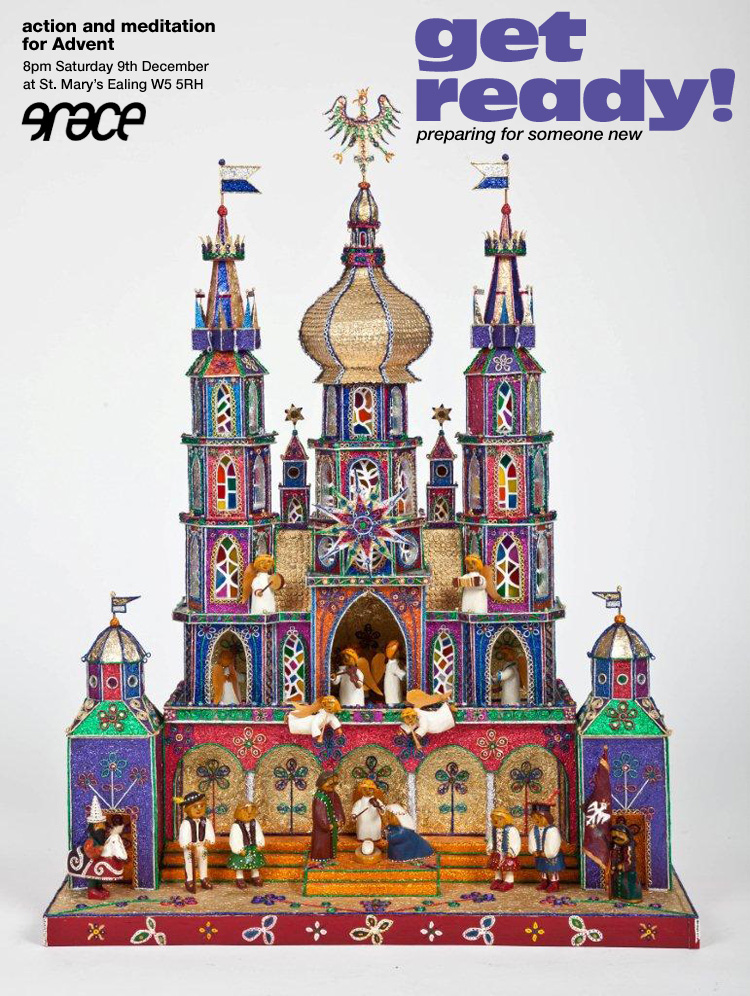 This is a szopka - a traditional nativity scene from Krakow. Join us for an evening of making and meditation for Advent.
---
For Goodness' Sake! - Saturday 11th November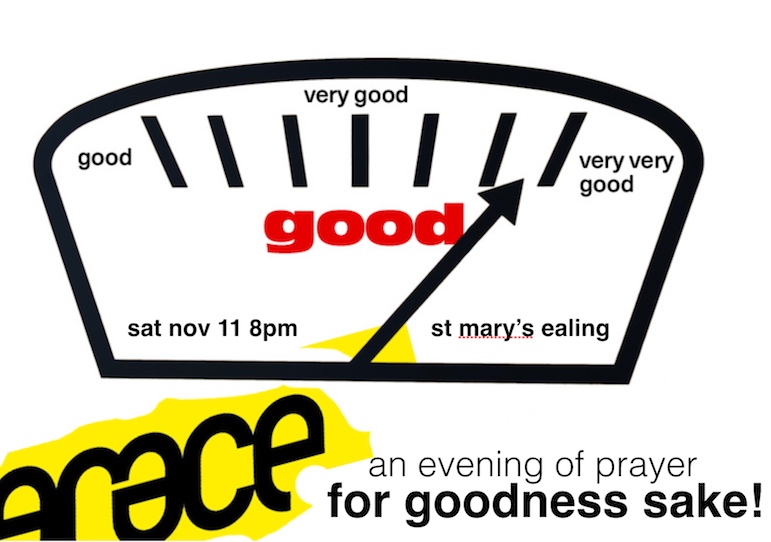 Join us for an evening of prayer for good in our lives, our city and our world.
---
Come wander - Saturday 14th October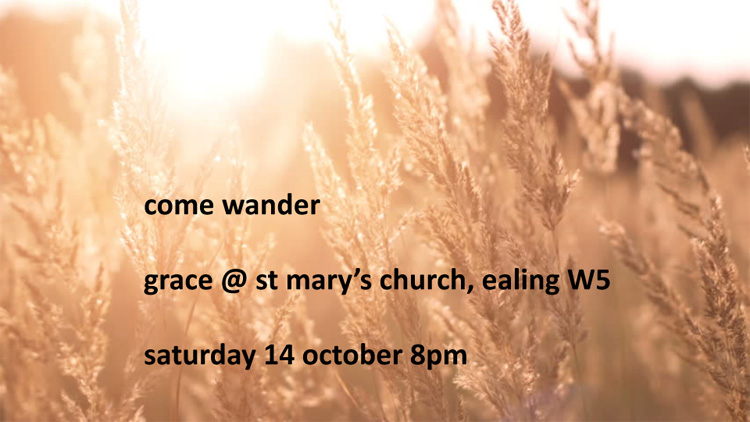 When we travel, wander or roam, what do we bring back with us? All welcome to join us for a eucharist and cafe afterwards.
---
Tag - Saturday 9th September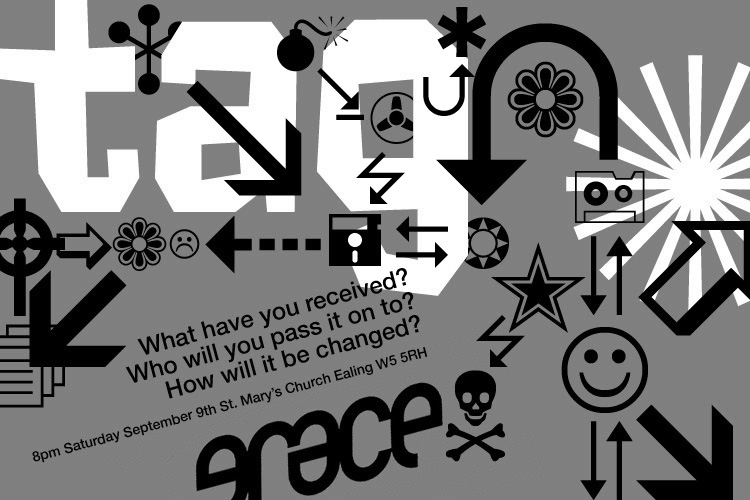 Tag is a photographic exhibition by Ealing London Independent Photography group.
Tag is a game where one person tags another, only this time played with photographs. Each photographer responds to the previous image creating a chain reaction of connected images. The results will be displayed in St Mary's Church during the Borough of Ealing Art Trail (BEAT) September 6th - 16th.
The exhibition will form the setting for Grace on the evening of Saturday 9th September, so we will pick up the theme and run with it - in a meditative kind of way!
What have you received - from God, the Church, other people? What do you want to pass on? How will you change it as you pass it on?
The exhibition will also be open to the general public:
Mon-Thurs 9:30am-5:00pm
Fri 9:30am-8:00pm
Sat 11am-6:00pm
Sun 12:00noon - 6:00pm
---
BBQ - Saturday 8th July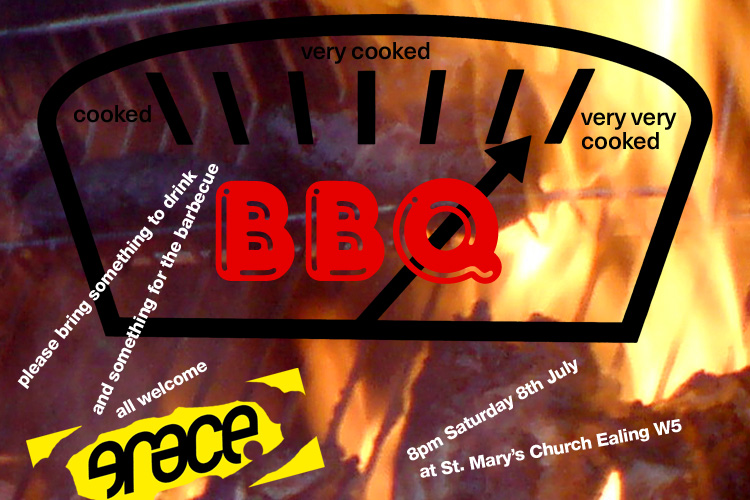 Time for the summer barbecue again! All welcome - please bring something to drink and something for the barbecue. It will be helpful if you can let us know that you're coming via info@freshworship.org, so we have some idea of numbers.
---
Good - Saturday 10th June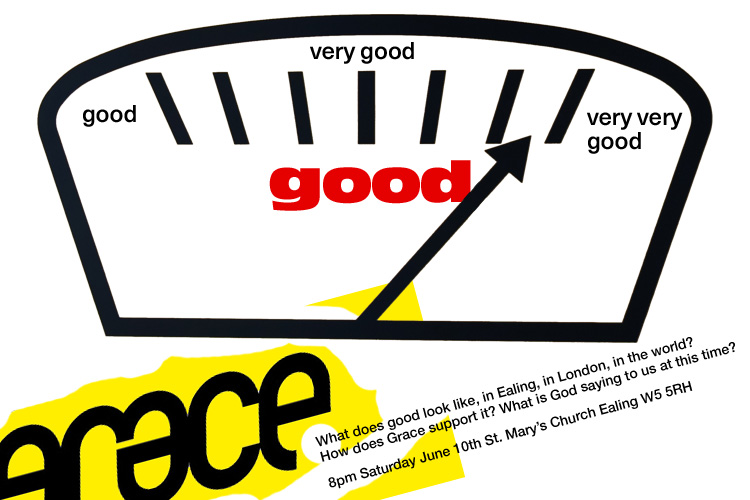 Jeremiah 29:7: Work for the peace and prosperity of the city where I sent you into exile. Pray to the Lord for it, for its welfare will determine your welfare.
Proverbs 11:11: Good people bless and build up their city, but the wicked can destroy it with their words.
What does good look like, in Ealing, in London, in the world? How does Grace support good and how do we support one another as we do good? What is God saying to us at this time? Join us for Communion, conversation and prayer.
---
Retreat - Saturday 13th May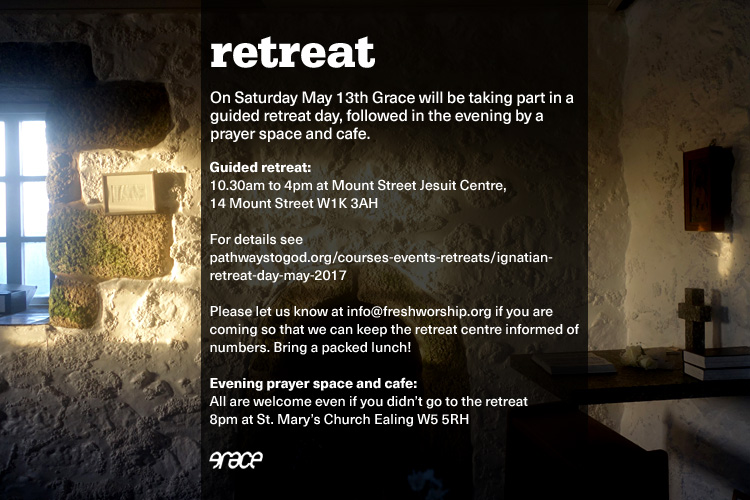 At last year's planning day we came up with several aspects of community life to reflect on, one of which was the value of pilgrimage and retreat. So for Saturday 13th May we will take part in a day retreat 10.30am - 4pm at the Mount Street Jesuit Centre in the West End. For details see here. All are welcome to join us, but it will be helpful if you can let us know that you are coming so we can keep the Centre informed about numbers. The retreat is open to all comers so it may not just be Grace people there. And please bring a packed lunch!
In the evening we will run a quiet prayer space in St Mary's from 8pm, alongside the cafe. You're very welcome to join us even if you weren't at the retreat.
---
Easter Dress Rehearsal - Saturday 8th April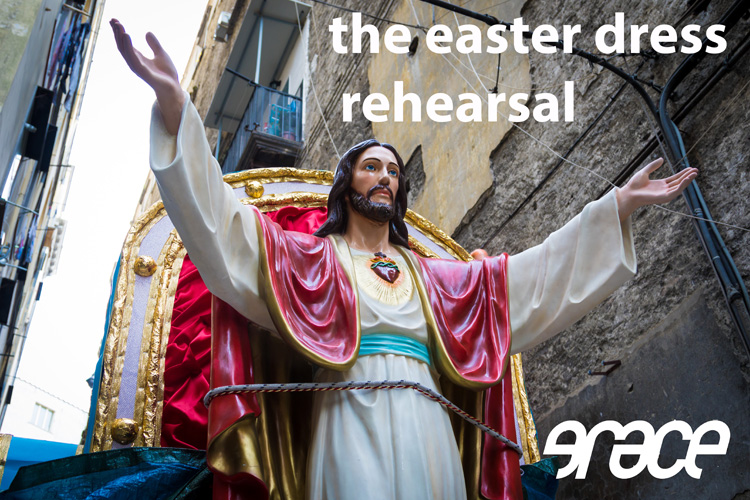 Join us at Grace for an Easter Dress Rehearsal - an opportunity to reflect on some of the themes of Easter in advance.
---
Beloved - Saturday 11th March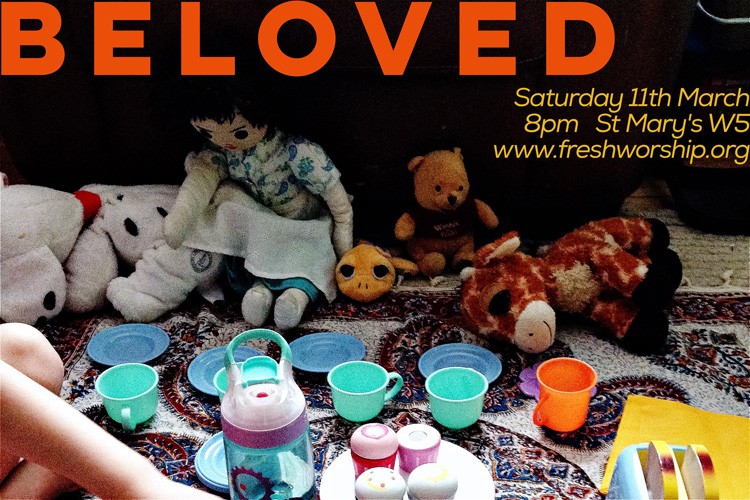 You are beloved. Will you be loved?
Join us to think about how we are loved by God and what holds us back from accepting that love.
Saturday March 11th, St Mary's Ealing, 8pm
---
Unwelcome - Saturday 11th February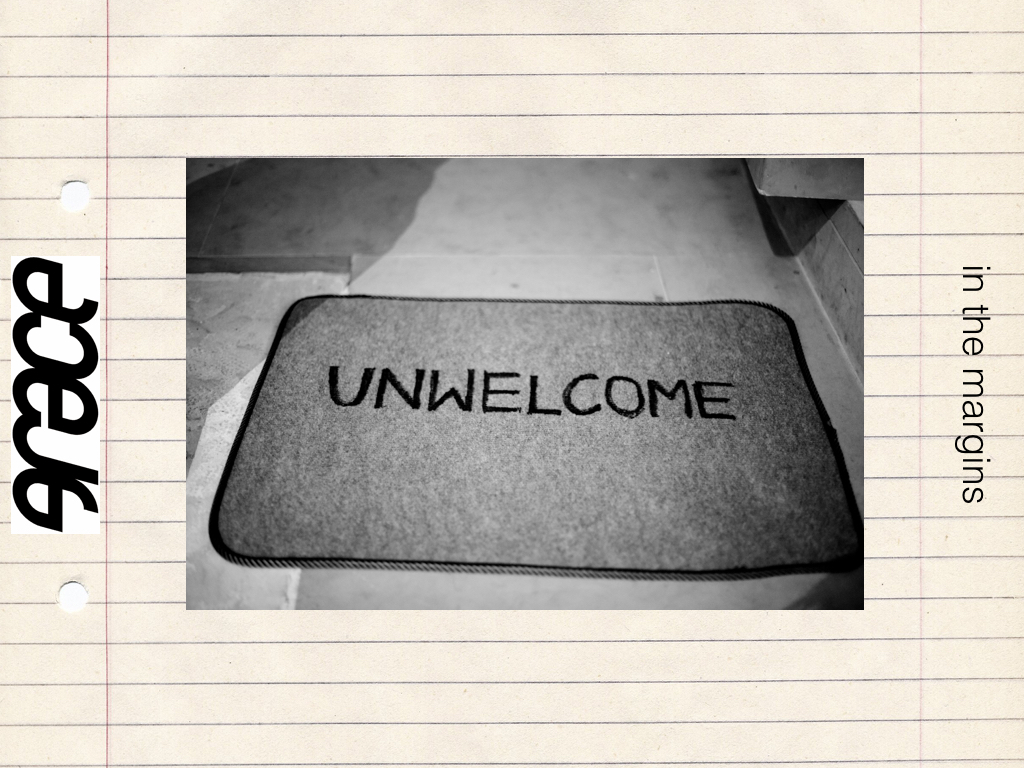 In light of the mood of escalating unwelcome for those in the margins in Britain and the USA, February's Grace will be a space to revisit the story of Jesus and see what light that might shed on how we might respond. Bring your troubles, questions, conversation, anxieties and prayers. There is room round the Grace table.
Saturday February 11th, St Mary's Ealing, 8pm
---
Progress - Saturday 14th January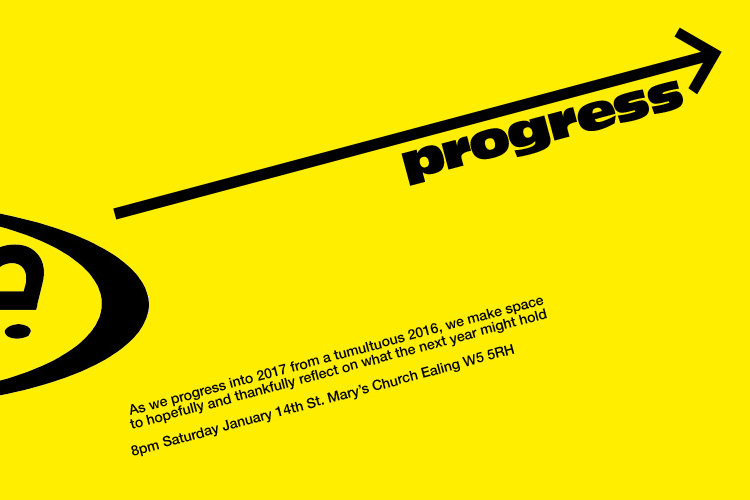 Join us for the first service of 2017, in hopeful and thankful reflections as we step into a new year.