April 2010: Low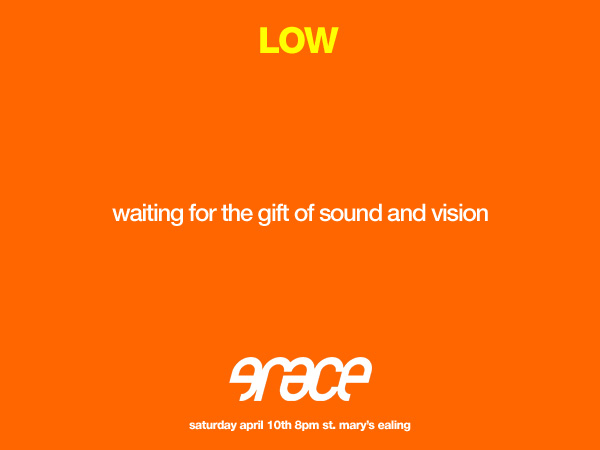 the sunday after easter is traditionally called 'low sunday', not as is often thought in relation to the 'high' feast of easter but as a corruption of 'laudes', latin for 'praises'. it is also the day when the story of 'doubting thomas' is told [john 20:24-29]. this service explores the story of thomas, and how we believe what we believe.
setup:
church is dark with low lights
grace brazier from easter vigil - in middle - not lit - just full of ashes
images on big screen
1. welcome and introduction [steve]:
explanation about 'low sunday'
2. volunteer reader - first passage:
Now Thomas (called Didymus), one of the Twelve, was not with the disciples when Jesus came. So the other disciples told him, "We have seen the Lord!"
But he said to them, "Unless I see the nail marks in his hands and put my finger where the nails were, and put my hand into his side, I will not believe it."
3. meditation:
congregation watch slideshow
backing music - 'subterraneans' by david bowie from 'low'
4. volunteer reader - second passage:
A week later his disciples were in the house again, and Thomas was with them. Though the doors were locked, Jesus came and stood among them and said, "Peace be with you!" Then he said to Thomas, "Put your finger here; see my hands. Reach out your hand and put it into my side. Stop doubting and believe."
5. volunteer to bring paschal candle up to beside the brazier and light it
slide on screen reads:
put down all your weapons
let me in to your open wounds
music - 'prologue' and 'weapons' by son lux from 'at war with walls and mazes' - track faded out halfway through
6. real and fake quiz:
big letters 'true' and 'false' hung from line slung across church. questions appear on screen - people stand under the letters according to whether they think the answer is 'true' or 'false'. the answer is then revealed on screen.
zoe to compere
7. people believe what they want to believe:
'people believe what they want to believe' slide on screen [steve]
jackie to introduce
play clip from 'catch me if you can' [steve]:
the scene where dicaprio arrives at a new school and starts teaching french, and everyone believes that he is a french teacher when he is in fact a pupil!
get people into groups of 4 or 5
hand out profiles from 'christian connection' dating site - which are real people and which are fake?
plus questions about how we decide if people are for real or not
people discuss in groups for ten minutes
jackie to ask people which they thought were the true ones
jackie to close section - about making those decisions - having a balance between faith and scepticism
'wise as serpents and innocent as doves'
8. volunteer reader - last part of passage:
Then Jesus told him, "Because you have seen me, you have believed; blessed are those who have not seen and yet have believed."
9. commitment:
if we have chosen to believe, we are asked, like thomas, to pass that faith on.
as a sign of our commitment, we light individual candles from paschal candle and place them in the brazier so that it glows from within again.
10. closing prayer [matt]
final track 'sound and vision' by david bowie
followed by the cafe