April 2007: Gracelet - Carbon Dreams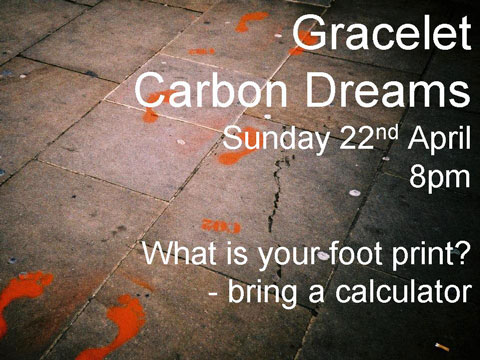 The carbon calculator used at the service can be found here.
The service ended with the following confession and non-absolution:
For failing to think of the harm done to air, water, land, plants, and animals, Lord have mercy. For failing to conserve energy, Lord have mercy. For allowing ourselves to be saturated by the allurements of a consuming culture, Lord have mercy. For not being thankful for the gifts God has given, Lord have mercy.
God is faithful and just and forgives everyone who turns to him and repents. But our sins are against our world as well as God. The world cannot forgive, because it has no voice. All we can do is to amend our ways so that we stop damaging it. We end this service not with a blessing, but with a charge to be a blessing to the world that God has given us as a gift.
See also June Gracelet - Carbon Dreams 2.