February 2015: Love that makes no sense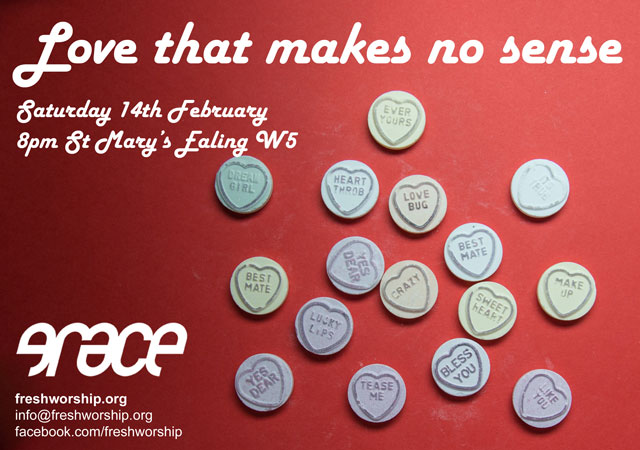 Service outline
The pews were pulled back and a small table placed in the centre for the Eucharist. We used the screen at the front of the church for images and responses.
Introduction (Sue)
Introduction to the three possible St Valentines who are marked on the 14 February
1. Valentine of Rome – priest martyred around 496 AD and buried on the Via Flaminia – said that he used to marry soldiers who were forbidden to marry during their time of service– his relics were kept in the church and catacombs of San Valentino – today see flower decorated skull in Santa Maria in Cosmedin.
2. Valentine of Terni, bishop of Interamna (now modern Terni) about 196AD said to have been martyred under the persecution of Aurelius and was also buried on the Via Flaminia. His relics are in His relics are at the Basilica of Saint Valentine in Terni
3. But there might also be another St Valentine, martyred in Africa and mentioned in early martyrologies – but nothing more is known about him.
And that's just the St Valentine's that are on 14th February there are plenty more on other days like St Valentine of Genoa whose saints day is May 3– in fact St Valentine is so elusive he has been removed from the general Roman Catholic Calendar of Saints – though he can be kept in local calendar. Perhaps it is no surprise that a saint as slippery and nebulous as St Valentine has become linked to a festival about something we often find hard to define or talk about.
St Valentine's Day seems to have been seen as a day for celebrating 'romantic' love from the middle ages but really from late 18th century it has become increasingly popular, commercial and sentimentalised with red roses, kisses, hearts, flowers and over priced restaurant meals. So we thought why not do the obvious on St Valentine's Day and have a service all about love.
Lovehearts
With a pile of lovehearts people were asked to write (in loveheart sweets) a word they associated with love. The activity was done twice.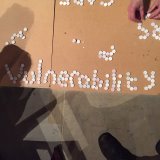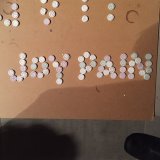 Confession (Anna)
We read the poem For Fools and Dreamers by Karlie Allaway and people were asked to do the following actions as a form of confession and absolution.
1. How do you find yourself reacting to the poem? What thoughts or feelings does it provoke? Notice them without judging them.
2. What in your life (or the life of the world) is the manure in which God is waiting for seeds? Write it down on a heart sticker and then listen for the rumour of fruit.
3. Rip it up and place it in the bowl as sign of becoming begun again.
4. Eat the rumour of fruit, and ask for God's ancient first fruit of inspired hope to make you healed and whole.
Stations
We asked four people to create stations on the following themes:
• Loving your neighbour
• Love your enemies
• Love yourself
• Loving God
Eucharistic prayer – (written by Anna Poulson)
Fools and dreamers: welcome.
Welcome to the place where God stopped looking and became desolation,
to the place where he stopped imagining and became beauty.
Welcome to the place where the one who reached into the deepest pain and fear,
the one who waited in manure,
planted seeds and began the rumour of fruit,
because the call was to love there,
to love even when hope dies and love's flame flickers in the cold wind of selfishness.
Welcome to the place where love makes no sense.
O God our Redeemer, in your mercy, save us.
Save us from the false sanity of comfort,
and from numbly knowing all the answers.
Transfigure our questions, old and new,
into the kernels of graced dreams.
Grow in us a deep rooted imagination
of creation healed and whole,
so that we will be fools and dreamers of your kingdom.
For on the night when love made no sense,
Jesus took bread, he took wine, and said
'this is my body, this is my blood, do this to remember me'.
So send your Holy Spirit upon us, fools and dreamers,
and upon these gifts of your creation,
that we too would respond to desolation by imagining beauty,
and be ready to stay in manure and wait for seeds.
In breaking this bread together, and in sharing this cup,
O God give us the grace to reach into the deepest pain and fear,
and try to love there, even when the cold wind of selfishness blows.
May this meal be our becoming begun again,
may we find in it the ancient first fruit of inspired hope,
and may it nurture within us enough foolish wisdom
to go on living the love that makes no sense.
Thanksgiving – after sharing bread and wine we said together:
Thank you, O God whose love makes no sense,
For broken bread and wine outpoured,
to make us healed and whole.
As we go from here having begun again,
grow in us your foolish wisdom
to live, wherever you have placed us,
the love that makes no sense. Amen.
Blessing:
May God give you the grace to go on living the love that makes no sense. Amen.
As people were leaving they could receive a 'blessing' in the form of an ink stamp in the shape of lips.