December 2014: Once upon a time in the East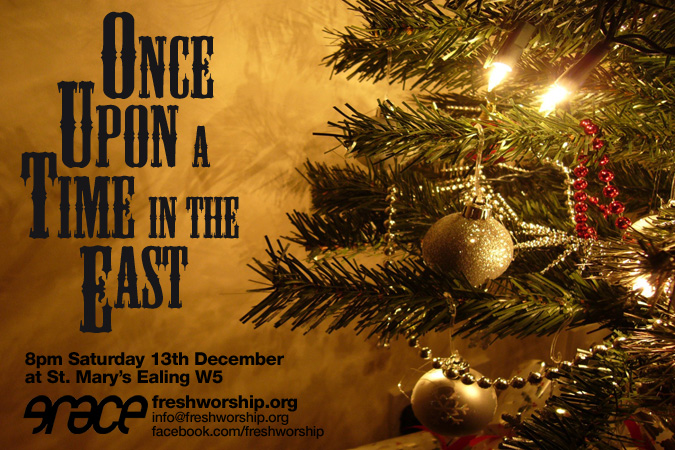 Prayer:
Lord, hallow this time, help us set our cares aside
And open our hearts to receive the Good News of your Son,
Amen
Game of Pass-the-Parcel: as the layers of wrapping paper come off it becomes apparent there is some organisation to the contents and the accompanying music and pictures:
"yellow snow" version of Let it snow by Bob Rivers(outermost layer of parcel) / People queuing for idpads or whatever – must be a cold weather pic with them in woolly hats, sleeping bags etc / Catalogues of Christmas goodies, sales material Chocolate coins
Bob Rivers "Lacy Things The Wife Is Missing" / People fighting over widescreen telly on Black Friday / Catalogues of Christmas goodies, sales material Chocolate coins
So here it is Merry Christmas by Slade / People/colleagues partying / Party poppers and blowy things
Bob Rivers "Chipmunks Roasting on an Open Fire" / Family eating enormous turkey dinner, 50's style / Sprouts.
Pogues/ Kirsty McColl – fairytale of New York – get the middle bit where they're insulting each other – "you scumbag you maggot you cheap lousy faggot" etc / A family sitting around the tree swapping presents, 50's style / Socks. Hideous tie.
Jesus Christ the Apple Tree (carol) by Elisabeth Poston / People singing carols, candles etc / Kings and shepherds
Bethlehem Down by Peter Warlock (sung version not the orchestral version!!) / A big Counter-Reformation nativity picture / Nativity figures
The Protecting Veil by John Taverner (innermost layer of parcel) / Milky Way (stars in the sky, not choccy bar) / Box containing Compass
The compass needle that points us North is not itself North.
This is merely a tool to help me find North
I don't want to get to the end of this compass, I want to go where the compass is pointing me.
Christmas, down the ages, has been a time that people have used as a compass needle to point towards God – Advent, waiting for nativity, waiting for the 2nd coming. But compass needles point in different directions depending on where you are standing
Someone on Greenwich Meridian has the needle pointing in a different direction to someone on the international dateline. Both are thinking that the other person's compass is pointing in the wrong direction.
Christmas has been celebrated in different ways: with fasting and self denial, and with feasting and celebration.
And just as with the compass needles, down though the ages, people standing in opposite camps have pointed at each other's practices and said "Your way doesn't lead towards God"
Sketch: "All Quiet on the Christmas Front" taken from "Away From The Manger" by Les Ellison, published by Nimbus Press, 2002
It's easy to see, looking at the joyless consumerism of our society, that this particular compass needle is not pointing towards God. What was once a festival of generosity and hospitality has warped into competitive giving and it is tempting to turn our backs on the entire thing.
And in fact, for a few years, our society did just that. In the mid C17th, round about the time that Holland was finishing its war of independence from Spain, Britain went through a civil war between Arminans (who celebrated Christmas) and Calvinists (who did not). The Calvinists won, temporarily, and they banned Christmas. They said "This debauchery does not lead to God". It was illegal to feast your neighbours, to eat more than one mince pie on Christmas day, or even to attend church – as we shall hear from a Diary kept by a man called John Evelyn:
Diary of John Evelyn, Christmas 1657
Two centuries later, in 1857, this joyless attitude to Christmas was still evident in strict households – this excerpt is taken from the semi-auto-biographical novel, Father and Son, by Edmund Gosse:
Father and Son, by Edmund Gosse
SO - if a debauched consumerism does not act as a compass needle to God, neither does Puritanism, because the human brain requires metaphors to understand God, and Puritanism bans metaphors.
Maybe it would be a useful exercise to think about the things in our Christmas Celebrations that we feel lead us towards God, and those that lead us away.
We have camouflage netting hanging from one side of the gallery, and pens, and luggage labels.
Take some labels and a pen.
On some of the labels, write down Christmas activities that you feel draw you towards God.
On other labels, write down the things that, at this time of year, pull you away from God.
Write one label for one thing that you might want to change, to help you follow that compass needle North.
Early Christians were not interested in Christmas.
The first Christian writings, aimed at Jewish believers, concentrated on the Beatitudes and the Sermon on the Mount.
But later Greek believers came from a culture whose Gods and Goddesses had strange births – Aphrodite born from the sea foam, Dionysis from his father's thigh, the baby Hercules having the constant threat of being murdered by jealous Hera.
So the later gospels – Matthew, Luke, include stories of a miraculous conception, a birth in hiding, a baby hailed by mysterious strangers, and a murderously jealous ruler.
These stories may or may not be true – what they were was a compass needle, pointing N for those early Greek Christians -> this way is God.
So for our Christmas Meditation we are going to go back to the start of (probably) the oldest Gospel, Mark, and use that for our N-pointing compass.
The meditation will have four parts:
Everyone get comfy on the floor cushions or on the benches, in a pair with someone else. Close your eyes, think of your , favourite place, think of the things you can sense there (like the birdsong, the smells, the feel of the wind in your hair). At the end of 3mins, when asked, share what you remember about this place with the other person in your pair.
Still in a comfy position, listen to Mark 1 v1-28 being read aloud.
Listen to the passage a second time – work out who YOU are in this passage (John the Baptist? Peter? One of the crowd?) As the passage is read the second time, the reader will stop and ask questions: "How far did you have to travel to hear John?" "Did you get baptised or did you just watch?" "How does the thought of being baptised with the Holy Spirit make you feel?" – think about these questions silently, in your own head.
Get into groups of 4-8 people. Imagine you are meeting up 2 years after the events in Mark 1 – in a tavern or a roadside inn. Retell as the events as a reminiscence: "Do you remember, that time, 2 years ago, when….."
(Allow at least 10 mins for the reminiscence storytelling, or until the groups seem to be running out of steam.)
So there was this Man. And the compass needles of the prophets pointed to him, and the people were drawn to him, and the sick were healed by him.
We are harried by distractions. How can we focus on this man, hear him clearly, follow him though the crowd of Christmas shoppers?
We need to be clear about what is important in our lives.
So it is time to return to our camouflage netting.
In a moment, go to the netting, find a tag, maybe one of yours, maybe one of someone else's, which you feel describes a distraction to your following of Jesus, and cut it off.
Then come back to the centre, light a candle, and sit down again.
Finally: A reading of Christmas, by John Betjeman
Thank you for coming to Grace.
You are welcome to stay here in the church, or to come through to the café and have some mulled wine with us.