December 2022: Advent Grace TV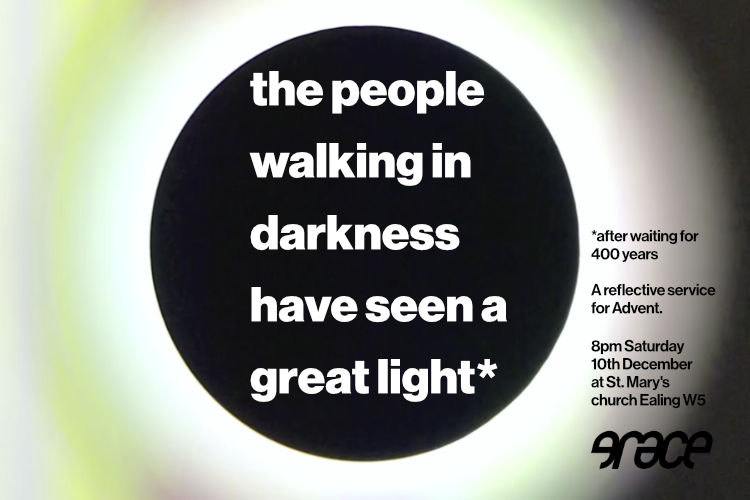 If it's hard to see where God is in current events, and hard to feel hope for the future, imagine what it was like to hear nothing from God for four centuries. Centuries full of empires and atrocities, with only the long-unfulfilled words from the past to feed faith.
And then something happened (so small that hardly anyone noticed at the time).
This was a version of December 2009: The Even Greater Silence, which seemed very relevant again to our time. The 'Grace TV' format is just visuals and music - the congregation watch and listen - maybe 'Grace cinema' would be a good description.
Slideshow here. Several of the backgrounds were movies. The 'black hole' was footage of 'Point of No Return' by Ryoji Ikeda.
Service timings and music:
Welcome 10 mins: With Faith - Nine Inch Nails
Intro 3 mins
Silence 2 mins
Prophecies 6-7 mins: Wait for Now (Mary Lattimore Rework) - Cinematic Orchestra
But then… to end of black slide 10 mins: Cry - Howie B
Silence is broken 6-7 mins: Syncline - Andrea Belfi
What are we waiting for 4 mins: Wait for Me (Ambient) - Moby
Silence 2 mins
People walking in darkness movie 3 mins: has its own soundtrack
Prayer 5 mins: Before - Pan American