February 2022: Together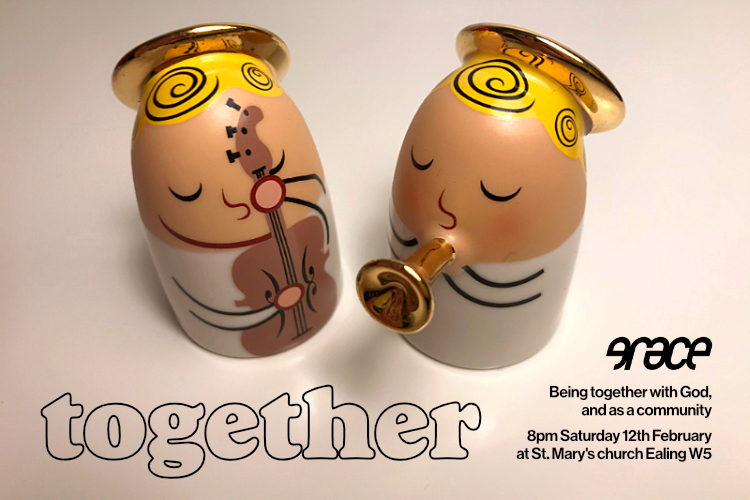 After two years which have kept us apart in many ways, we are thinking about what it means to be together - together with God, and with one another as a community. What can we do together that we can't do apart?
We met in the cafe around tables because of church heating issues as experienced in January!
We used tiered cake stands as table centrepieces, with the pieces of the service on them.
1:
What are you bringing to the table?
a 10-15 min discussion
The Table
by Edip Cansever
A man filled with the gladness of living
put his keys on the table,
put flowers in a copper bowl there.
He put his eggs and milk on the table.
He put there the light that came in through the window,
sounds of a bicycle, sound of a spinning wheel.
The softness of bread and weather he put there.
On the table the man put
things that happened in his mind.
What he wanted to do in life,
he put that there.
Those he loved, those he didn't love,
the man put them on the table too.
Three time three make nine:
the man put nine on the table.
He was next to the window next to the sky;
he reached out and placed on the table endlessness.
So many days he had wanted to drink a beer!
He put on the table the pouring of that beer.
He placed there his sleep and his wakefulness;
his hunger and his fulness he placed there.
Now that's what I call a table!
It didn't complain at all about the load.
It wobbled once or twice, then stood firm.
The man kept piling things on.
2:
Scriptures:
printed out - put in an envelope for each table
Open the envelope, pick out a quote and discuss
which kind of together are you here for?
Proverbs 27:17
Matthew 18:20
Romans 12:4-5
Hebrews 10:24-25
John 15:12-13
Proverbs 27 v9
1 Corinthians 12 v 26
Hebrews 13 1-2
Acts 2 v 42
Proverbs 15 v22
1 John 4 v 11
Romans 15 v 5
Acts 4 v 32
Genesis 11 31
Exodus 19 v 8
Exodus 32:26
Stone soup:
A down-and-out ex-soldier goes begging through a village in a time of dearth; no-one lets him in or gives him anything. Finally, he begs a bed at an old woman's house, though she says she cannot spare him any food. He says that is alright, as he can make Stone Soup: all he needs is a pot of water on the fire. She puts a pot on the hearth, and the beggar carefully unwraps a stone that he carries in his pocket. He puts it in the pot of water, and lets it simmer. After an hour or so, he tastes the "soup" and pronounces it fine: "it only needs a little salt." The old woman is agog at this, and gives him some salt. He tastes it again, and suggests it would be improved by some herbs…. then pearl barley…. and then carrots… onions.. a meaty bone for stock; by now all the villagers from the huts around are contributing items. A splendid communal soup is made, and enjoyed by the whole village: the ex-soldier fishes the stone out of the bottom of the cauldron, rinses it, wraps it up, and puts it in his pocket. Next day he is off to the next hamlet.
Meditation #17 By John Donne From Devotions upon Emergent Occasions (1623), XVII: Nunc Lento Sonitu Dicunt, Morieris (Now this bell, tolling softly for another, says to me, Thou must die.)
3:
Holy communion:
The 'Safe Space' eucharistic prayer from 'Making Communion' book
individual wine glasses
pieces of bread on cake stand
4:
Discussion about how we want to be together during Lent. What can we do together that we can't do by ourselves?
Post-its and pens to record ideas
'Being Disciples' book by Rowan Williams? Tony to bring and show
[This was what we ran with!]