September 2021: Unlocked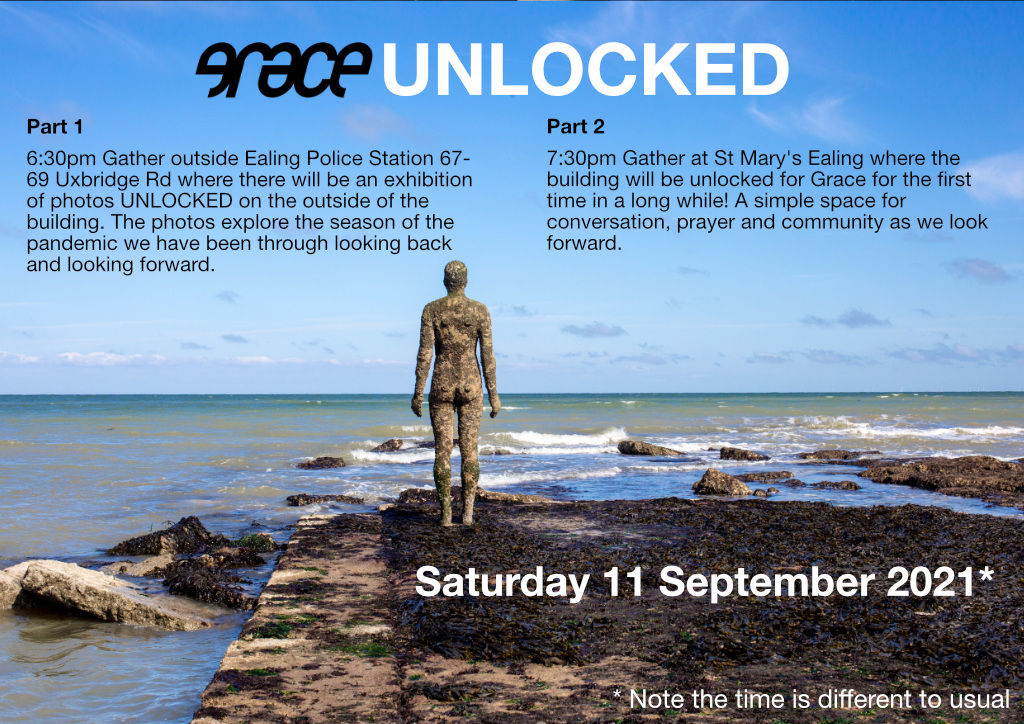 At the start of a 'new year' for Grace, we returned home to St Mary's church after a long absence.
However, we met earlier than usual, 6.30pm outside Ealing police station, to spend time looking at the Ealing LIP photo exhibition on the facade of the building. A gallery of the images is here.
Unlocking
After the initial gathering at the Police Station, we walked down to the church and at 7.30pm unlocked the doors.
First section of the 'Doors' liturgy
Walk around the church/polygon.
The idea being to recommission our relationship with the building by remembering something special that is related to a particular part of the building. We suggested the following from amongst ourselves but figured others would contribute as well
Cupboard - Richard
Gallery - Steve
Lady Chapel - Sue
Chancel/choir stalls - Mike
Cafe area - Jonny
At each place, we will say a simple liturgy.
Gather together and play a track (Far have I come)
Discuss some of the themes from the photo exhibition
Prayer around the commissioning idea
buildings shape what we do
in shaping what we do they shape us

how has this building shaped us?
how would we be different if it didn't have the spaces we have looked at?
if it didn't have a cupboard, or a gallery, or a lady chapel, or a chancel, or a cafe area?

now we are using the building again,
will we arrange ourselves as we used to?
can we see the building with new eyes after all these years?

at the same time, our relationship with this building is provisional
it does not belong to us
we work around the other users
sometimes there is friction about what goes where and whose arrangements have priority
sometimes we are displaced and made to feel marginal to the life of this building

so we bring both sides of our experience before god:

we give thanks for:

shelter
facilities
beauty
technology
how this building enables our mission

but we recognise:

constraints
friction
insecurity
how this building compromises our mission

help us to be grateful but clear-sighted
help us to know how best to use and enjoy this building
guide us in our relationship with other users

may our work here
enable your mission
embody your hospitality
manifest your creativity and joy
Possibility people by the Late Late Service (edited)
There are two ways only: Love and Fear.
There are two desires: to protect and build walls, or to liberate into new possibilities.

We are the possibility people.

We are the people God wants to meet and liberate.

To liberate from fear and self-protection in relationships.
To liberate into a new space of possibility and purpose.

That new space is the Realm of God.
Present every moment of our lives.
Poised, pregnant with redemption and liberation.
Touching every moment that is NOW.
Every moment of the present is a moment of eternal life.
Every time it is NOW is God's time.

Invite God into your NOW time.
NOW today, NOW tomorrow.
NOW is the time of the Salvation, NOW is the time of Liberation.
NOW is the time of New Creation, NOW is the moment of the new possibility.

We are the possibility people...

Do not act out of fear.
Do not act out of fear of yourself and the bad that remains in you. Do not run from it.
Give it to God. Perfect love drives out fear.

Do not act out of fear.
Do not act out of fear of others in your daily lives.
They are God's even if they do not know it.

Your moments with them are possibility moments.
Love them. Resist their evil.
Care enough to confront, but do not act out of fear of them.

Do not act out of fear.
Do not act out of fear of the society around you.
Do not lock your doors and perpetuate the cycle of fear.
Find your vocation and break down the walls that exclude the realm of God from your community.

We are loved.
We are offered new possibilities.
Resist the paranoia, resist the consumerism, resist the racism, fascism, snobbery and escapism.
We are loved.

Do not act out of fear.
Do not act out of fear for the end of the world ...
hiding away from the complexities of a world Hell-bent on destruction.

We are loved.
The love of the Creator breaks into our NOW moments
asking us to love the world He made, the world She mothered into being.
Love life. Love the world.
Resist evil, resist destruction, resist exploitation, resist injustice, but do not give up.

There is no God in escapism.
God is liberating our interactions with new possibilities.
We are the possibility people.
This is the possibility world.
Create. Love. Intervene.
Receive the Holy Spirit of Healing, of Passion, of Desire, of Liberation.
Final prayer
We hang our lives upon your mercy
Simple cafe.
Drinks, cakes that can be easily shared.
General points:
Low tech, just a bluetooth speaker
No preparation in the building - this will be an 'unlocking' for all of us