October 2018: Hünkerîng Døwñ: Harvest, Hospitality, Thanksgiving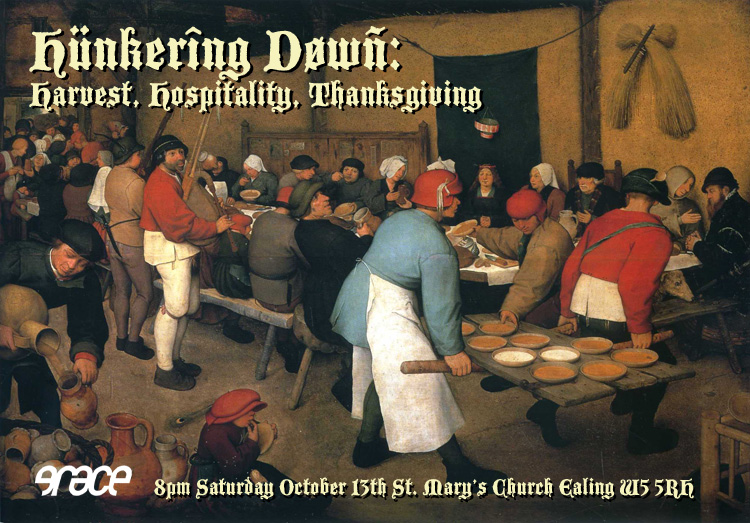 Introduction - scene setting
The Harvest is in, thanksgiving for what has been gathered, plus preparation for the next year's crops: ploughing and harrowing. Digging of allotments. Seed catalogues perused. Chopping of wood (when the leaves have fallen and there is less sap, tree trunks are easier to fell.
Plans for the coming year – when crop rotation was practised, farmer would be planning each field several years in advance. Also coppicing of wood – planned on a 10-12 year cycle.
Autumn was the start of the Celtic New Year. (Medieval New Year was end of March/beginning of April which is why Tax year starts 6th April) This is mirrored in contemporary society – Autumn is start of academic year: New courses, fresh starts.
Chinese proverb: he who thinks of the year ahead, plants rice. He who thinks 10 years ahead plants trees. He who thinks a century ahead, educates a child.
It's the season for bird migration – from Arctic breeding grounds to British winter feeding grounds.
It's the season for killing beasts that you can't feed through the winter, pig-killing and sausage-making, bacon smoking…. Geese were walked to goose-fairs, wearing either little leather shoes, or else their feet dipped in warm tar to see them through the long journey. Michaelmas was the time of a lot of goose fairs. (Wild Goose = Holy Spirit in Celtic Spirituality)
That's all very cosy. But over centuries of feudalism and enclosures, land became distributed more and more unequally. So Winter for a rich man meant a warm home, plenty of food, a crisp snowy landscape to admire… for the landless labourers it meant fewer hours of work, less pay, a draughty unheated shack with no glass in the windows. Winter throws inequality into sharper relief: both extremes of wealth and poverty, and isolation vs inclusion.
Opening prayer
God, help us to acknowledge your presence with us at this table tonight
For those who arrive weary and tired from their labours, we ask for your gift of rest and restoration
For those who come restless, your peace
For the gregarious, joy in your company
For the reflectives, thoughts to chew on
Bless this gathering of people
Bless our conversations
May we be receptive to your promptings
Amen
Intro - Gleaning films
From 'The Gleaners and I'
Extract - Definition of gleaning plus one woman's memories
Intro - land ownership
Serve butternut squash soup
Ingredients: (do x3 for 24 people)
1.5kg/3lb 5oz peeled and deseeded butternut squash, cut into 3cm/1¼in cubes
1 large onion, roughly chopped
2 medium carrots, peeled and chopped
1 red pepper, deseeded and cut into cubes
4 tbsp olive oil
1 tbsp clear honey, optional – replace with pomegranate molasses.
5cm/2in piece fresh root ginger, peeled and chopped
1.5 litres/2½ pints vegetable stock
salt and freshly ground black pepper
Method
Preheat the oven to 200C/180C Fan/Gas 6.
Tip the prepared squash into a large, resealable freezer bag with the onion, carrots and red pepper. Add half the oil and salt and pepper and toss everything together until the vegetables are evenly coated. Tip into a large roasting tin and spread out to form a single layer.
Roast in the oven for 40–45 minutes, or until tender and tinged brown. Drizzle over the honey 5 minutes before the end of cooking.
Place the large, deep-sided saucepan over a medium heat, add the remaining oil and, when it is hot, add the ginger and fry for a minute. Pour in the stock and bring to the boil, then stir in the roasted vegetables and add salt and pepper.
Remove the saucepan from the heat and, using a hand blender, blend the mixture until smooth. Return to the heat to warm through and serve hot with crusty bread.
Savoury tins – injustice facts
The congregation examine tins of savoury foods with facts about food injustice stuck on
Discussion
Sweet tins – bible quotations
The congregation examine tins of sweet foods with bible quotations stuck on
Leviticus 25:13-24
Micah 4:1-5
Leviticus 25:23-28
Leviticus 25:35-38
Leviticus 25:39-46
Leviticus 19:9-10
Isaiah 5:8
Micah 2:2
Matthew 6:19-20
Matthew 20:1-16
Matthew 22: 1-14
Ruth 2:14-18
Genesis 47:13-26
1 Kings 21:4-10, 17-19
Discussion
Agriculture and food production have become more and more efficient in terms of employing fewer and fewer people. We have more choice of foods than ever before. Are there any downsides to this?
What are the possibilities for gleaning in our city?
Have you ever gleaned? Was it fun?
What might Jubilee look like in the UK? In the world?
What would a Jubilee shopping list look like?
get people to read out
Proclaim your:
Hope
Anger
Surprise
Despair
Gratitude
Fear
Demand
Prayer
God, whose farm is all creation,
take the gratitude we give;
take the finest of our harvest,
labours and gifts we give that all may live.
Take our ploughing, seeding, reaping, caring, making, typing, calculating, teaching, meeting, creating, praying
hopes and fears of sun, rain and winds of change
all our thinking, planning, waiting,
ripening into fruit, grain and justice for all
All our labour, all our watching,
all our calendar of care,
in these crops of your creation,
take, O God: they are our prayer.
Bring your Jubilee
(after 'God whose farm is all creation', Arlott)
A Hawaiian Prayer
May the earth continue to live.
May the heavens above continue to live.
May the wet forests continue to grow.
Then the flowers shall bloom
And we people shall live again.