July 2012: Another World is Possible: Grace@Waterloo Festival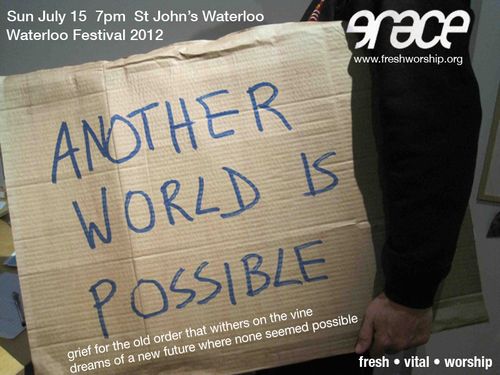 6:45 Comfortably Numb
As people arrive they are welcomed into the cafe area. Tea and chocolate will be served with "keep calm and carry on" coasters, night lights and flowers, and "pleasant" tunes playing. There will be nice posters up, Keep Calm and Carry on etc on the camouflage netting. A screen hung on the netting shows a mix of ads and intro to Blue velvet and anything else satiating.
7:00 Cracks Appearing
Gradually in the space a few choreographed moves take place which include randomly handing out eye masks, cotton wool for ears, blowing out night lights, removing flowers, ripping posters, and white noise interrupting movies.
7:10 Wake Up Call
An alarm goes off.
Intro – it's time to wake up, take out earplugs
Call to worship/prayer
Welcome to Grace, welcome to our worship.
This is the house of God.
Make yourself at home,
be yourself,
you are very welcome.
We are a community that is part of the C of E in Ealing, West London and St John's kindly invited us to take part in Waterloo Festival.
Unplug your ears
Unbind, open your eyes
That you may hear
That you may see
Wake up!
God is here
God is doing something new.
God is inviting you into a journey to discover a new world,
a new upside down kingdom.
There is a restlessness in our society, in our culture and in many of us at the moment.
The old ways of doing things seem to be broken, or at breaking point.
The theme of tonight's service "another world is possible" comes from the Occupy movement. It was a slogan etched on barrier tape around the encampment. In Grace this really caught our attention like an alarm, like a wakeup call. For about 6 months we have been exploring and thinking about what it might mean to move from an old world in which we are satiated and numb and co-opted by the gods of consumption, where we have got used to the poor begging and bankers earning several million pounds in bonuses, to a new world which might be imagined and run on very different lines. The prophets of Israel and Jesus the prophet seem interested in just such a journey, just such an adventure, just such a new world and kingdom.
Let's pray
God of justice, peace and righteousness come into our midst this evening
Breathe your breath,
your Spirit of prophecy,
your energy,
your enlivening,
your imagination on us.
Wake us up
Open our eyes
Unplug our ears
That we might hear
That we might see
That we might grieve
That we might dream
That we might follow the ways of your extraordinary kingdom
Amen
Ask everyone to set their alarms for 8:10pm
Invite congregation to enter the next space.
7:15 Prophets
Prophets on plinths simultaneously prophesy - people move around, listening to one after another as they fancy.
The prophet's journey summarising the prophet's task
the king doesn't know what time it is
the king doesn't want to know
because kings, rulers and elites want to stop time
they want us to believe that the way things are now is the only way they can be
that the current order of politics and economics is the only imaginable order
they promise it will be better managed in future
but no fundamental change is possible
then along comes the prophet
the job of the prophet is not to announce fixes for the current system
it's not to make realistic proposals
because what's realistic is defined by the current system
realistic leaves the existing powers in power
we can leave those kind of proposals to the prophets of the regime
the ones who say that there's peace when there is no peace
the job of the true prophet is to announce the death of the current order
the job of the true prophet is to announce that god cannot be bought by the regime
and has the freedom to bring about endings
the true prophet calls us to grief
grief for the system that must end
grief for the parts of our lives that must end because they belong to the system
grief is the most radical criticism
because it announces the thing that the rulers cannot bear to hear
that their rule must end
7:30 Inbetween
An empty space with confession stations and a few chairs on the edges.
Reading on liminality from Grace pocket liturgies
Silence
Two confession rituals in the space – grief and letting go
Grief: eating parsley and salt water
Letting go: holding a stone and then letting it go
7:45 Energising Hope
Move to the cafe area where bread and wine are laid out and pens and paper are on tables. Invite people round tables to talk and write dreams of ways in which another world is possible
A simple communion around the tables – bread and wine signs of hope.
Sigur Ros video plays – Rembihnutur
On the night before Jesus died, he gathered with his friends to have supper. Over the meal they shared stories of lament and longing.
They told stories of Lament for a world of injustice and powerlessness that before they met Jesus they hadn't even noticed.
Lament for the empires of the age that were bent on their own continued existence, but no longer had any reason to exist.
Lament over the people who were silenced.
Lament over the people who were blind to the possibility that the world could be anything other than what it was.
They told stories of Longing that the new world they'd glimpsed might become the dominant reality;
Longing that the voiceless would be given a voice.
Longing that the powerful would be freed from their addiction.
Longing for the imagination to escape the numbing quality of the empires that tell you that this world is all there is.
The meal moved towards its conclusion, and Jesus called for bread and wine. He took the bread, broke it, gave thanks and said: this is my body, broken for you. Do this to remember me.
He took the cup of wine, gave thanks, and said: this is my blood of the new covenant, which is shed for you for the forgiveness of sins.
Father God, we pray that you will send your Spirit on us, that this bread and wine may be for us the body and blood of Christ.
May the bread be food for the journey as we seek to see the new reality of God's kingdom in the world.
May the wine be a sign that we are no longer shackled to the old order. We are no longer in debt to the empire whose power over us Christ has broken.
May these tables be places where our hopes are forged.
May this community gathered here be a reminder that we are not alone. That throughout our city there are people who are working to throw off the old and seek the new life of Christ as they bring peace and justice to the places where they walk.
8:05 Another World is Possible
Liturgy incorporating things written with response "another world is possible":
We are gathering our hopes together.
During these next prayers, if you have a written or an unwritten Hope that you wish to proclaim, then there will be gaps for you to speak them out.
Lord, Moses led your people out of slavery. Elijah confronted corrupt kings. Mary said Yes to the Holy Spirit, Jesus triumphed over death.
They had the audacity to Hope.
And the People of God say:
Another World is Possible
(other examples from others...)
For all the quiet hopes, that have not been spoken out or are expressed only in our hearts: Lord, before a word is on our tongue, you know it completely.
The People of God say:
Another World is Possible
8:10 Alarms go off.
When they do, all the prophets from earlier shout "God calls you to WAKE UP!"
Set your mobile alarms, watches, sundials to go off at an odd time every day for the next month. This will be a reminder to us to WAKE UP – to be vigilant of the false glamour of the world and alert to the whispers of the Holy Spirit.
SET ALARMS
Final sending out prayer/blessing - Francis blessing
8:15 Cafe