September 2011: The becoming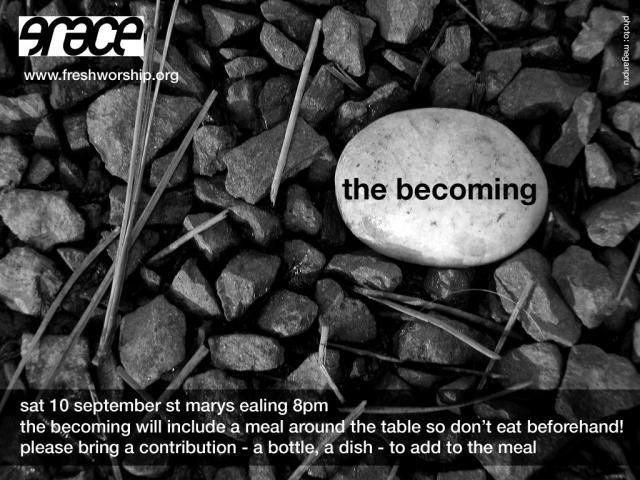 tv with 'you've arrived' neon sign loop
dark stones with one white stone in centre
sit in round - intimate feel to space
Introduction:
Jesus said – Lead us not into temptation but deliver us from evil. Matt 6:13
What are your plans for next year or next week? Or even tomorrow? Do you struggle to know what the right direction is or how to choose between different paths? Have you tried praying about your future plans or choices? Or even asked God what his direction for your life would be? Jesus showed that trust in God is crucial but along with that trust comes a freedom from worry and a deep peace. To keep in touch with God's voice directing his steps Jesus regularly prayed and listened for direction.
Then he went up on a mountain where he could be alone and pray. Later that evening, he was still there. Matt 14:23
Stay awake and pray that you won't be tested. You want to do what is right, but you are weak. Matt 26:41
Again Jesus went to pray and said, "My Father, if there is no other way, and I must suffer, I will still do what you want." Matt 26:42
But more than anything else, put God's work first and do what he wants. Then the other things will be yours as well. Don't worry about tomorrow. It will take care of itself. You have enough to worry about today. Matt 6:33
Breathe out empty yourself: of hate, of fear, of anxiety
Breathe in fill yourself with love, with life, with mercy
Breathe out empty yourself of busyness, of selfishness of greed
Breathe in fill yourself with peace, with joy, with hope
Breathe out empty yourself of idolatry, of self worship, of false gods
Breathe in fill yourself with God, with Christ, with the Holy Spirit
Consider praying this powerful prayer called The Methodist Covenant Prayer.
I am no longer my own but yours.
Put me to what you will,
rank me with whom you will;
put me to doing, put me to suffering;
let me be employed for you or laid aside for you,
exalted for you or brought low for you;
let me be full, let me be empty,
let me have all things, let me have nothing;
I freely and wholeheartedly yield all things to your pleasure and disposal.
And now, glorious and blessed God, Father, Son and Holy Spirit, you are mine and I am yours. So be it.
And the covenant made on earth, let it be ratified in heaven. Amen
song - this is the house of god
Kate Tempest movie
intro to/set context for kate tempest
movie - the becoming by kate tempest
discuss/react with neighbour while quotes scroll on screen
The table poem
invite people through to cafe space
table poem - bring all of ourselves - invite to come and share of yourself
3 courses - during meal anger passion talent - instructions on this menu card:
Welcome to the table. This table is open and accepting, we invite you to share who you are as part of that continuing exploration of who we are as Grace. The only rule; MODESTY is banned.
entree
This course includes ANGER, with a large amount of PASSION on a bed of TALENT!
Share with the others on your table what ANGERS you, what your PASSIONS are and where your TALENTS lie... Think about 5-8 words or phrases that describe these for you:
ANGER: What gets you thumping the table or shouting at the TV?
PASSION: What do you love to experience, that you would miss if you were unable to?
TALENT: What are you talented at, what are your gifts?
(jot your thoughts down on the tablecloth)
main
The main course brings together the best bits of your starter - distilled, reduced, concentrated, purified...
Summarise the lists under each heading into a word or phrase - perhaps try to find a common factor in those things you are ANGRY about. Then do it for PASSION and TALENT.
dessert
The word comes originally from the old French language desservir, meaning "to clear the table" and "to serve." So clear your table, grab a pudding and serve up a sentence that draws together how your anger and passion, combined with your talent describes who you are... that's the cherry on the cake!
(write it on this menu or a piece of the tablecloth and rip it off and bring it with you for the last part of grace tonight)
(inspired by Anger Passion Talent )
distill down to one sentence and bring with you
go back into main space of church
have white stones on black stones
invite to share sentences for anyone who would like to
White stones:
Whoever has ears, let them hear what the Spirit says to the churches. To the one who is victorious, I will give some of the hidden manna. I will also give that person a white stone with a new name written on it, known only to the one who receives it. Revelation 2:17
These small, worn pebbles apparently had several uses. They were used in elections. Voters were given white stones and black stones. A white stone was a vote of acceptance, and a black stone was a vote of rejection. In courts of justice, a black stone meant a vote for condemnation, for death. A white stone meant a vote for acquittal, for life. A white stone might have served as a ticket for admission to some event, like a special banquet. The winner of an athletic event might receive a white stone – perhaps even with the name of the event or the victor inscribed on it.
Collect a white stone
As I play with the stone, I ponder this name, the name that only I will know. What will it be? Perhaps a pet name, an endearing name, an intimate name that He calls nobody else? Something that signifies our special relationship?
I think it might be the name of the person I could have been.
Blessing:
May the blessings released through your hands
cause windows to open in darkened minds
May the suffering your calling brings
be but winter before the spring
May the companionship of your doubt
Restore what your beliefs leave out
May the secret hungers of your heart
harvest from emptiness its secret fruit
May your solitude be a voyage
into the wilderness and wonder of God
May your words have the prophetic edge
to enable the heart to hear itself
May the silence where your calling dwells
foster your freedom in all you do and feel
May you find words full of divine warmth
to clothe others in the language of dawn
May your potentiality be released
to explore new horizons of what's possible
May your becoming bring gentle surprises
as you remember you've not arrived
Adapted from Benedictus by John O'Donohue
you've not arrived loop on tv as people leave