December 2011: Advent waiting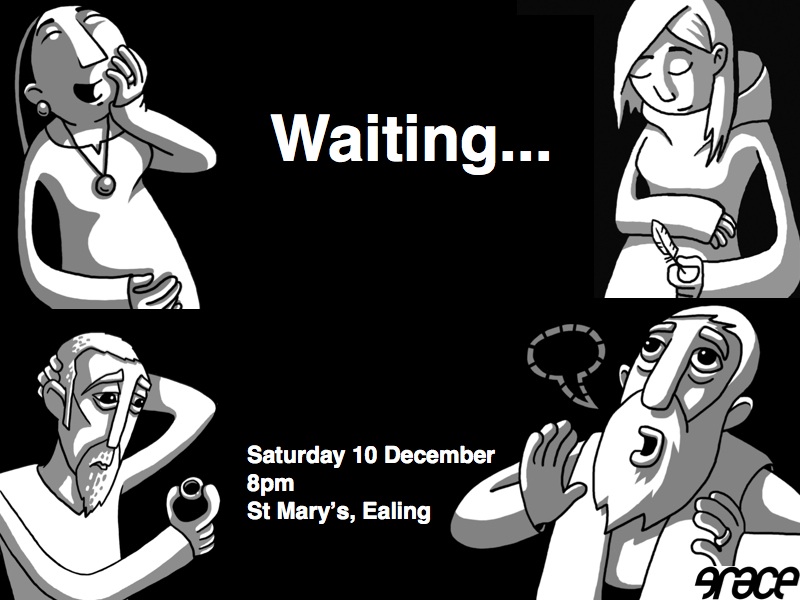 We used Si Smith's images of four characters from the Christmas story - Mary, Elizabeth, Zechariah and Joseph - projected onto screens surrounding the worship space. People sat in the centre. During the service we heard their stories, and then sat with them, waiting...
Opening liturgy
Introduction
Advent is the season of waiting - waiting for the birth of Christ, and looking forward to the return of Jesus. Each year in this season as we're reminded of what happened at the birth of Jesus, we have the benefit of hindsight. We've heard the Christmas story so many times that we can miss the impact of what God asked of people at the beginning of the gospels.
Tonight we are invited to wait with Zechariah, Elizabeth, Mary and Joseph as they adjust to the news of babies that will be born and consider how that will transform their world. We'll wait with them in that pregnant pause with the promises of angels ringing in their ears, and with thoughts and questions swirling around their minds.
We're going to hear some of each of their stories and then we'll have a period of silence – about 15 minutes. That silence is an opportunity for us to reflect on their stories and to wait with them for God's intervention in our world.
Script for the four stories
Zechariah:
Zechariah's job was words – teaching, praying, leading, blessing…
So to be told by an angel that his disbelief would lead to silence
(begin signing, with someone speaking what's been signed after each phrase)
must have been devastating
Perhaps he should have known better
but he'd been praying for a son for years
and nothing had happened,
so why this time?
Now all he can do is try to communicate
in signs and gestures
and writing that few can read.
Without words
he waits in silence
powerless to do anything
and thinks and questions.
[pause]
Elizabeth:
You can just imagine Zechariah coming home, unable to speak
but bursting to tell Elizabeth something.
And eventually getting it out of him
that he's seen an angel
that she's going to have a baby
that he really can't say anything...
I wonder if she thought he was mad.
For so many years she had carried her culture's shame of being childless
and now, late in her life, that was to disappear.
Incredible; unbelievable, but the answer to so many prayers
And the source of a deep joy bubbling up inside her.
She'd catch herself smiling at odd moments in the day,
and she'd wake up from dreams laughing.
And so she joined in the silence,
keeping the secret to herself,
staying secluded
while she hoped against all hope that this was true.
[pause]
Mary:
What was Mary really like?
Can we get beyond the portrayal of a pure, saintly woman,
revered by millions around the world,
and encounter the girl who met Gabriel?
She was most probably a teenager;
someone who knew scripture well.
She was deeply troubled by the way the angel greeted her;
someone who had found favour with God.
and was willing to have her life disrupted.
Mary's 'yes' to God exposed her to risk
The risk of losing the man she was betrothed to
The risk of public disgrace
The risk of loneliness and isolation
And in those days the risk of childbirth.
Her yes to God set her on an incredible journey,
but we wait with her just at the beginning, coming to terms with all she has heard,
needing to tell those who loved her what had happened
wondering what it would all mean for her life.
[pause]
Joseph:
I imagine if Joseph had a list of dreams for his life, they might have gone something like this:
marry a good woman
father a son
build a family business
earn respect
give to the community
And then came the shattering news from Mary
that tore those dreams apart
and left him with nothing.
She was so excited telling him about the angel
and he just wanted to run and hide
Instead of respect, he faced gossip and scorn
In place of his own son, a miracle baby.
After dreaming of an angel, he did the right thing
joining the others in that liminal space
knowing what God had promised
but waiting to see if it would be fulfilled,
and, perhaps, grieving for what he had lost
while he tried to adjust to a very different future.
I wonder what questions went through his mind, went through all of their minds as they waited to see if God's promises would be fulfilled.
[pause]
[M] Why did that angel call me highly favoured? What have I done to deserve that?
[E] I want to savour this pregnancy – my only one.
[J] I do trust Mary, but there's this nagging doubt in the back of my mind
[Z] Why couldn't I ask one simple question?
[M] I want to go and see Elizabeth. Perhaps she'll understand.
[E] I can't wait to hold him; my own child
[J] When will the gossip die down? When will they stop pointing the finger?
[Z] Will Elizabeth be ok?
[M] What does Joseph really think of me? Does he believe me?
[E] Have I understood what Zechariah was trying to say? Is this really going to happen?
[J] What will it feel like to bring up a child that's not mine? Will I love him?
[Z] Will the baby be healthy?
[M] What if I'm a bad mother? What if I damage the Son of God?
[E] Why couldn't this have happened when I was younger?
[J] Will I ever have my own children?
[Z] Will I be a good enough father?
[M] But if God's chosen me, it will be all right, won't it?
[E] Will the baby be ok? Will I be ok?
[J] Was that dream really from God, or did I make it up?
[Z] Did I imagine that angel?
[M] The Son of God – what a responsibility.
[E] Why us? What have we done to deserve this?
[J] I don't feel in control of my own life
[Z] There's nothing I can do now – just wait
[M] What if Joseph leaves me? He'd have every right to do that.
[E] Is this all part of God's plan or are we just fools? I'll just have to wait and see.
[J] There's nothing I can do now, just wait
[Z] There's nothing I can do now – just wait
Silence for 15 minutes
Poem - he will come
Magnificat
In the space between hearing God's promise and seeing it fulfilled, Mary chose to praise God. Let's join in her words
Response
At the end of the service, people were invited to take a feather as a symbol of God's presence with them while they wait for his intervention.