April 2012: Deliver us from evil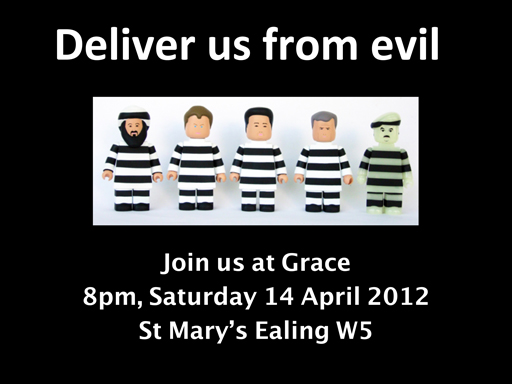 (quotes about evil scrolling as people enter)
Welcome/Intro
Read through Lord's Prayer silently
What is evil?
(views of evil)
"Evil resident was hooked by Resident Evil"
Genesis 6:5
"Anders Breivik is evil not mad"
Proverbs 8:13
"The face of evil 40 years on – Charles Manson"
1 Corinthians 13:6
"The evil that men do lives after them, the good is oft interred with their bones"
Psalm 34:14
Discussion: Do you think evil exists? How would you define or describe evil? What would you call evil?
Video satirising Axis of Evil (made famous by George Bush)
"We all think of different things when we mention 'Evil'. We think of different things at different times of our lives. Think for yourself about what is most dominantly evil for you at the moment; they can be things that you always are aware of as evil or they can be things you are particularly aware of at the moment; they can be things that are very personal or they can be things that other people would also be aware of; they can be things, people, situations, ideas, whatever you think of as evil. We're after specific things though, not a definition of evil. Take as many post-it notes as you wish and stick them, write a different evil on each one and then stick them up on the board. If something is very personal, write it in a way that you'd be happy for others to read and that brings out what you find evil about the situation."
Deliver us from evil
what does that mean? (Example of ending of apartheid)
Discussion: Can you think of an example, either personal or political, where you consider evil was defeated? What do you think deliverance from evil would look and feel like?
Word cloud put up on screen, created from the words put up by group on board earlier.
Discussion around what we as a group think is evil.
"Pick up one or more of your post-it notes and think about how you want to respond to it. With all of them, you may want to pray about it and ask God to deliver you from it. You may also want to represent being delivered from it in some physical way. We have four options for those who would like to do that. You can use one or more of the four for several different evils you're facing or just one, or you can use none. It's up to you.
Firstly, you might want to see the evil thing exposed or held up to scrutiny and accountability. You may have a particular step you want to take to do this such as telling other people about it or trying to make it more public in some other way. If that's how you feel go and stick your post-it note under the spotlight.
Secondly, you may want to see the evil thing destroyed or overcome. There may be something you want to do to make it go away. To represent this, scrunch up your paper and put it in the tray to be burned [burned outside later!].
Thirdly, you may feel there is nothing you can do or you don't know where to turn with it, and you want to pray that God would deliver you from that evil and show you a way forward. If that feels like you, go to the cross and stick the post it note to it.
Fourthly, if you want to turn over a new leaf and try something different in relation to the evil you're facing, stick your post-it note up onto the flipchart paper and then fold it over so you can see the back of it – on that clean new side, write what you're going to do.
Once you have done what you want with your post-it notes, come and sit back down."
Closing Prayer
Our Father in heaven, Lord God of the universe, Light of the world, Conqueror of evil
All: Lord, you are good, deliver us from evil.
Last week at Easter we remembered Jesus' resurrection, the ultimate demonstration of your triumph over evil, over sin and over death. You have made it possible to be delivered from evil.
All: Resurrected Lord, deliver us from evil.
Tonight we've remembered some of our struggles,
those things which burden us, hold us back,
and that infect and corrode our society.
In our shame and guilt, please forgive and free us.
All: Lord of our past, deliver us from evil.
We've begun to acknowledge the hurt and anger we feel right now,
The horrors around us,
What causes pain to us and those we care for.
In the midst of sorrow, please bring peace.
All: Lord of today, deliver us from evil.
We've tried to look forward with fresh hope and renewed courage to respond to the evil in and around us.
But we are scared of some things we know we need to do.
We're holding on to other things we know we must let go.
And we're still not sure where to turn for many, many things that we face now and will meet tomorrow.
Enable us to turn to you with every one.
All: Lord of the future, deliver us from evil.
For the kingdom, the power and the glory are yours,
Now and forever,
Amen.