July 2020: Wherever we are we will remember God who always goes with us
Communion* by numbers @home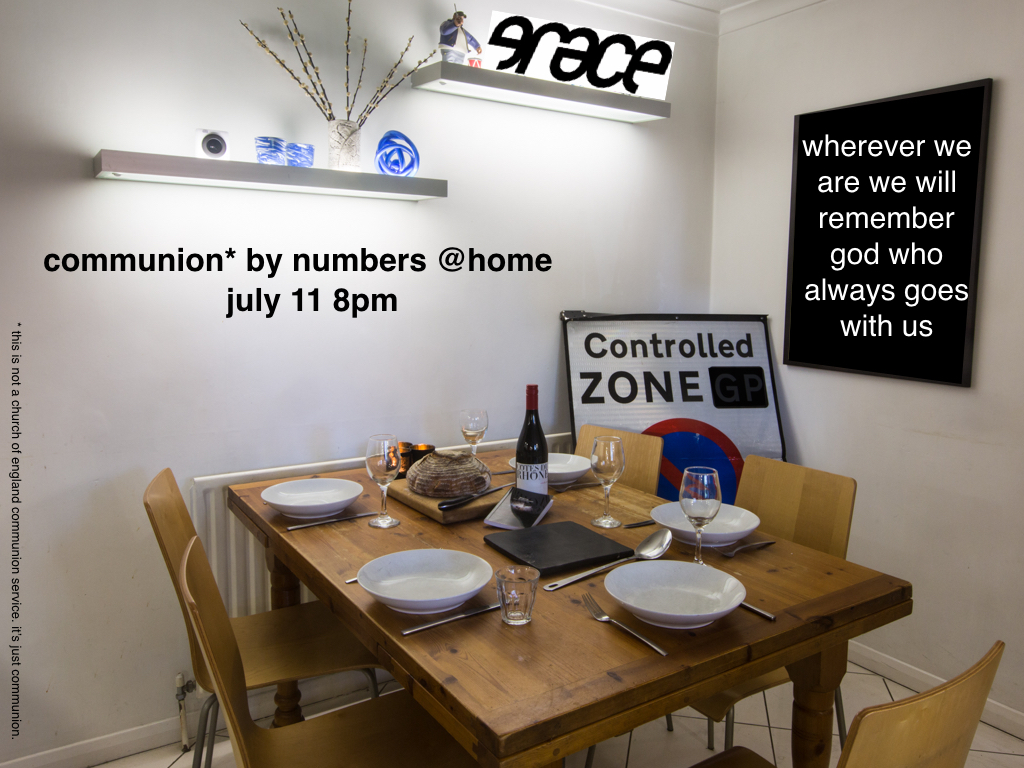 We had intended to spend the weekend camping at Etherley Farm in Surrey. The campsite was open and some went, but Covid-19 restrictions were only just beginning to lift and most stayed at home, so this was another Zoom service.
After the intro we put people in Zoom breakout groups of 4 or 5 and sent the instructions via Whatsapp to someone with Whatsapp in each group. That way people who were camping could follow without needing to be in Zoom. In the event, the people on the campsite were able to join in on Zoom without difficulty.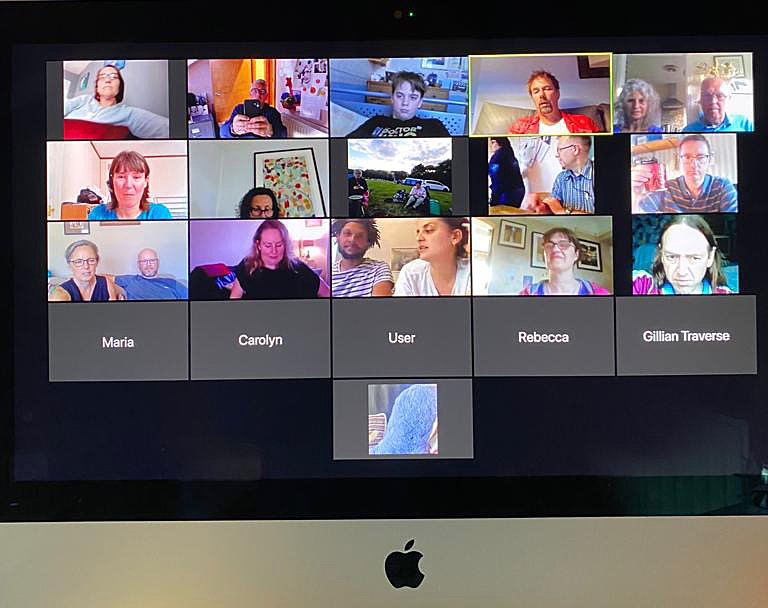 0. Intro/welcome
(On Zoom can be done in person but instruction for Whatsapp below)
Welcome to communion by numbers. If you are in the Zoom gathering you can ignore this! But if you are following along just via Whatsapp all the instructions will appear here. So do join in in your household or at your campsite (we know a few people are camping) or wherever you are. You don't need much really but it would be good to have some bread and wine available for communion and if you have a candle to light at the start that would also be good.
Communion by numbers is something we have run a few times at Grace where there are a series of numbered envelopes on tables, and when a bell rings you open the next envelope and that way the service flows along around tables without needing to be led from the front.
Tonight rather than envelopes and a bell we'll be sending instructions for each page via Whatsapp and it's then for you to follow them as you wish in your own setting. Those on Zoom will be doing that in small breakout groups and hopefully we'll connect with you at some moments in Whatsapp too.
There are a couple of moments where we will post songs to play with a link - you can decide in your small group whether you'll watch that individually or someone share the audio with the group if you know how. It's usually cafe style so do make yourself at home, have a drink and some snacks as we go through. Welcome to you if you are new to Grace.
Most people coming to Grace are fairly laid back so we're sure this won't bother you but the Church of England decided that during lockdown communion can only happen where priests are present physically in their homes - everyone else can watch! So, as we put on the flyer, tonight's service is not a Church of England communion - it's just communion so do share bread and wine together to remember Christ! And there will be no priest presiding therefore. Thanks for joining us.
1. Gathering/opening prayer
"Wherever we are we will remember God who always goes with us"
If you have a candle light it
It's a sign of God's presence with you
Pause for a moment and acknowledge God is here
"Where two or three are gathered in my name I am there in the midst of them"
Welcome God's Spirit
Then we invite you to catch up with one another, share news, ask how everyone with you is doing.
Then it would be great if someone in your home or group can take a photo of your group and post it in the Whatsapp group and say hi so we can all see who is with us this evening.
Here's the Grace community prayer for someone or everyone in the group to pray together.
2. Praise
How to get there' and 'Love and Fear' – both by Michael Leunig
Go to the end of the path until you get to the gate.
Go through the gate and head straight out towards the horizon.
Keep going towards the horizon.
Sit down and have a rest every now and again,
But keep on going, just keep on with it.
Keep on going as far as you can.
That's how you get there.
Pause
Think/talk about (and share on WhatsApp?) something we are grateful for from the last few days. Something magical, a dream fulfilled, a good book, some art, someone we think is wonderful, something surprising.
Thanks God
Song: Feeling Good / Nina Simone
3. Confession
There are only two feelings, Love and fear:
There are only two languages, Love and fear:
There are only two activities, Love and fear:
There are only two motives, two procedures,
two frameworks, two results, Love and fear,
Love and fear...
Do not act out of fear.
Do not act out of fear of yourself; of old hurts or desires we thought were long gone.
The fear of some urge or temptation that could carry us away in a heartbeat.
We give our fear to God. Perfect love drives out fear.
Do not act out of fear.
Do not act out of fear of others in our lives.
We think of broken relationships and our part in the separation.
Times when we have allowed the rifts to grow.
Our fear of being rejected if we reach out.
We give our fear to God. Perfect love drives out fear.
Do not act out of fear.
Do not act out of fear of the world around you.
The times when we lock our doors to make us feel safe but it just makes us more fearful.
We give our fear to God. Perfect love drives out fear
Do not act out of fear.
Do not act out of fear for the end of the world.
Turning away from our infected and burning world and hoping that someone else will save it. Knowing that what we allow will continue.
We give our fear to God. Perfect love drives out fear
We are loved. We are sorry that we forget.
4. Reading
Have someone read Mark 2:13-17 aloud and chat about the passage together as you wish.
Here's some questions that you can pick and choose from if they help:
Share a story of a memorable meal.
Who were tax collectors? Why were they disreputable?
Who would be included in the term "sinners"?
Why did the religious authorities not eat with sinners? What does eating together imply? What is the basis of fear of defilement?
Why does Jesus associate with such people?
Do we?
Who are "sinners" today? How might they defile us? How might we begin to relate to them?
What in Jesus allowed him to associate with sinners?
A lot of the action in Jesus life seemed to be around meals in other peoples houses. How did he get invited? How might you?
Can you get in touch with the "sinner" in you? What keeps it from coming to the table?
Can you get in touch with the pharisee in you? What does it say?
5. Peace
Jesus said, "Peace I leave with you, my peace I give you"
We say that each human life is a gift from God and each person has equal worth and value. 
What about the difficult ones, the needy ones, the ones that are hard to spend time with, the ones who confront us, the ones that make us angry, the ones that are different to us?
Consider a person, or people or a situation. You might be willing to talk to others about it.
Make your peace with it.
When you are ready say these words together
God makes peace within us. A peace the world cannot give. Let us claim it.
God makes peace between us. A peace the world cannot give. Let us share it.
(you can offer each other a sign of peace)
6. Eucharistic prayer
The word eucharist simply means 'thanks' and in communion there is usually a eucharistic prayer which is a prayer of thanks to God for Jesus and what he has done. Given the wider struggles of liberation in relation to racism and what feels like a challenging time in relation to institutional powers our thanks for Jesus has gone along that line. In a group it works well to take it in turns to read a paragraph.
Before reading the prayer below listen to the song Strange Fruit. I am sure you know but in case not strange fruit describes the victims of lynching.
Over the years we have been inspired by images of Christ relating to different cultures and ethnicities including our own. This is an image of Christ from 1929 in America which was an illustration in a book of poems called The Black Christ by Countee Cullen with Christ hanging as strange fruit.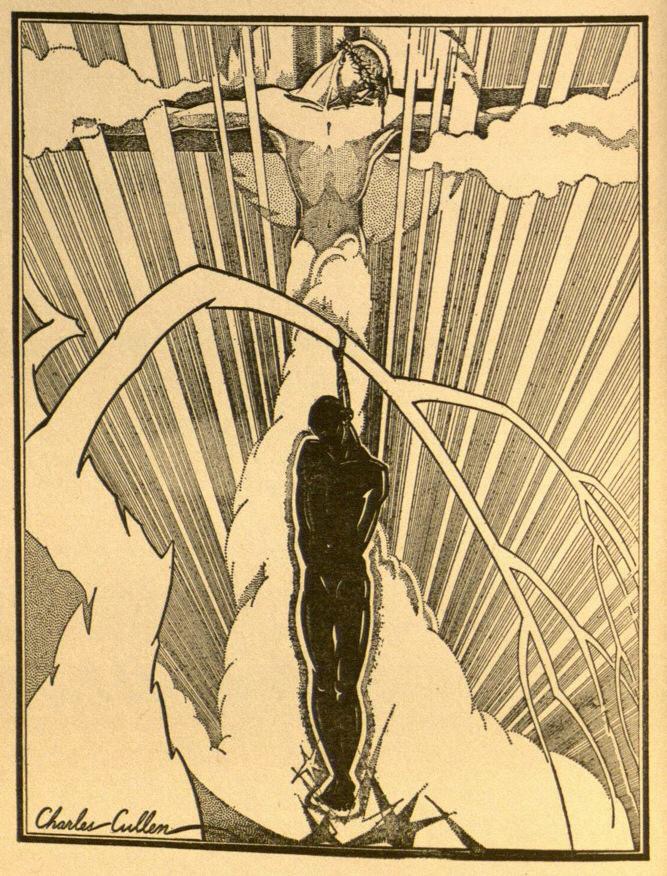 Song: Strange Fruit / Nina Simone
7. Bread and wine
Share bread and wine together. Take photo of whoever you are with and post in Whatsapp - we are the body of Christ.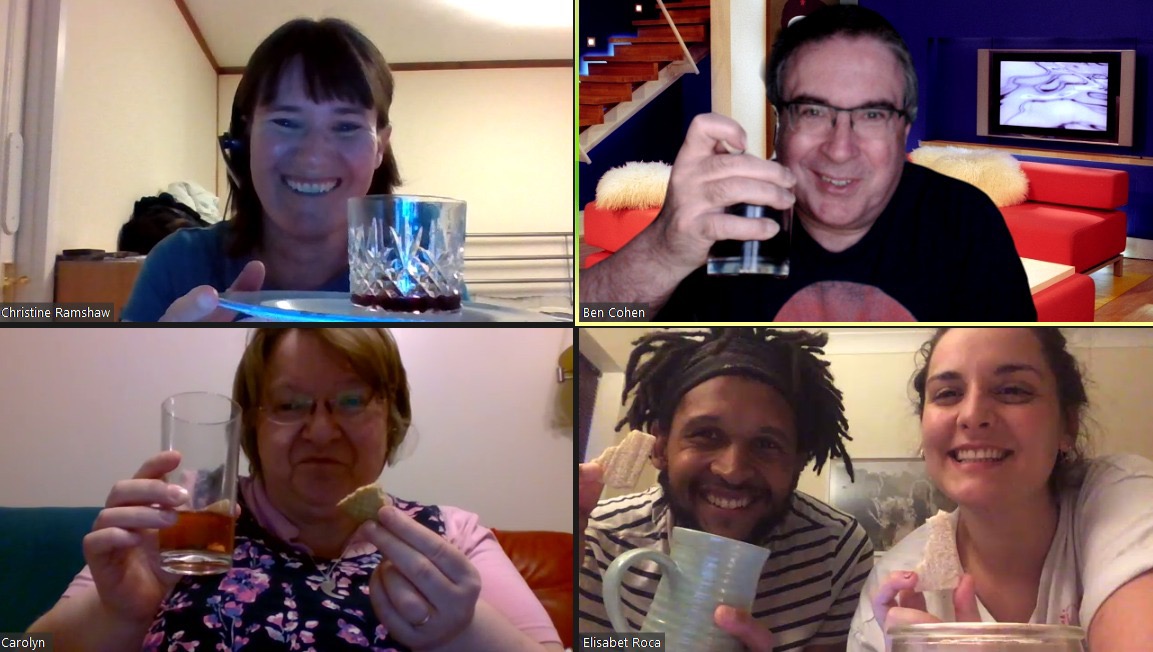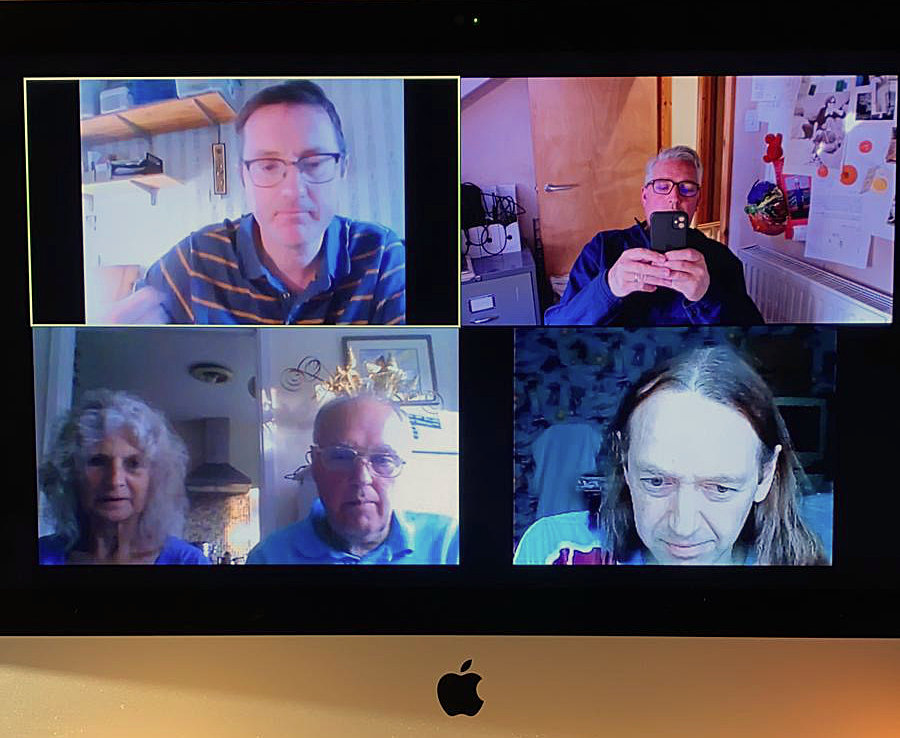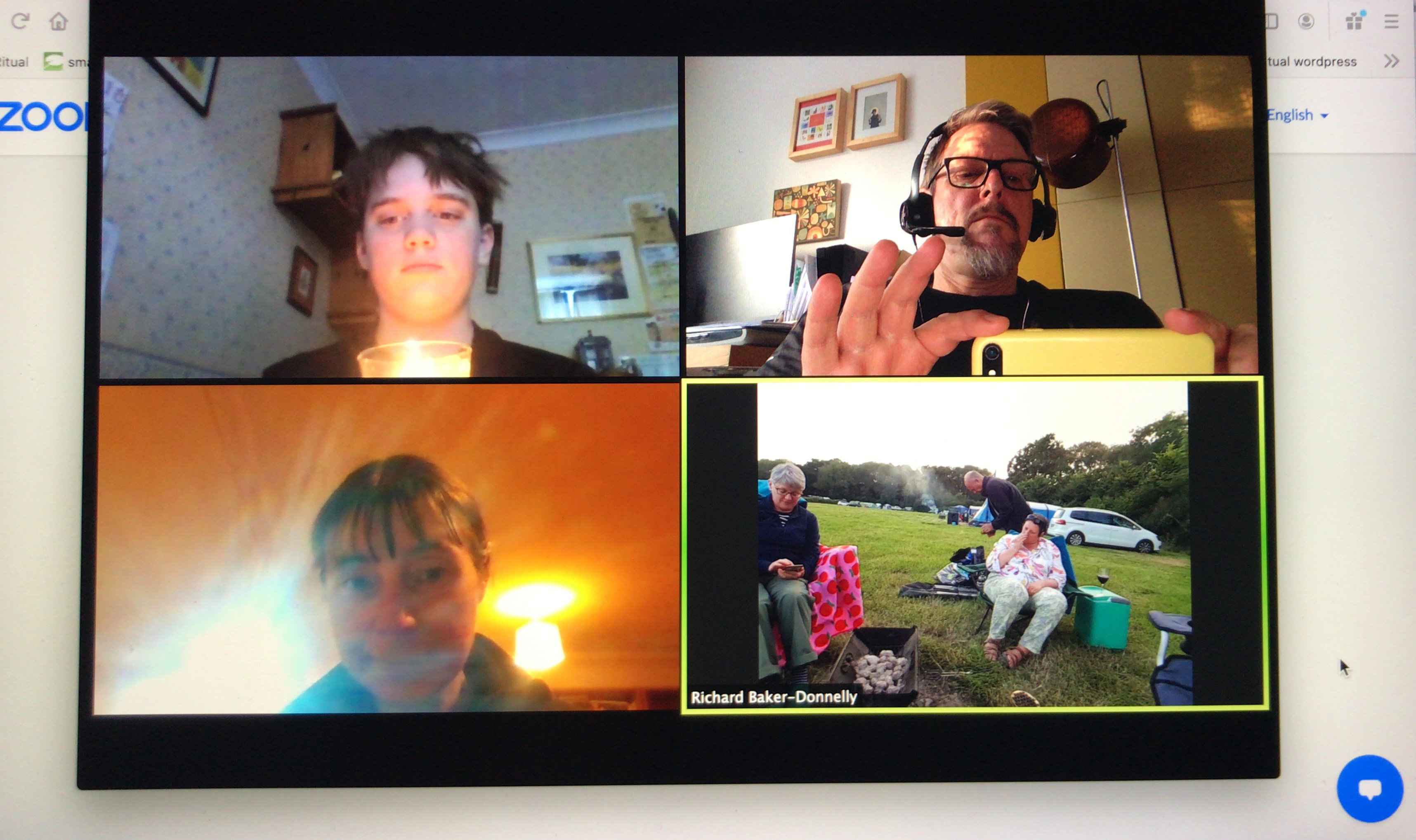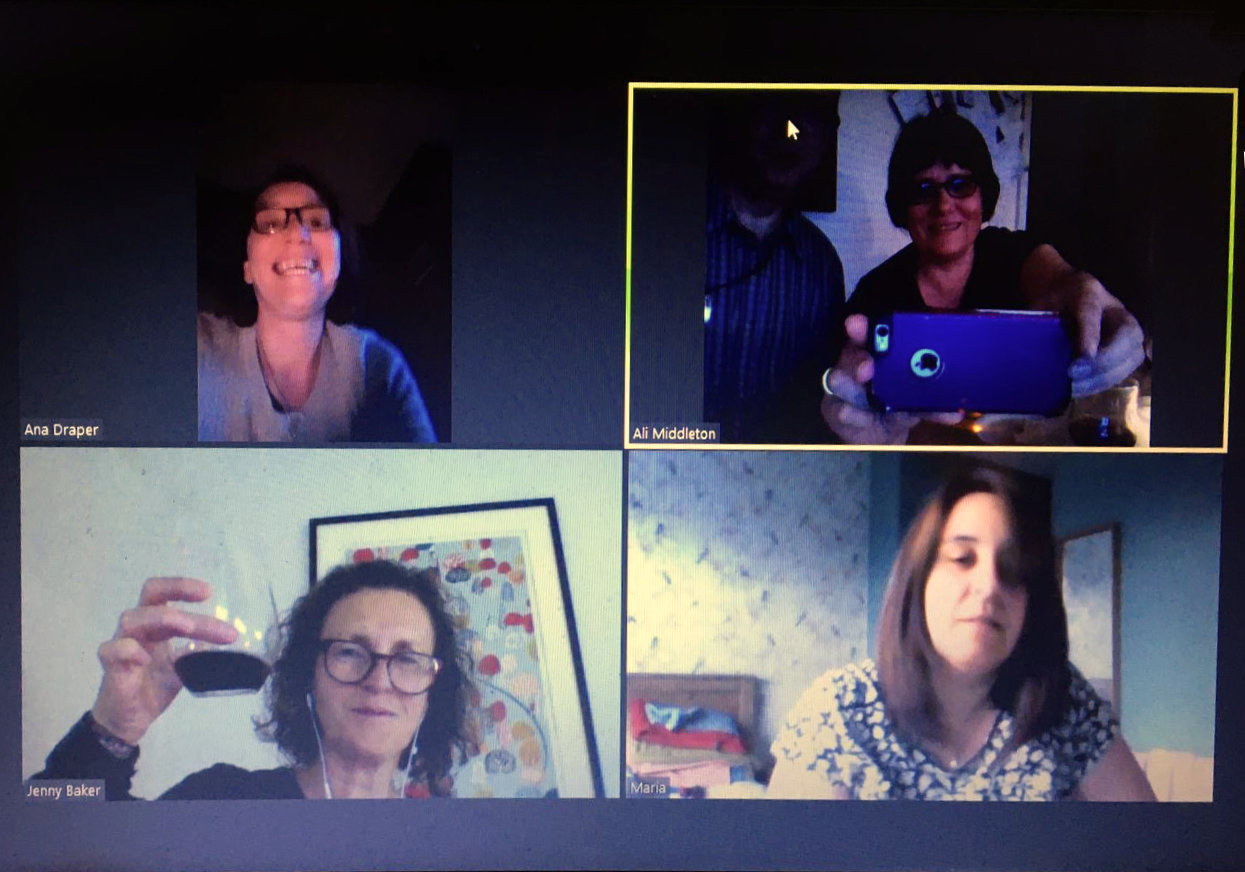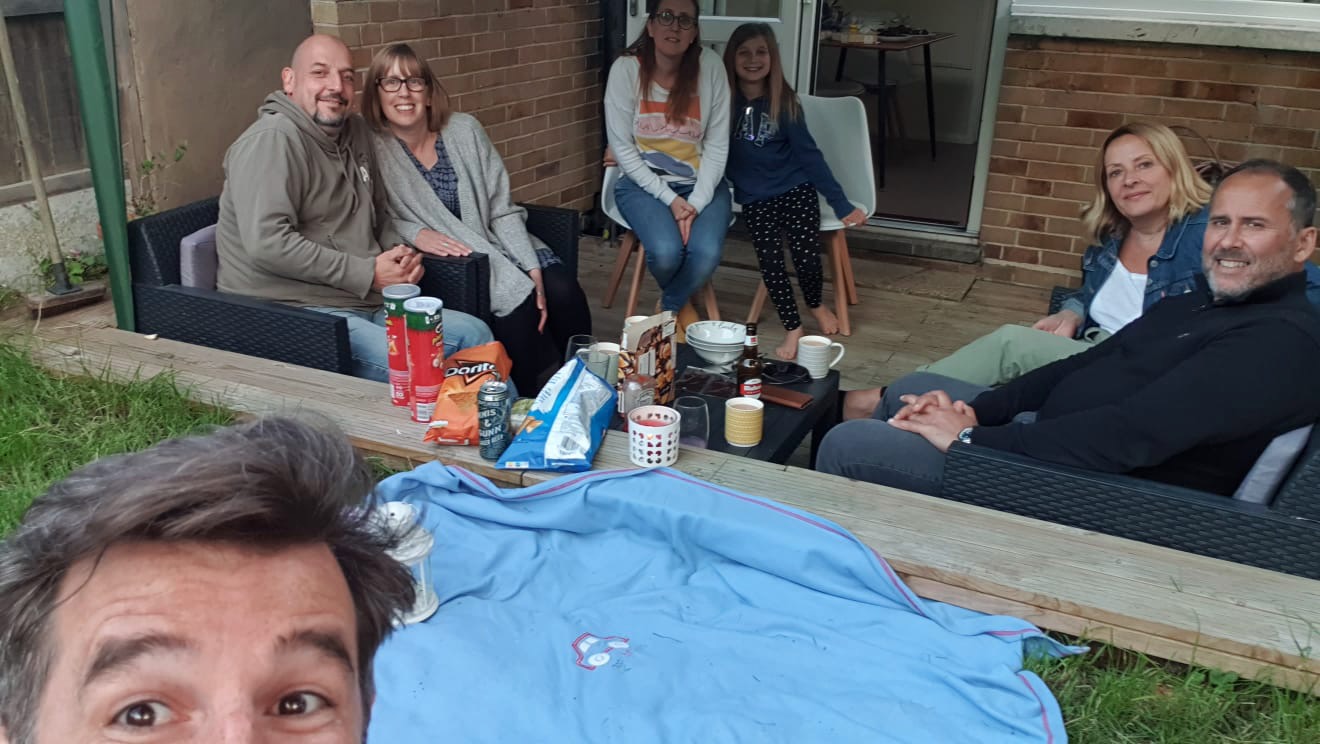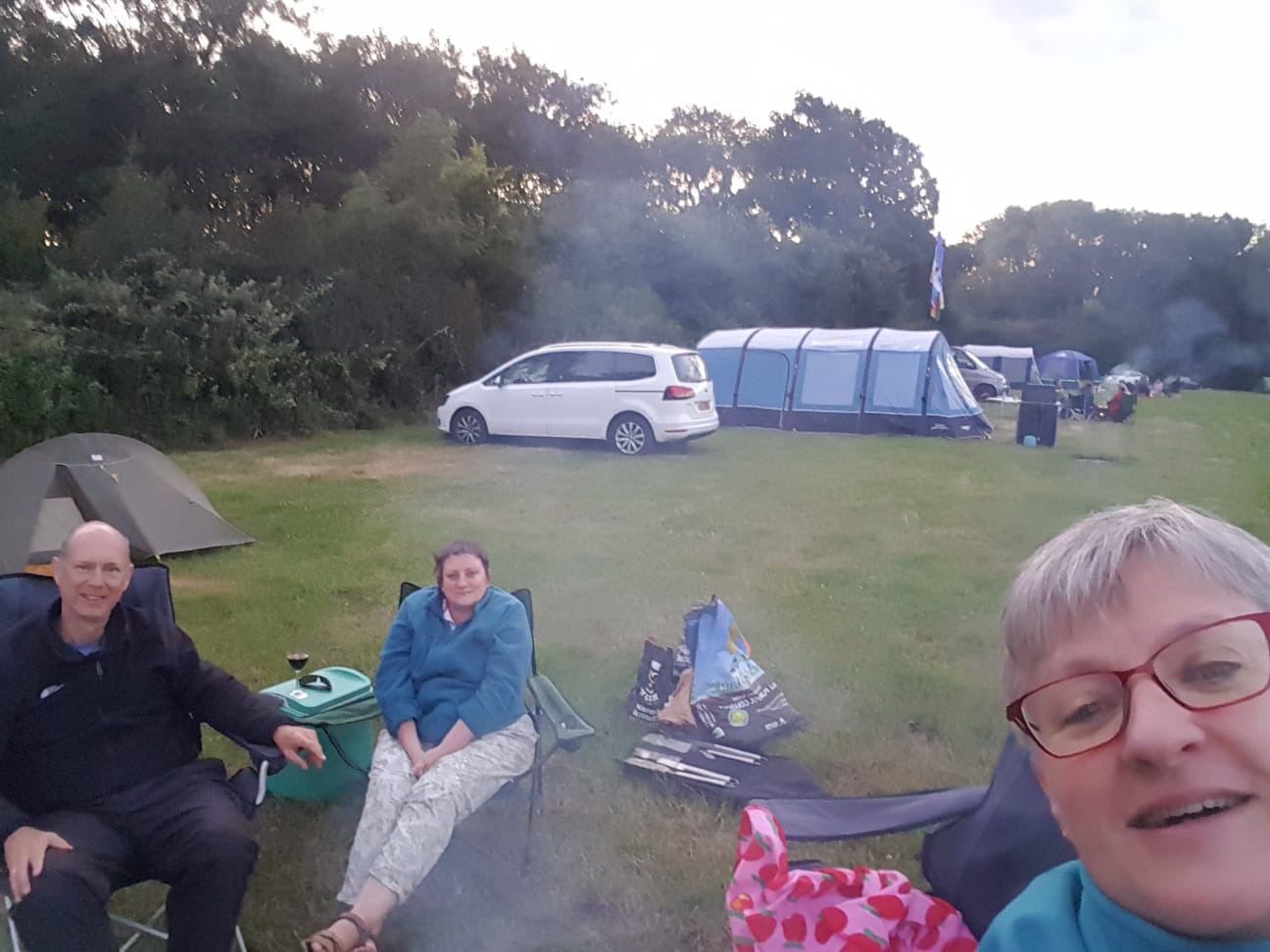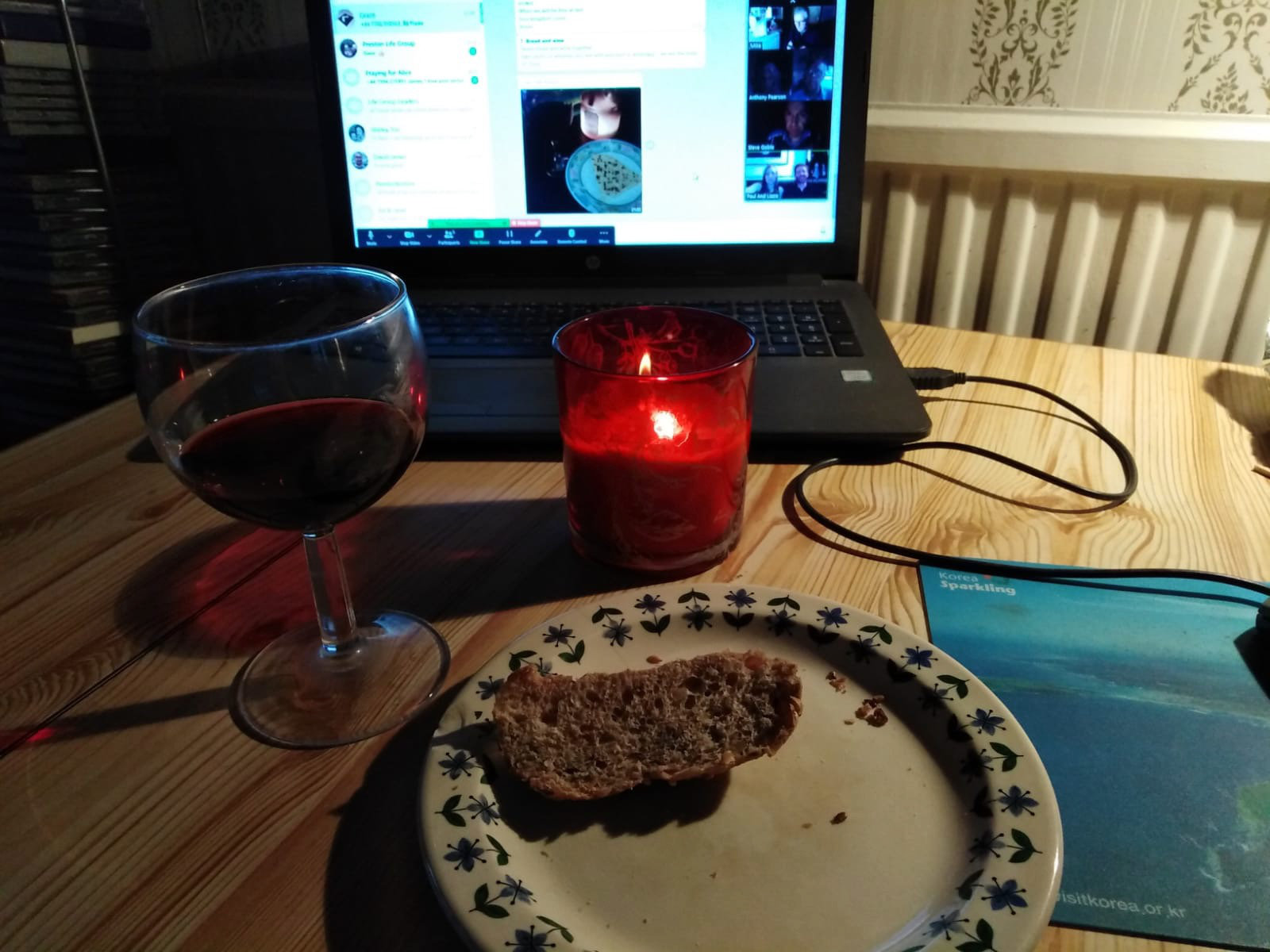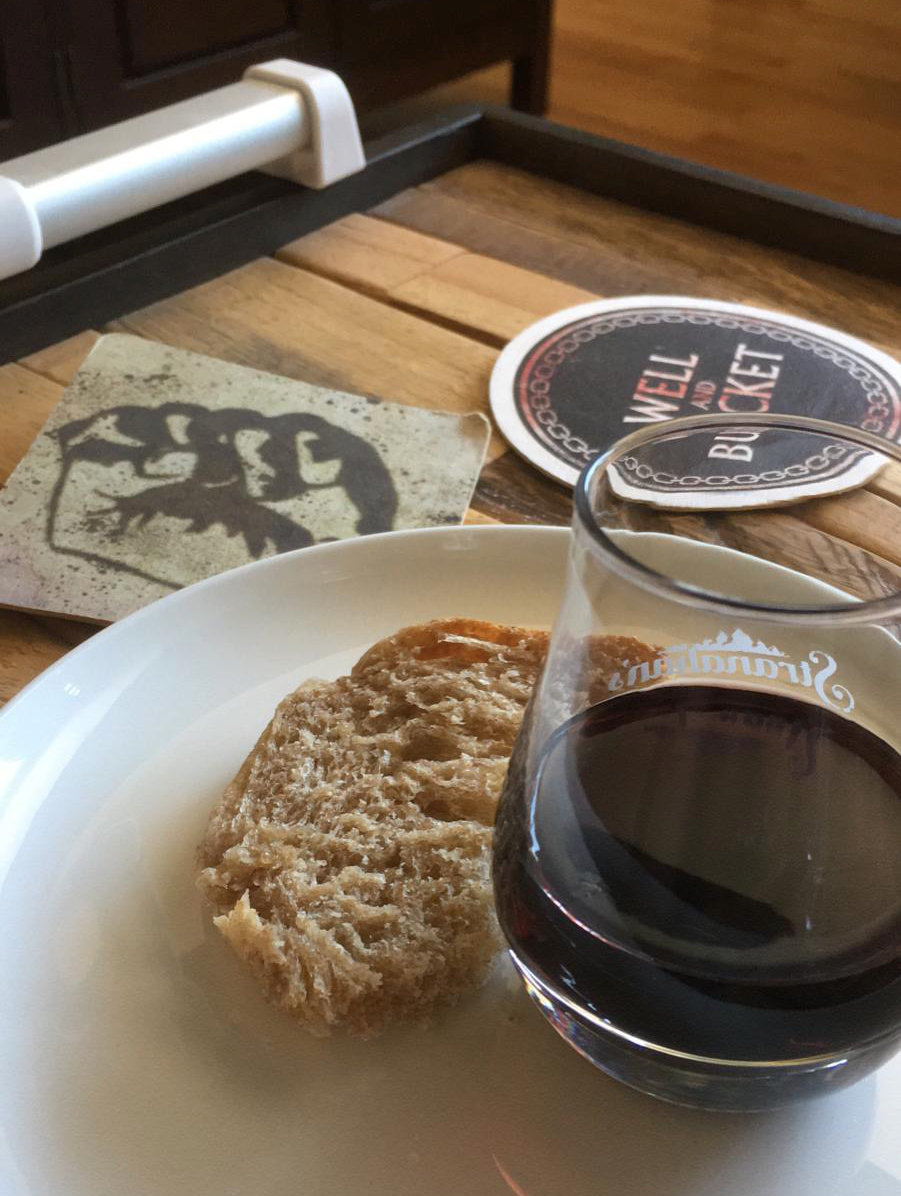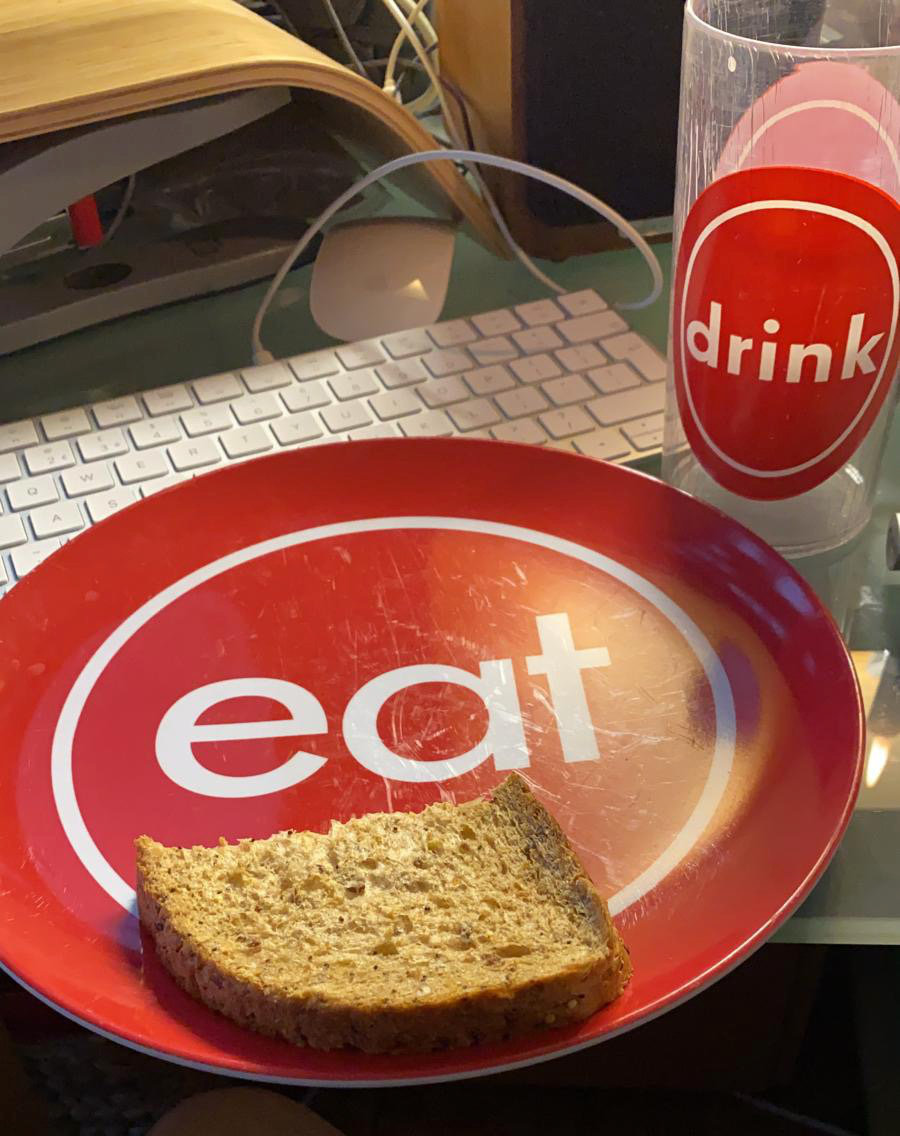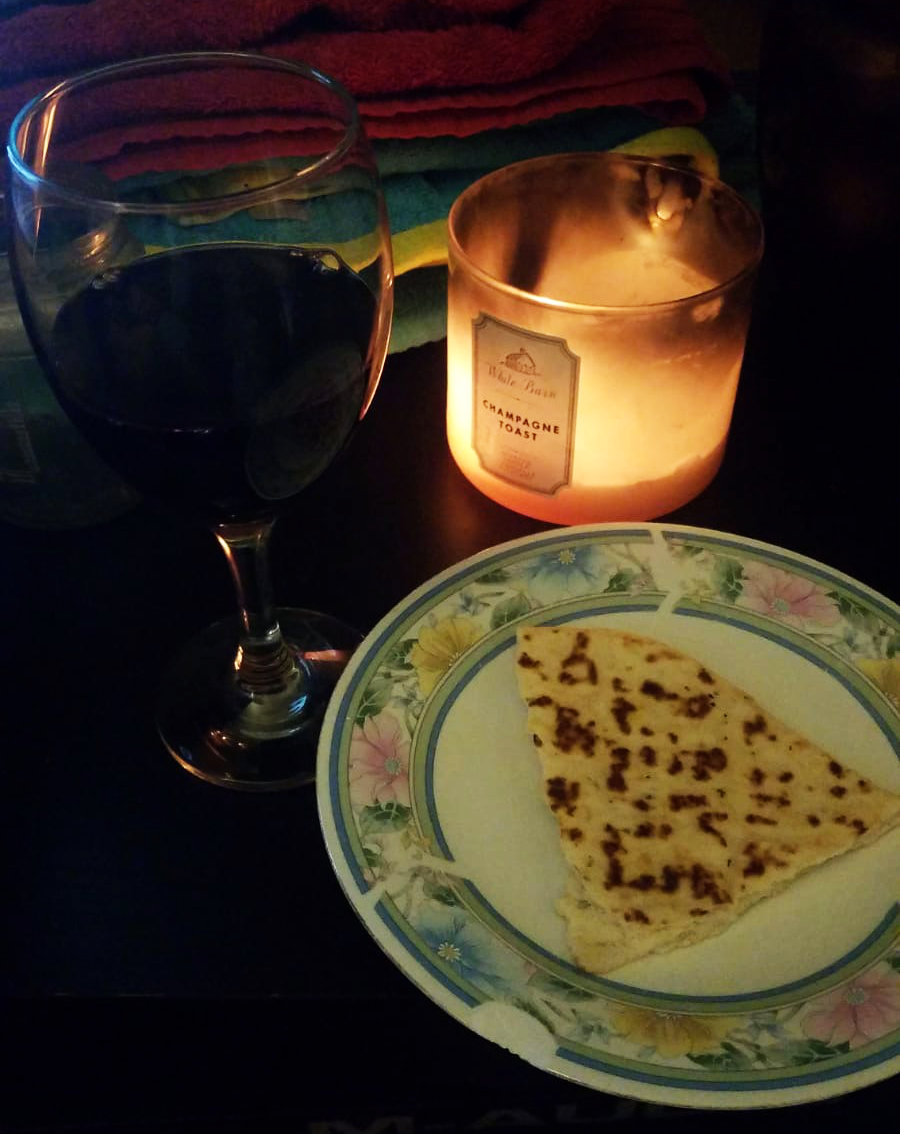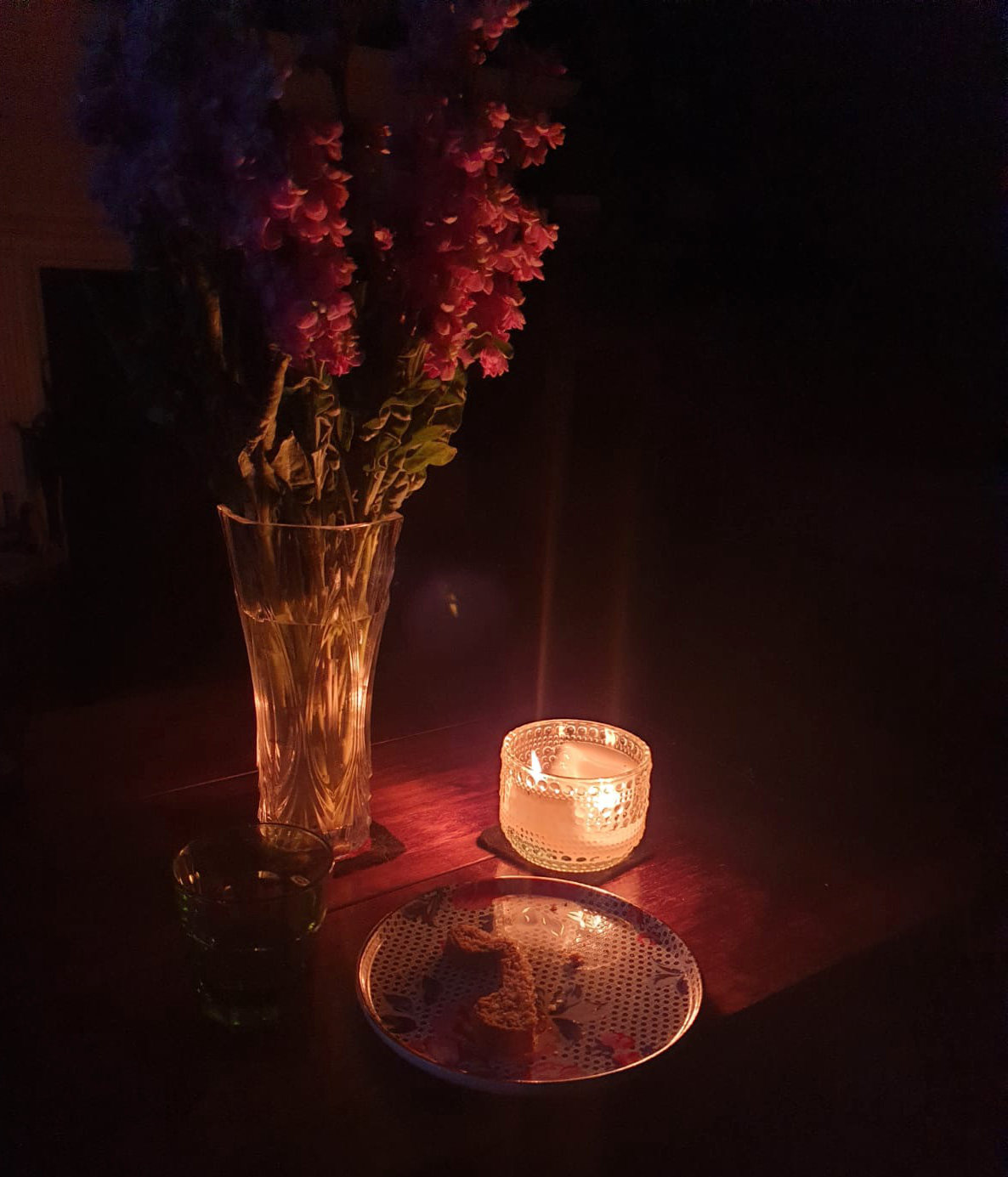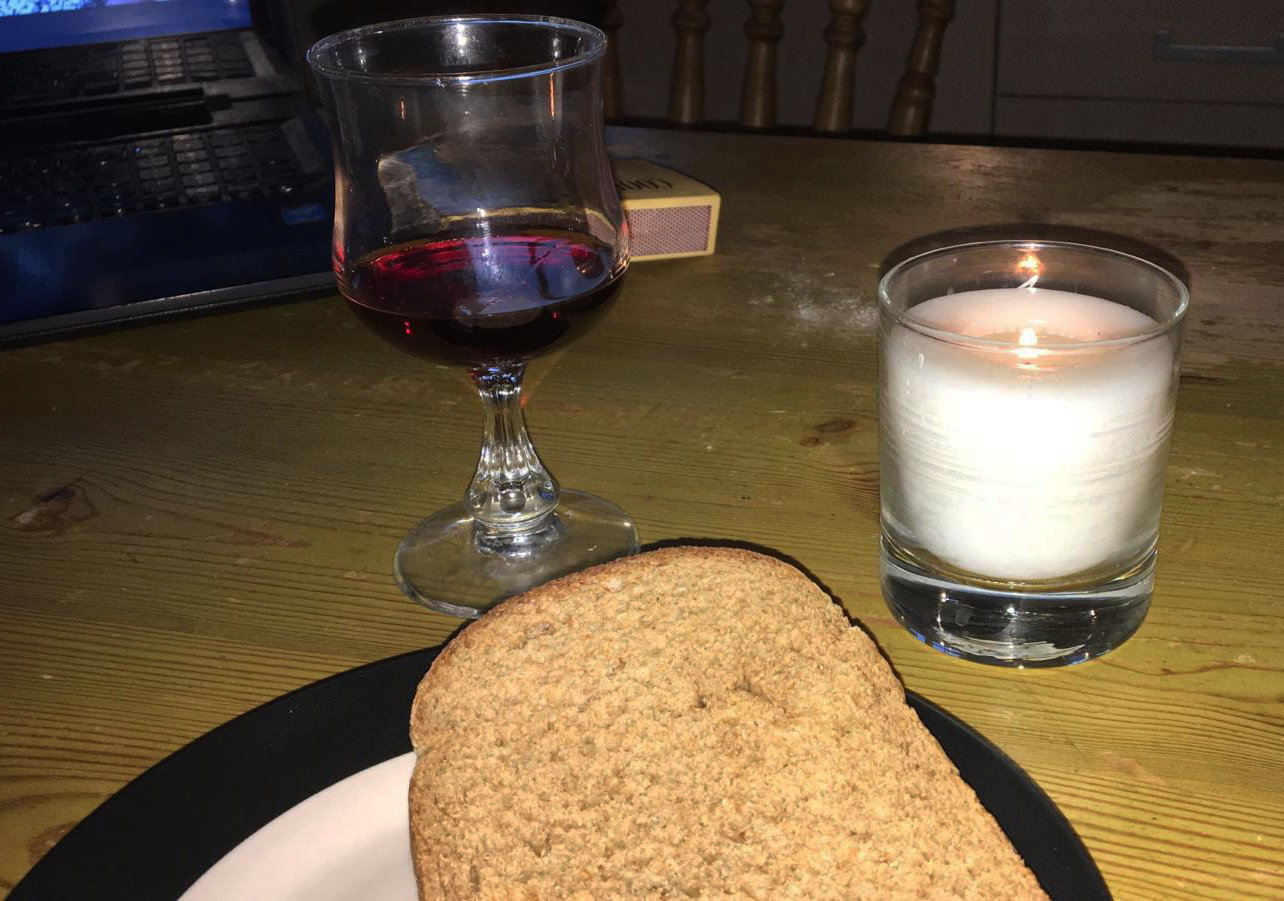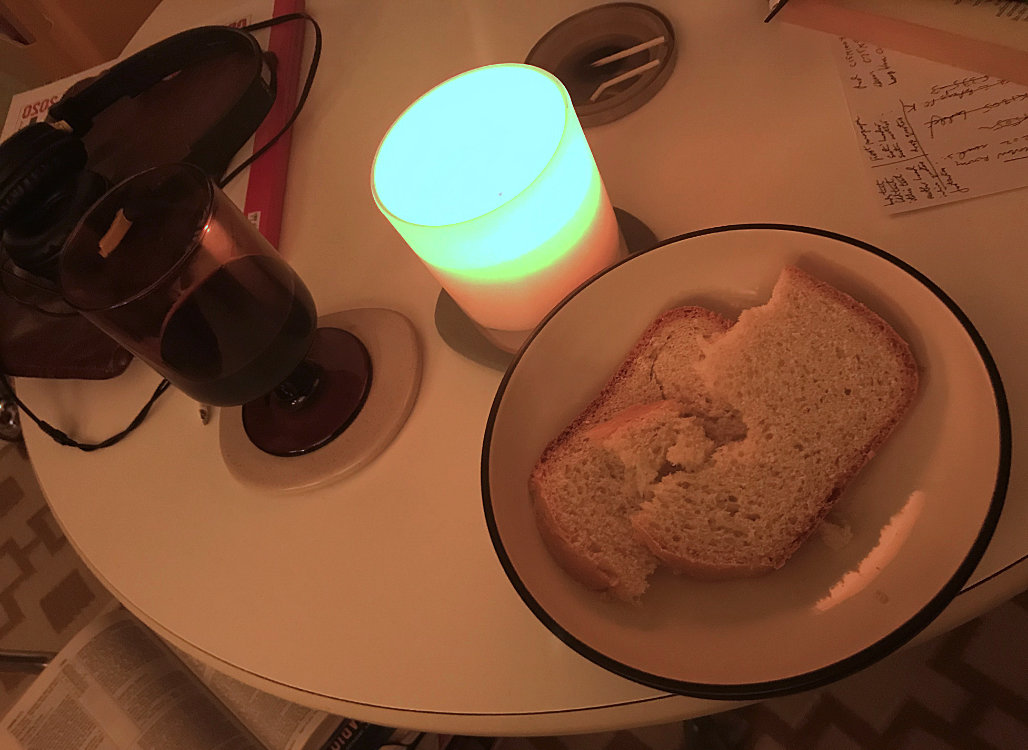 8. Prayer
"To pray is to learn to believe in a transformation of self and world, which seems at times impossible — as in moving mountains".
Discuss things you would like to pray for in your group/household and post that in the Whatsapp group so we can pray silently, aloud or however you wish.
The prayers will come to an end with the Lord's prayer when it is posted in Whatsapp.
Our Father in heaven,
hallowed be your name,
your kingdom come,
your will be done,
on earth as in heaven.
Give us today our daily bread.
Forgive us our sins
as we forgive those who sin against us.
Lead us not into temptation
but deliver us from evil.
For the kingdom, the power,
and the glory are yours
now and for ever.
Amen.
9. Blessing
'The Time To Be Slow' by John O'Donohue, an excerpt from 'A Blessing for the Breakup of a Relationship'.
This is the time to be slow,
Lie low to the wall
Until the bitter weather passes.
Try, as best you can, not to let
The wire brush of doubt
Scrape from your heart
All sense of yourself
And your hesitant light.
If you remain generous,
Time will come good;
And you will find your feet
Again on fresh pastures of promise,
Where the air will be kind
And blushed with beginning.