November 2015: Silent Communion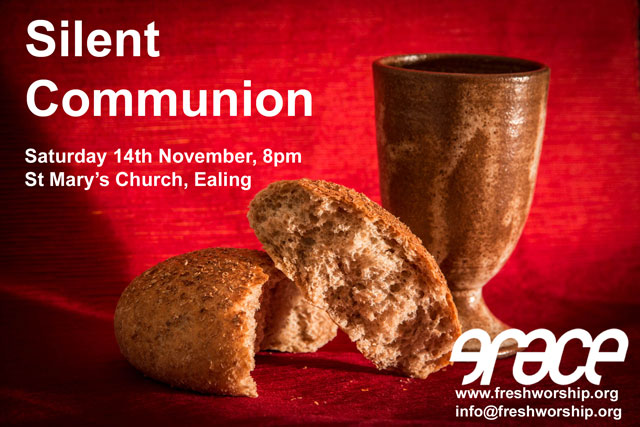 A service to explore worship beyond speech – the service aimed to use no spoken words or music and only minimal written instructions.
Set up:
Set up benches in the centre of the church in a closed circle
Candlestick and candle in centre.
Low lights
Used the main church screen to project a single image illustrating each section of the service.
Used the main altar on the church platform.
Welcome
As people arrived we invited them into the café for an explanation of the service:
Follow the usual Communion format but without spoken words or directions
People will be directed to activities around the church
There will be silence at several points
People should go into the church and at that point there will be silence
Everyone is welcome to share in Communion
At end feel free to stay in the church or go through to the café.
Gathering – image on screen of a large group of people
Open up the central benches
Invite people to take a seat in the centre circle of benches
Light the large central candle to mark the beginning of the service
3-4 minutes silence
Confession – image on screen bubbles
Lead group to high altar
On arrival everyone was given an envelope containing an Alka Seltzer tablet. Written on the envelope was 'What do You Want to Confess?'
On the high altar set up 4 tall glass jugs and vases with clear water and back lit.
Modelled dropping the tablets in the water and invite all to drop their table in the water and watch it dissolve
Finished with the sign of absolution
Word - Screen went straight into animation
Get group to stand and face the screen
Followed by 4 minutes silence
Intercession image on screen of burning tea lights
Set up four tables with black table cloth, laptops and tea lights around the church.
Each laptop to have an image reflecting praying for:

World – globe, old map of the world, represent people in trouble – migrants, poverty
Church – picture of a church
People –– café table, family, group of friends.
Ourselves – use the camera on the PC to reflect an image of the individual.

Lead people from centre to the stations and light a tea light for others to follow.
Gave people about 10 minutes to visit
To finish shut the lap top lids.
Lead people back to the centre
Peace
Consecration –Image of bread and wine
Stand in a circle round the altar
Dean to lead through the consecration emphasising accompanying gestures.
Focus on the bread and wine.
Finished with a few moments of silence.
Blessing
Used an old Grace animation of a blessing on screen
Used oil to anoint each other with a cross.
End
Animation of lips and voices followed by music.