February 2014: In The Presence of Silence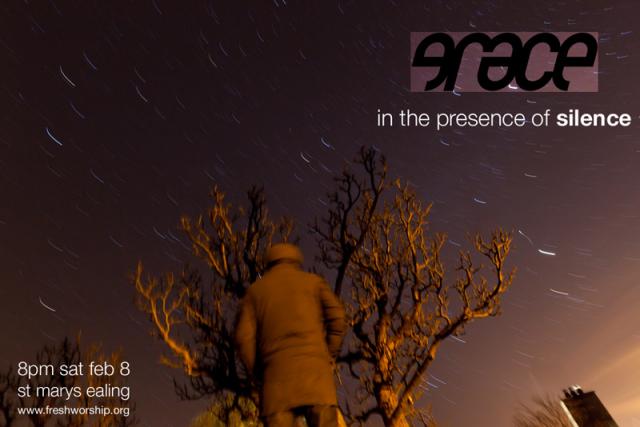 Silence as people arrive (10 mins) - explained outside as people arrive, asked to turn mobiles off (with background music)
Song - space and time
Poem - slow into stillness (from Ian Adams book Running Over Rocks)
Silence - chat to neighbour about your experience of silence
And a few thoughts on silence:
Busy connected world - sense it's important to disconnect, to slow down, to experience silence and stillness.
Most spiritual traditions recognise that God is met in silence alongside other ways
The voice of God is best heard in silence (Anthony De Mello)
If you love truth be a lover of silence... More than all things love silence: It brings you a fruit that tongue cannot describe (Isaac of Ninevah)
But remember last time - what helps and what hinders - may not be for you which is fine…
1. Takes time to stop twitching
2. Silence is a Presence not an absence
Sara Maitland quotes from the Book of Silence -
As time passes i increasingly realise there is an interior dimension to silence, a sort of stillness of heart and mind which is not a void, but a rich space.
I did not see lack or absence but a positive presence. Silence may be outside or beyond the limits of description or narrative language but that does not necessarily mean that silence is lacking anything. Perhaps it is a real separate actual thing... not a lack of language but other than, different from language; not an absence of sound but the presence of something which is not sound.
A presence of unequivocal embrace and acceptance by the love that loves us, a presence that enfolds and holds us in our own vulnerability and roundedness.
3. There is both outer silence but it is really inner silence we seek to find.
4. Stuff surfaces in silence - The TV series Big Silence proved that. Can be our own brokenness, sense of who we are, memories, attention to desires and so on.
I have shown you the power of silence, how thoroughly it heals and how fully pleasing it is to God (Desert Father Amononas)
5. It is Difficult - not necessarily an experience of warm feelings of being held or peace. Can just be hard, but practice takes practice.
What to do in the silence? less sure that it needs anything - whatever helps. Best nothing - breathing, word, let go, stuff comes to mind, lay it aside, look at candle, not really a talking kind of prayer - leads you to rest in the presence of silence and be enfolded.
Readings: -
Job 33:33
33 But if not, then listen to me;
be silent, and I will teach you wisdom."
"In solitude I get rid of my scaffolding: no friends to talk with, no telephone calls to make, no meetings to attend, no music to entertain, no books to distract, just me—naked, vulnerable, weak, sinful, deprived, broken—nothing. It is this nothingness that I have to face in my solitude, a nothingness so dreadful that everything in me wants to run to my friends, my work, and my distractions so that I can forget my nothingness and make myself believe that I am worth something. But that is not all. As soon as I decide to stay in my solitude, confusing ideas, disturbing images, wild fantasies, and weird associations jump about in my mind like monkeys in a banana tree. Anger and greed begin to show their ugly faces. I give long, hostile speeches to my enemies and dream lustful dreams in which I am wealthy, influential, and very attractive—or poor, ugly, and in need of immediate consolation. Thus I try again to run from the dark abyss of my nothingness and restore my false self in all its vainglory.
We are, however, not completely alone, Christ is with us.
We enter into solitude first of all to meet our Lord and to be with him and him alone. Our primary task in solitude, therefore, is not to pay undue attention-to-the many faces which assail us, but to keep, the eyes of our mind and heart on him who is our divine saviour. Only in the context of grace can we face our sin; only in the place of healing do we dare to show our wounds; only with a single-minded attention to Christ can we give up our clinging fears and face our own true nature. As we come to realise that it is not we who live, but Christ who lives in us, that he is our true self, we can slowly let our compulsions melt away and begin to experience the freedom of the children of God. And then we can look back with a smile and realise that we aren't even angry or greedy anymore"
--From The Way of the Heart
by Henri Nouwen
"Busyness can also be an addictive drug, which is why its victims are increasingly referred to as 'workaholics.' Busyness acts to repress our inner fears and personal anxieties, as we scramble to achieve an enviable image to display to others. We become outward people, obsessed with how we appear, rather than inward people, reflecting on the meaning of our lives.
Busyness also seems to be a determination not to "miss out on life." Behind much of the rat-race of modern life is the unexamined assumption that what I do determines who I am. In this way, we define ourselves by what we do rather than by any quality of what we are inside. It is typical in a party for one strange to approach another with the question "What do you do?" Perhaps we wouldn't have a clue how to respond to the deeper question, Who are you?'
Since prayer belongs to the relational side of human life (to who "I am" rather to "what I do"), it is inevitable that prayer will have a very low priority, at the very best for people who live busy lives."
--From The Transforming Friendship
by James Houston
Prayer from St Hilda Community:
Be silent
Be still
Alone
Empty
Before your God
Say nothing
Ask nothing
Be silent
Be still
Let your God look upon you
That is all
She knows
She understands
She loves you with an enormous love
She only wants to look upon you with her love
Quiet
Still
Be
Song - But in silence (Chris Read and Harry Baker)
Silence (20 mins)
Gently end silence - leave space with quiet music and ask others to go to cafe quietly
Song - When we are alone (Chris Read and Harry Baker)