July 2013: Labyrinth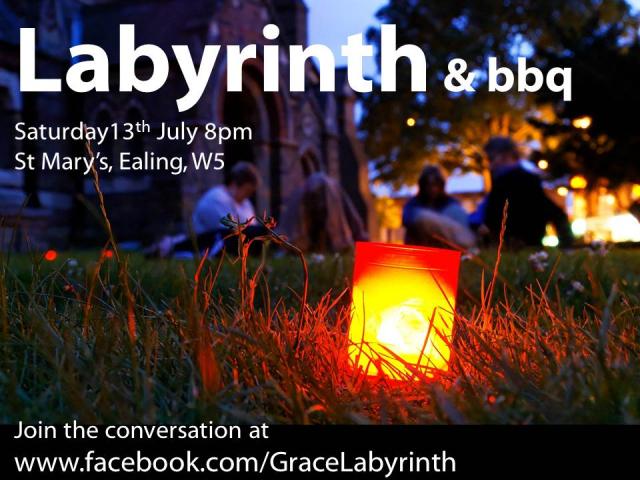 Welcome
Welcome to July Grace and BBQ. We've got two activities for you this evening walking the labyrinth and doing a meditation walk around the Church. There are some sheets with guidance for both of these activities if you would like some ideas to help you in the walking. We'll be bbq-ing from 8.30 and we'll have a closing ritual when it looks like most people are through with the labyrinth – although nobody will be stopping you walking later – or indeed coming back tomorrow.
Opening prayer:
Stand still for a moment
Feel the ground under your feet
Become aware of the noises of the evening Ealing – cars, birds, planes, music
Shrug your shoulders and stretch them down.
Become aware of your breathing.
Breathe in and out

Breathe in the cool air of the evening
Breathe out the busyness of the day

Breathe in the breath of God
Breathe our your cares and concerns

Breathe in the love of God
Breathe out our doubts and despairs

Breathe in the grace of God
Breathe out your fears and frustrations

Breathe in the breath of God
Breathe out our tensions and turmoil

Breathe in the love of God
Breathe out your haste and hurry

Walk with God this evening.
Handout
Spirit Labyrinth
A labyrinth is a walking meditation with three stages - the journey in; the centre; and the journey out. Today as we celebrate the coming of the Spirit at Pentecost here's a few suggestions for your walk...
† life is a journey - as you walk reflect on your life's journey and your relationship with God
† walk slowly
† avoid the temptation to chat with others on the journey
† use the journey in to the centre to quiet down, to slow down, to let go of busyness and stress, to confess sin and ask forgiveness, and to prepare to meetwith God
† as you walk be aware of others on the journey - pray for them
† sometimes you will be close to the centre and sometimes close to the edge - are you close or far from God in your journey?
† as you reach the centre this is holy space - a space to be with God in prayer
† in the centre there is some oil - this is a sign of the Spirit
† the person in front of you will anoint you with oil and pray for you to be filled
afresh with the Spirit of God - receive, stay there as long as you like
† listen - is there something God might be saying to you?
† if someone comes in to the centre while you are there anoint them with oil and pray for them to be filled afresh with the Spirit of God
† when you are ready begin the journey out - as you do, take your encounter
with God with you back into the world
† pray for the presence of God in the situations you are facing in everyday life
† as you finish the journey offer yourself afresh to God
Walking Meditation
A walking meditation helps us to:
Quieten our minds
Awaken our senses
Develop our ability to attend to and observe the world.
Suggest that you walk around St Mary's Church – try to go round two or three times – the first time you will be thinking about the route but the second or third times you will be able to take your focus away from way-finding.
First circuit
Walk slowly but steadily and pay attention to our body.
Feel your legs moving and your feet touching the ground - how do your arms and shoulders move in the rhythm of the walk.
Remember that your entire body is involved in walking
Give thanks for your bodies capabilities.
Second circuit
Pay attention to your surroundings.
Notice the plants and trees that you pass.
Look up at the buildings that surround us.
Observe shapes, colours, sounds and smells.
Give thanks for creation in all it forms.
Third circuit
Continue to pay attention to your body and your surroundings.
Also pay attention to the people and places that come into your mind?
What are your concerns and pre-occupations?
Who are you thinking about?
Remember them gently before God.
As you finish stand at rest before you move on.
Finish
Incense and John O'Donoghue blessing for the end of the year p73