January 2013: Gifts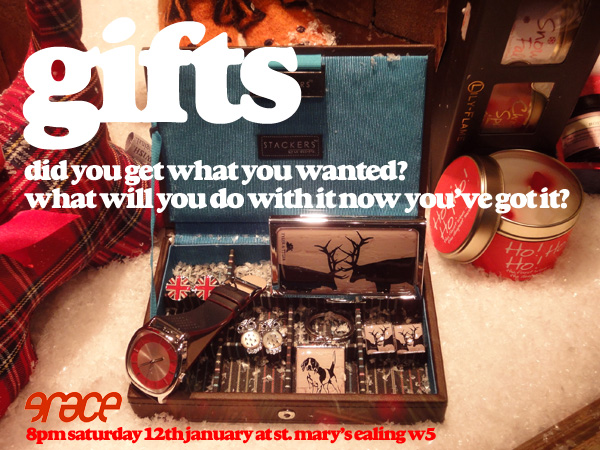 1. welcome to grace
2. reading: the visit of the magi matthew ch. 2
3. epiphany hymn
'here is the little door' lyrics by Frances Chesterton, music composed by Herbert Howells, sung by the Finzi Singers
Here is the little door, lift up the latch, oh lift!
We need not wander more but enter with our gift;
Our gift of finest gold,
Gold that was never bought nor sold;
Myrrh to be strewn about his bed;
Incense in clouds about his head;
All for the Child who stirs not in his sleep.
But holy slumber holds with ass and sheep.
Bend low about his bed, for each he has a gift;
See how his eyes awake, lift up your hands, O lift!
For gold, he gives a keen-edged sword
(Defend with it Thy little Lord!),
For incense, smoke of battle red.
Myrrh for the honoured happy dead;
Gifts for his children terrible and sweet,
Touched by such tiny hands and
Oh such tiny feet.
4. how epiphany was nowhere near christmas
this is one of those places in the bible where a large amount of time has passed since the previous paragraph, with barely any indication.
the visit of the magi was around 18 months after the birth of christ [assuming herod allowed a generous margin of error in his calculation]. the holy family were living in a house in bethlehem - the stable, manger and shepherds were long past. by now jesus was walking - a toddler.
wealthy strangers suddenly turn up at the door asking to see the child, whom they worship. they give incredibly valuable gifts - gold, frankincense which was then worth as much as gold, and myrrh which was worth much more.
how would the holy family react to these people and their outrageous gifts?
how would you react if foreign strangers arrived in limousines, knocked at the door, asked to see your child and gave him diamonds, platinum and a portfolio of high-performing shares?
what would the neighbours say? how could such a visit be kept secret?
what could the family do with such gifts?
if they use the gifts, how will they explain how they got such things?
5. what do you think joseph and mary did with the gifts?
small group discussion with feedback.
6. gifts in the bible: readings
2 Chronicles 17.10-13
Esther 9.20-23
Genesis 25.5-6
Numbers 6.13-15
Proverbs 18.16
Matthew 7.7-11
Introduced by asking people to listen to the readings and be thinking about who is the giver and who receives, why are the gifts given, what is the result.
7. giving and receiving
the importance of gift giving in many places as a way of binding the community together
the way we give gifts says something about our culture – most families have some kind of system of gift giving – who gets gifts – children, single, elderly – how you define the level of cost.
Anthropologists have spent a lot of time looking at systems of giving and receiving gifts and in some cultures it is a highly ritualised and controlled process. Eg in Melanesia the system of kula binds together the whole string of islands and defines people's places in the local society [describe way it works and its persistence into the 21st century].
[slides on screen - photographs of kula gift-giving in melanesia from the early 20th century]
the radical nature of grace – God giving where he will.
8. pass the parcel
to subvert the preceding section about the ritual and regularity of gift giving with the random nature of a party game.
congregation stand in a circle and play 'pass the parcel'. the parcel has a gift in almost every layer [though a couple are left empty]. the idea is to include objects that are not conventionally given as gifts.
list of contents:
a myrrh crystal
oil of frankincense
a mr. men book - '12 days of christmas' [about gift giving]
a paper napkin
a bottle opener
a tin of shoe polish
a poem - TS Eliot visit of the magi
a cereal bar
expensive chocolates in a gold box [the centre of the parcel
music: the birdy song!
after the game, the person who had received the mr men book read it out. it is about mr muddle giving inappropriate gifts to the other mr men on the 25th of every month through the year.
9. neither use nor ornament
the congregation had been asked to bring, or be prepared to talk about:
a valued gift
a useless or unsuitable gift
a gift whose true value only became apparent much later
intro speech:
what provoked this service was the observation that the word 'gift', which in the bible means something valuable that honours the giver and the recipient now often means something useless or trivial as in the 'gifts' section of a store or a catalogue.
how do we recognise the worth of something [which might be worth-less at the time of giving]?
do we look for the qualities of a gift that are not immediately obvious?
what about the gift that you have to grow into? what about the gift that changes you?
[congregation show and talk about their valued/unvalued/unrecognised gifts]
so:
what if god's gifts were of no immediate use or seemingly unsuitable [as the magi's gifts may have appeared to be at first]?
what have we been given that we haven't recognised the worth of [yet]?
10. questions
questions on the screen - congregation to think about in silence:
what has god given you that you haven't unwrapped yet?
what has god given you that doesn't seem to fit?
what has god given you that you aren't ready for?
what has god given you that it isn't the right time for yet?
11. final prayer
on screen, all say together:
creator of all things
giver of the cosmos
giver of life itself
help us to wait patiently
for the gifts we need to be revealed
teach us to recognise what you are giving us
open our eyes to the worth
of what you have already given us
show us new uses for old gifts
and old uses for new gifts
give us the eyes to see your gifts in others
and the wisdom to draw out and affirm
the gifts others have but cannot see
help us to make full use of the greatest gift of all
the gift of unbreaking relationship with you
given to us through the self-giving of your son
giving back to the magi
far more than they had given to him
in the name of the lover,
and the giver, and the gift
let it be so
outro
the rolling stones 'you can't always get what you want'