Eucharist of Light - Saturday 8th February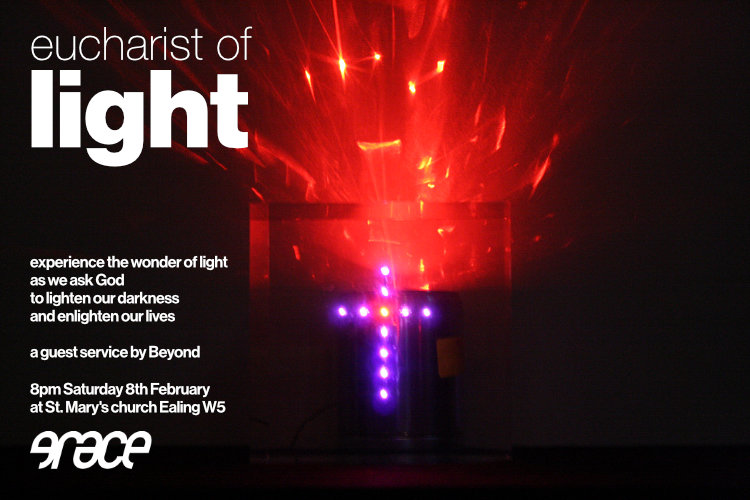 Light is a metaphor for life. Going from dark to light reminds us of the journey from death to life, from ignorance to knowledge, from sin to grace, from bad to good.
Advent and Epiphany remind us of these themes and as we journey from Winter towards the light and warmth of Spring and Summer, Beyond combines these themes with the symbolic action of breaking bread and sharing wine and adds an opportunity to experience the wonder of light as we ask God to lighten our darkness and enlighten our lives.
Guest curation by Beyond who are a creative worship community based in Brighton. Cafe afterwards as usual.
Some pictures of other things Beyond have done or curated
---
Labyrinth - Saturday 11th January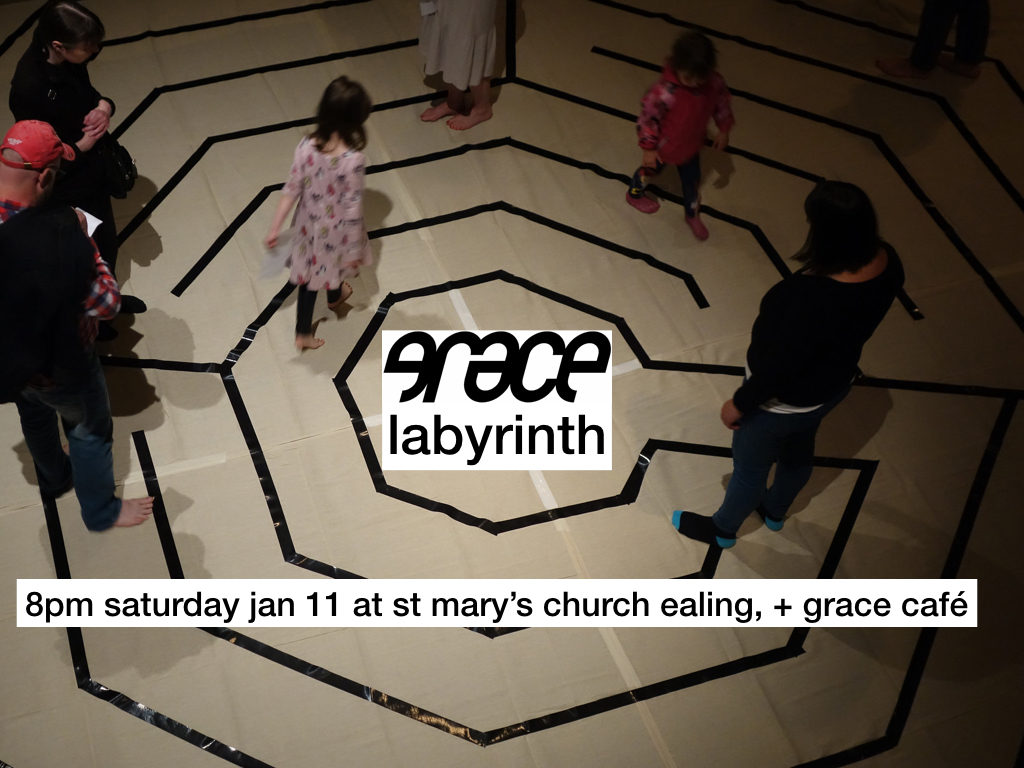 Join us on Saturday January 11th and walk a labyrinth. If you have not walked a labyrinth before it is a lovely prayerful space surrounded by candlelight and ambient tunes. You meditate by walking.
It's a perfect way to start the new year, reflecting on what has gone before, giving thanks and letting go. It's a space to be still, to be with God, to place yourself into God's care. And then it's a journey into the decade that lies ahead with all of its possibility, challenge and adventure.
There will be a cafe afterwards as ever with space to chill and catch up.
---
Coping with the Politics of Despair
Peter Tate wrote a blog post based on his intro to the Advent service.
---
Advent Calendar photobook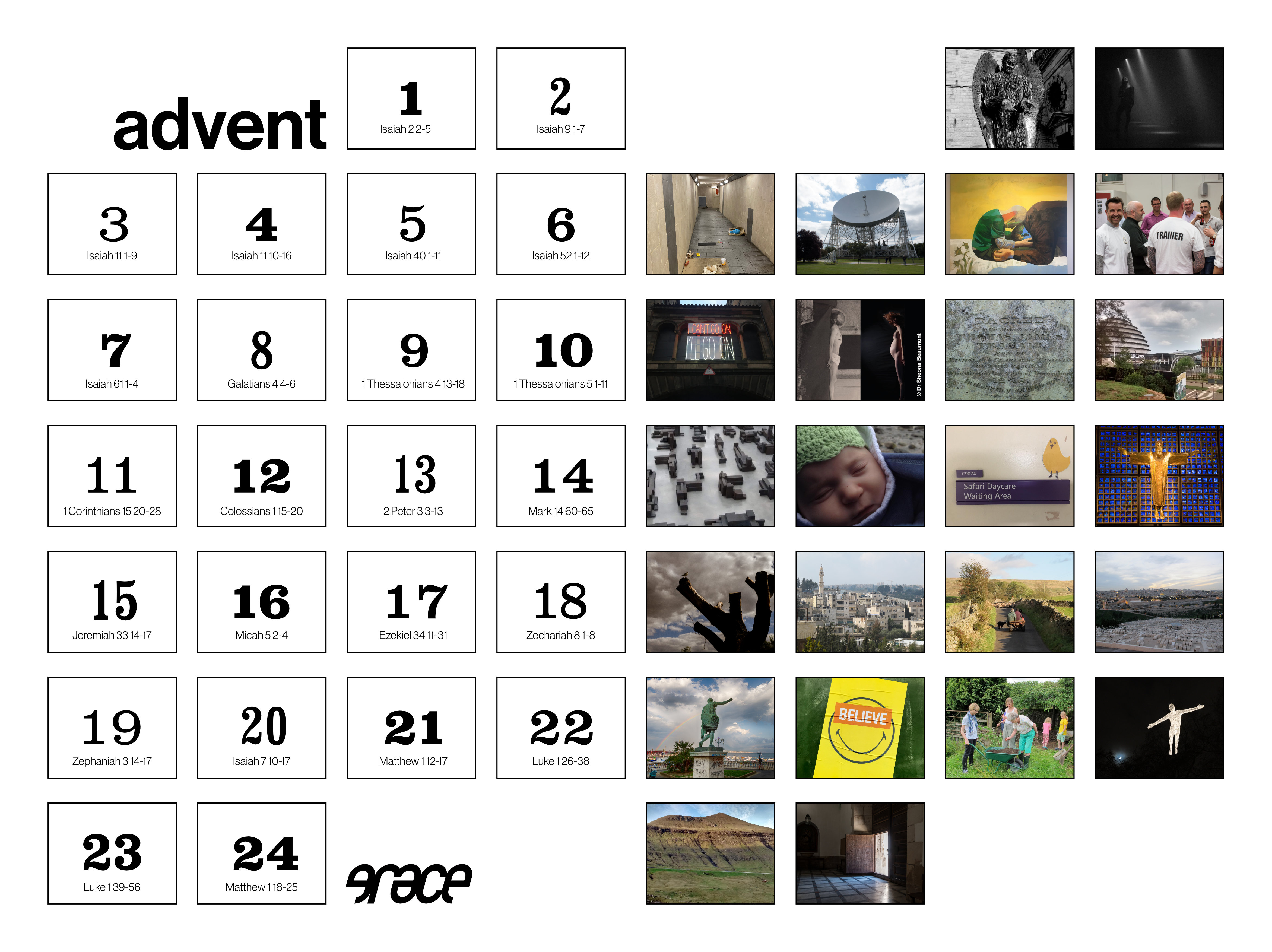 The Advent calendar full Bible texts and photos are now available here as a PDF.
---
Advent - Saturday 14th December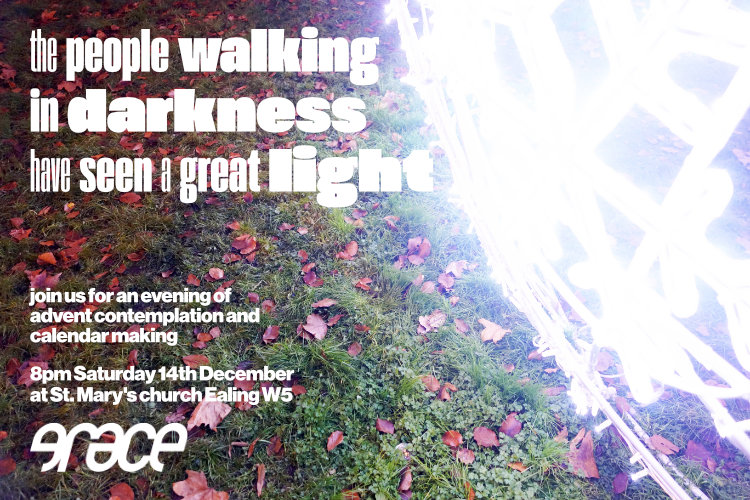 Join us for a mid-Advent meditation, featuring photos by members of Grace that have been inspired by the season's traditional Bible texts. We will make our own Advent calendars, that we can continue to fill with images up to Christmas.
Everyone is welcome to stay for mulled wine in the cafe afterwards.
---
Coming home - Saturday 9th November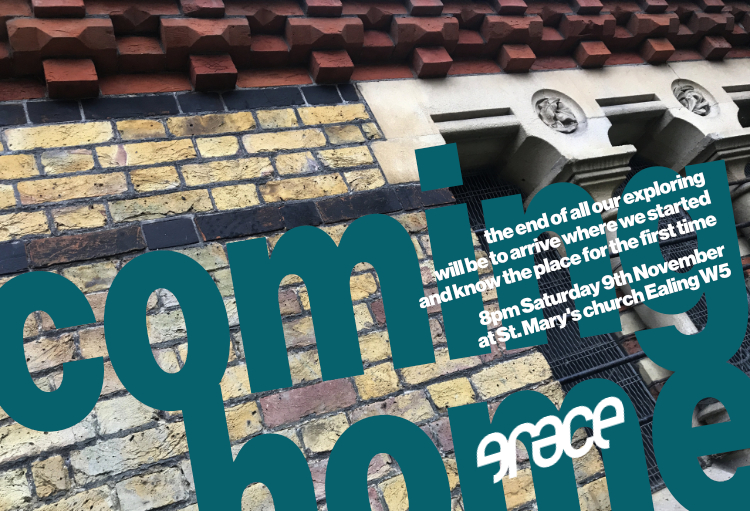 After six months away from St. Mary's, we will be returning on our 26th birthday, for a service of recommitment and rediscovery. All are welcome even if you haven't committed to or discovered us before.
The physical version of the Grace xxv zine will also be available at the service - it was published in late April and we haven't been in the church since! It's a little bit improved from the previous pdf download. Cost £5.
---
October 12th: Home: Planet Earth - climate emergency day of action
This Saturday Grace is not at St Mary's. If you go you are likely to find a church barn dance as part of St Mary's weekend at home!
In the evening we will gather at Richard and Sue's - 23 Disraeli Rd, Ealing for 7:30pm. We will share food and will be reflecting on the theme of Home: Planet Earth. If you would like to come please email Grace so we have an idea of numbers. It would be great if people could bring nibbles, a salad or a cake/dessert.
In the day for anyone who can or would like to, there is a faith bridge as part of the Extinction Rebellion fortnight - info here. This is an area where Christians for Climate Action and others are gathering to pray and protest.
For anyone wanting to reflect on the planet but not join in XR then Water Aid who Gill works for are presenting an exhibition at Somerset House called Water Life which looks good and is obviously related to climate change.
Please come in the evening regardless of whether you engage in the day.
---
Grace in September and October
Grace is unable to meet at St Mary's in Sept and Oct due to building work and the wider church having a Church weekend . Over those two months while we are homeless we will be exploring the theme of home!
September 14th: Home: Photo exhibition at the Rickyard in Walpole Park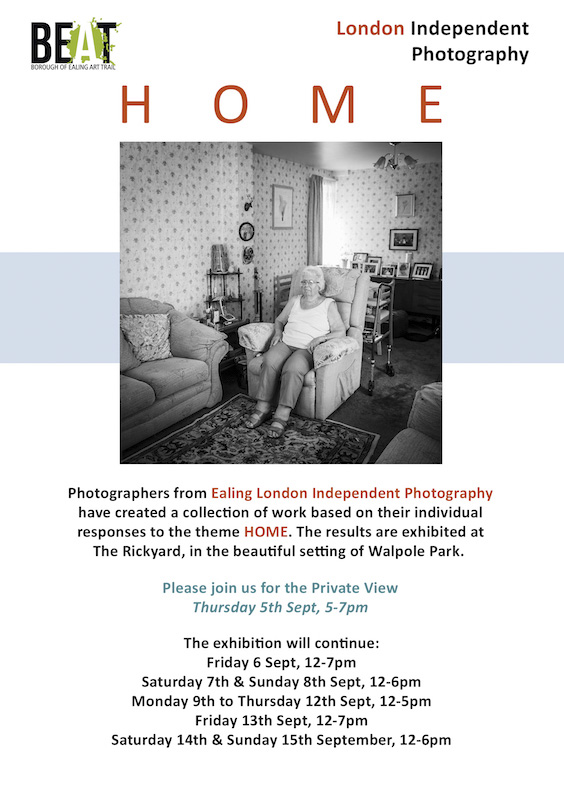 This is part of the Borough of Ealing Art Trail. See the above flyer for details. Jonny and Richard both have photos in the show. Jonny is giving a talk at 4pm on 14 September open to the public.
So we suggest:
Going to the talk at 4pm - it is called 'Longing for home' and an explanation is below.
Have a look at the exhibition after that - say between 5-5:30.
At around 6pm we will walk to Mike and Jill's, 51 Green Avenue, which is fairly close by for food and drink. Please bring something to contribute by way of food and drink.
Longing for home:
For some of us we take home for granted as somewhere we can return to. But for others in the world conflict or occupation has meant they have had to flee and are unable to return home. Meanwhile they make home in a new place but still have memories of home from their homeland and a longing or an ache for it. Many Palestinians who have been exiled from their homes carry a key to remember home and as a sign of their longing. Hear stories of home, exile and longing. It will be facilitated by Jonny Baker who has a photo in the exhibition 'The Key'.
October 12th: Home: Planet Earth - climate emergency day of action
October 12 is going to be the middle of two weeks action in London around the climate emergency. We don't yet have details but it was clear at Greenbelt that Extinction Rebellion will be highly active. They are a movement committed to non violent protest - see rebellion.earth and there is an Ealing group.
So following the theme of 'Home' in September we will consider Home: Planet Earth by getting involved in whatever is happening in the day for those that can or want to. And in the evening we will gather for a meal at Richard and Sue's - 23 Disraeli Rd and perhaps some reflections or lament or prayer for our world.
If anyone is concerned about the protest very few protesters are 'arrestibles' - i.e. those involved in direct non violent action. But there are plenty of people needed to be there. There will be one bridge dedicated to interfaith groups and prayer. We will be back with more info nearer the time.
---
Venue change for Saturday July 13th
The venue for Grief and Hope has changed to Paradise Cooperative, 19 Heathfield Road SW18 3JE - opposite the entrance to Wandsworth prison.
Grief and Hope - Saturday July 13th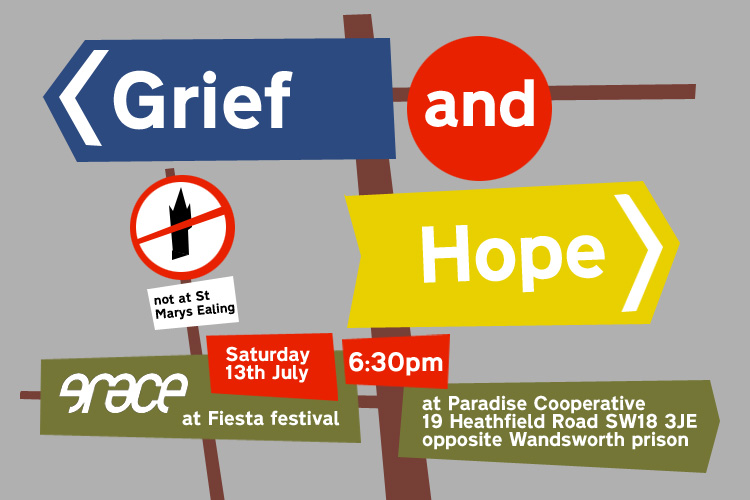 Join us as we grieve like prophets and dreamers for our broken world, and hope like prophets and dreamers for a different kind of future.
Note different venue and time - Grace will be 6:30pm at Paradise Cooperative, 19 Heathfield Road SW18 3JE, as part of 'Fiesta' - see below for details of the festival as a whole.
People at the festival are coming as part of their festival ticket, but if you are just coming for Grace it is free. Just say you are a member of Grace when you arrive.
The legendary block of ice will be making its third appearance - last seen at Greenbelt 2001! Well obviously not the same block of ice.
---
Grace in Earlsfield at Fiesta - Saturday July 13th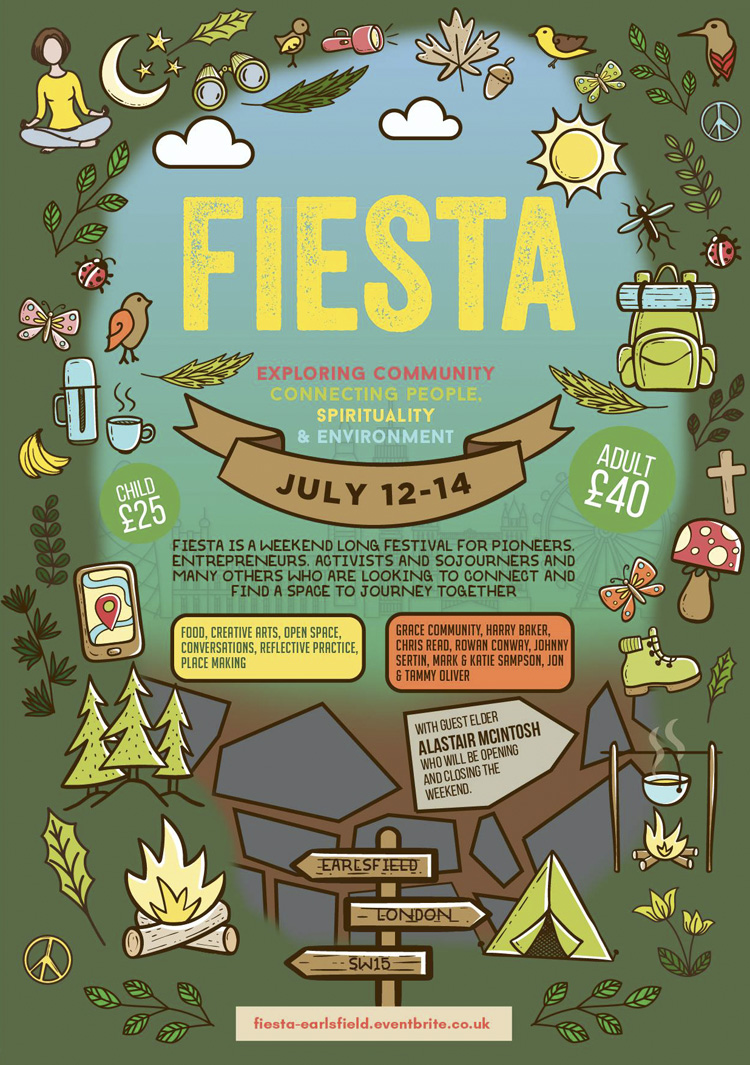 In July Grace are taking part in Fiesta leading an event on the Saturday night in Riverside in Earlsfield. We will post details once we know timings.
It looks like a really great weekend with Alastair McIntosh there as resident and all manner of food, conversations and networking with fellow creatives who want to make a better world and city. You can book in to the weekend here.
This means of course that there is no Grace at St Mary's in July. We seem to be doing away gigs for a few months at the moment!
---
Forest Bathing - Sunday June 9th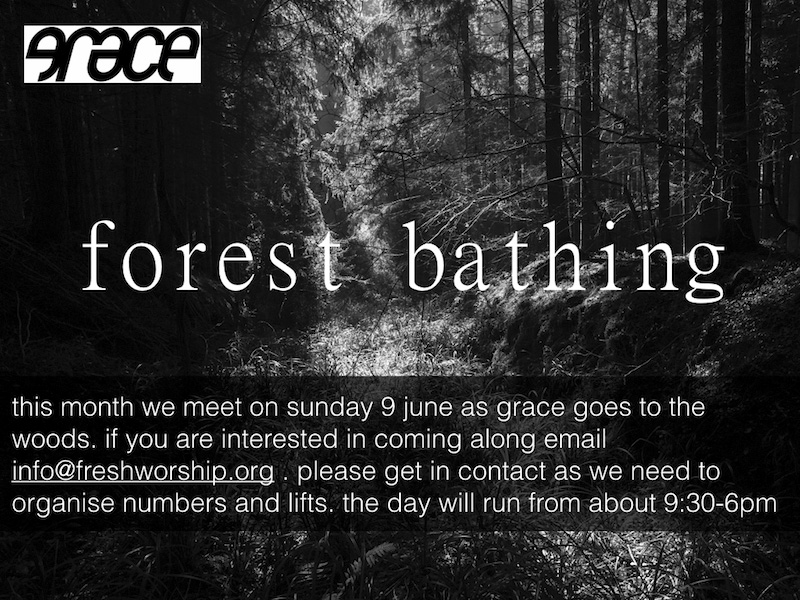 The next Grace is SUNDAY June 9th - we are going to visit a private wood in Sussex for the day, to picnic and hang out. The intention is to leave Ealing around 9.30am and leave the wood around 5pm. If you would like to come, please email info@freshworship.org as we need to organise numbers and lifts. Children welcome.
Please note - there will be NO Grace service on Saturday 8th June at St Mary's Ealing.
Please also note that there will be no actual bathing in water. At least not intentionally.