February 2018: Turn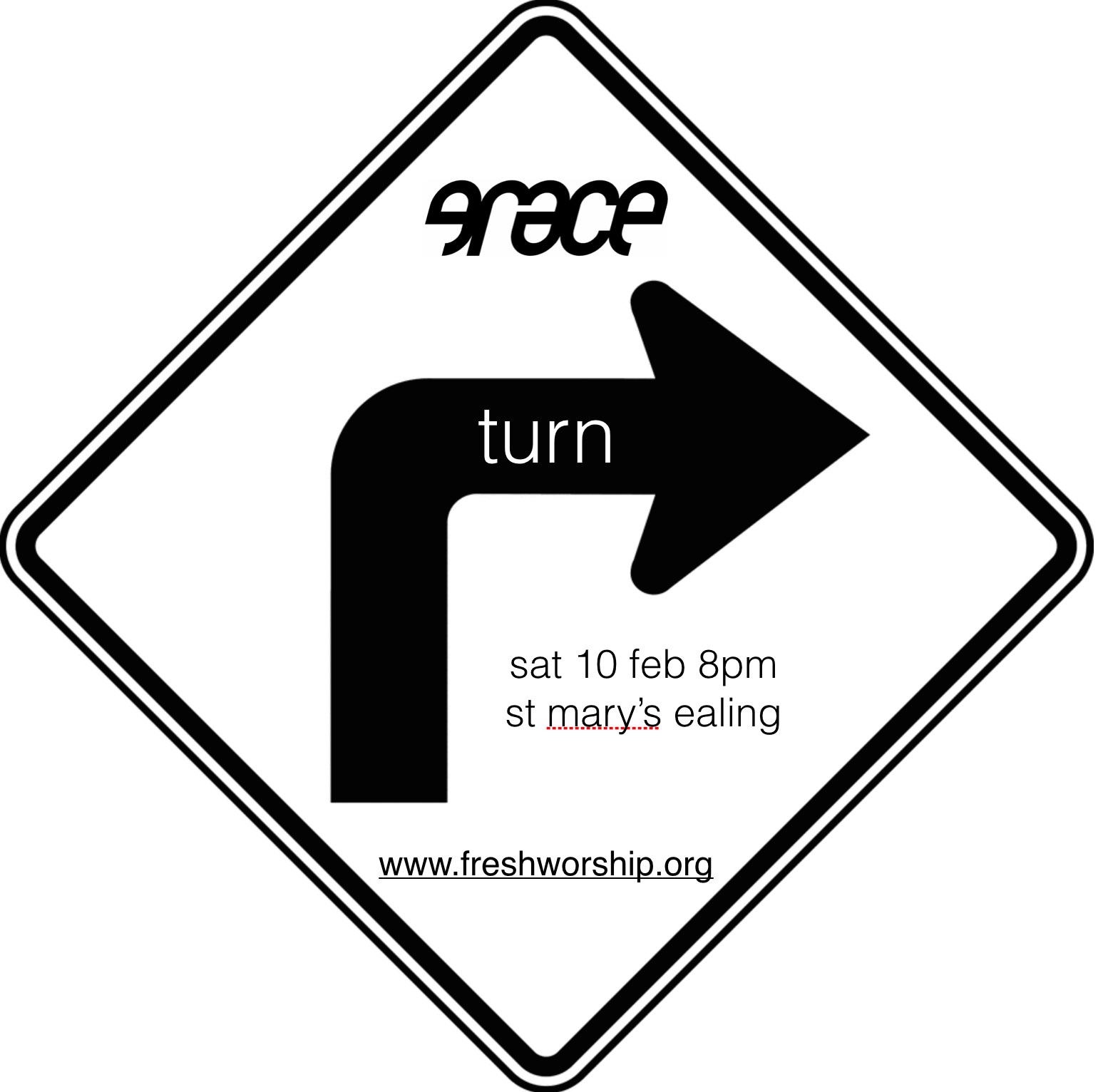 Setup:
centre piece of arrow in ash on black perspex
Intro/welcome:
Lent, theme - Jonny
In the Ash Wednesday service when ashed the words 'turn away from sin and be faithful to Christ' are said. The themes for the next two Graces in Lent are inspired by this: Feb 10 'Turn' and March 10 'Be faithful'.
How do people change? process of change - 12 steps recovery as example. We condensed them to our own 3 steps version but before that is the wisdom and recognition that we can't change in our own strength and need God's help, kindness, mercy and grace
Prayer - Jonny
Higher Power
Here with me now
Humbly I seek your grace.
All in your care
Your will be done
Through me as it is through others.
Give me today hope and courage
To forgive all past transgressions
As I surrender my fears and resentments.
And strengthen me against temptation
But free me to let go control.
Fill my spirit with calm, and compassion, and clarity
To carry to others.
Amen.
Step 1 - turn away
Song - I'm so sorry - jonny
(I've got a want and I won't let go
I'm going to bust out of here)
bible reading - mike
Turn from... Turn towards...
a la 'fast and feast' prayer confession - mike
Instead of focussing on giving something up for Lent, think of something you would like to turn away from in Lent (and beyond) and think on something you would like to turn towards.
Lent is a season in which we can:
Turn from judging others; turn towards the Christ dwelling in them.
Turn from emphasis on differences; turn towards the unity of life.
Turn from apparent darkness; turn towards the reality of light.
Turn from thoughts of illness; turn towards the healing power of God.
Turn from words that pollute; turn towards phrases that purify.
Turn from discontent; turn towards gratitude.
Turn from anger; turn towards patience.
Turn from pessimism; turn towards optimism.
Turn from worry; turn towards divine order.
Turn from complaining; turn towards appreciation.
Turn from negatives; turn towards affirmatives.
Turn from unrelenting pressure; turn towards unceasing prayer.
Turn from hostility; turn towards nonresistance.
Turn from bitterness; turn towards forgiveness.
Turn from self-concern; turn towards compassion for others.
Turn from personal anxiety; turn towards eternal truth.
Turn from facts that depress; turn towards verities that uplift.
Turn from discouragements; turn towards hope.
Turn from lethargy; turn towards enthusiasm.
Turn from thoughts that weaken; turn towards promises that inspire.
Turn from shadows of sorrow; turn towards the sunlight of serenity.
Turn from idle gossip; turn towards purposeful silence.
Turn from problems that overwhelm; turn towards prayer that undergirds.
The words in italics from the above were printed onto cards, one colour representing things to turn from with the other colour being things to turn towards. The cards were placed next to the arrow on the floor - 'turn from' on the left, 'turn towards' on the right. We were invited to pick up words that meant something to us about our intentions for Lent and dwell on them.
ashing
get people to ash next person, saying:
'you are dust and to dust you shall return
turn away from sin and be faithful to christ'
step 2 - turn towards christ
icon and light candle - mike
lay down burdens - jonny
Communion - dean
On a day of fasting, on a day when we remember the frailty of our own bodies,
We are invited to share in one meal and to remember the frailty of one body above all.
All you who want to follow Jesus Christ into the wilderness,
Come and share in this meal;
All you who want to follow Jesus Christ to the cross,
Come and share in this meal;
All you who want to receive the life of God which is stronger than death,
Come and share in this meal.
[Bring bread and wine to the table]
Look at us Lord
Our hands are empty
Our hearts are hungry
What do we want?
We are here to say that we are hungry -
We are hungry for you, God our maker
We are hungry for a world where people are loved and affirmed
We are hungry for you Holy Sprit
We are hungry for justice
We are hungry for community
We are hungry for celebration
We are hungry for you Jesus Christ
We are hungry for change
God of life,
Today we remember that you are hungry too;
Jesus Christ, your wilderness hunger
Has prepared this meal;
Your hunger for life drove you to make yourself
Into food for the life of the world;
In our hearts we celebrate your life and death and life from death,
And we proclaim
This bread will be for us your body
This wine will be for us your blood
Prayer of consecration
So we do now what you did at the last feast,
On the night you were betrayed,
Gathered with your friends
Around a table you took bread and wine
You said they were your body broken and your blood poured out
A new relationship to God
[together]
Send down your Holy Spirit on us and on these gifts of bread and wine
That they may become for us your body
Healing, forgiving and making us whole
And that we may become, for you, your body
Loving and caring in the world
Until your kingdom comes
Amen
On the night when he was betrayed
Jesus Christ took bread and broke it
And said, this is my body which is given for you. Do this to remember me.'
Later he took the cup of wine
He said, 'this cup that is poured out for you is the new relationship with God made possible by my death.'
People of God here is your food
People of God here is your drink
Take, eat and drink - receive the life of Christ
The body of Christ keep you in eternal life
The blood of Christ keep you in eternal life
Prayer after communion with two voices, one leading the response
Jesus, who fasted alone for 40 days
Who pushed yourself to the limits
Who faced your demons and met your angels
We ask you to be in our fasting
Lord in your mercy hear our prayer
Jesus who ate with outcasts
Who broke down the barriers that divided people
By sharing food and drink
We ask you to be in our eating
Lord in your mercy hear our prayer
Jesus you had a passion for a life of extremes
You taught us that to live we have to be prepared to die
To eat we have to be prepared to fast
To love others we have to learn to be alone
We ask you to be in our living
Lord in your mercy hear our prayer
Jesus may we live your life with you and share in your death
May we have the courage to learn the secrets of the universe
To stare death in the face and to love life. Amen.
step 3 - turn towards one another - jonny
Is turning and being faithful something individual or something communal? (12 steps example)
Martin Wroe meditation - 'Lose it' - mike
whatsapp group for prayer through lent
set it up on the night, introduce and get people to sign up after - jonny
Introduce lent programme of meals and conversations - jonny
The dismissal - Dean
Go now, take courage to share the love of Christ
And take care to show his love
The blessing of God the merciful creator
The blessing of Christ, the strong saviour
The blessing of the Holy Spirit the giver of life
Be among us and remain with us
This day and the days of lent to come
Amen