Newsfeed archive 2019-20
Wherever we are we will remember God who always goes with us
Communion* by numbers @home - Saturday 11th July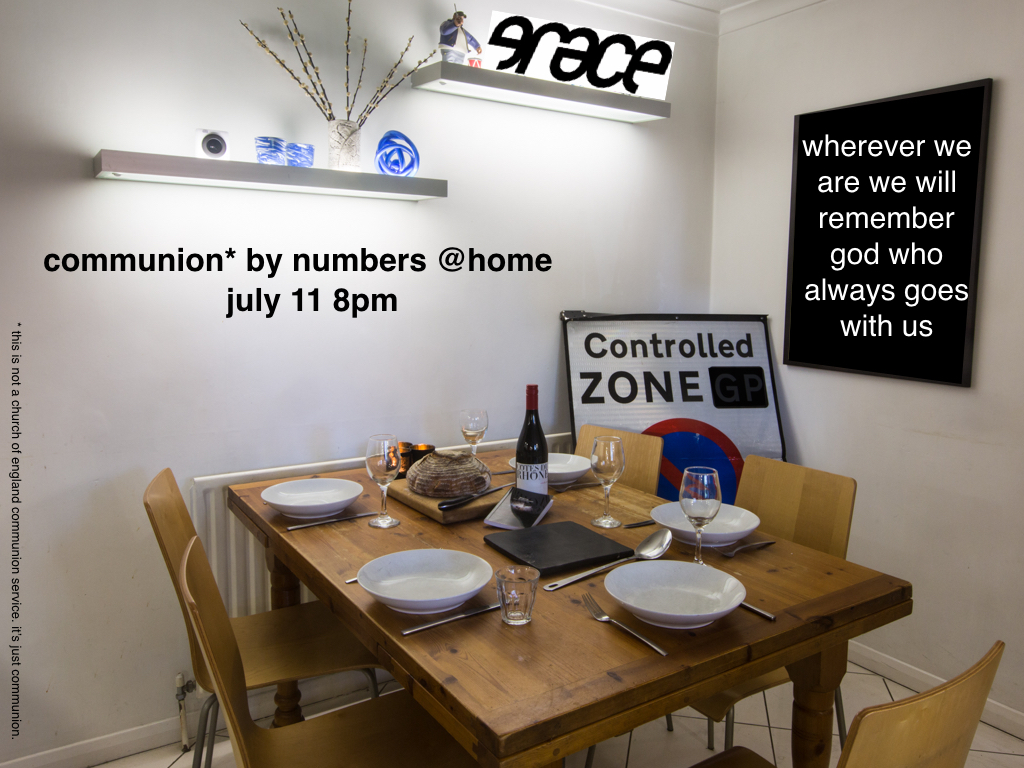 This month Grace will be a communion by numbers. Join us on Zoom or you can also follow along on Whatsapp. If you'd like to take part and are not in our mailing list or Whatsapp group get in touch and we can send you the Zoom link and add you to the Whatsapp group. There will be no obligation to remain - you can leave the group afterwards.
Communion by numbers is a simple idea. We have a simple structure with numbered sections led by different people and you simply follow along on Zoom or Whatsapp to take part.
Those parts are
Welcome/opening prayer
Praise
Confession
Reading
Peace
Thanksgiving prayer - remembering God
Bread and wine
Prayers
Concluding prayer
The title comes from a prayer we have used at Grace many times over the years. It's sort of our community prayer. We'll conclude with that prayer together. We'd love volunteers to lead any of those sections - email if you'd like to lead one.
*This is not a Church of England communion service. It's just communion.
---
Slow Greenbelt 2004 - movie
Someone from Kubik filmed our 'Slow' service at Greenbelt 2004 and gave it to Steve when he visited them in 2005. It's the only visual record, because we were too busy and the room was too crowded to take photos. Thanks Kubik.
---
Retreat - Saturday 13th June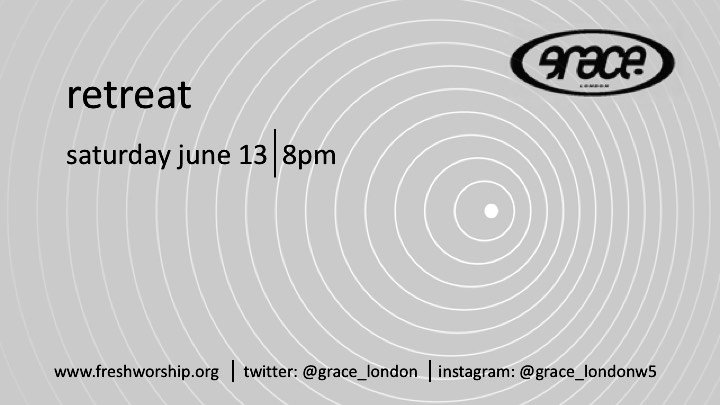 The next Grace will be a Zoom gathering at 8pm on Saturday June 13th.
Take some to pause a while from the business of life to listen, reflect, pray, review and share.
There will be a virtual cafe afterwards.
If you would like to join us please email freshinfo@freshworship.org and we will email you an invitation link.
---
Weekly lockdown liturgy
We have been using the liturgy from the last Gracelet series as a basis for our weekly lockdown services over Zoom. The liturgy can now be found here in the archive.
---
GODISNOWHERE Grace Open Mic - Saturday 9th May
GODISNOWHERE is now here in the archive, so you can reread and revisit all the amazing stuff that people contributed to the evening.
---
GODISNOWHERE Grace Open Mic - Saturday 9th May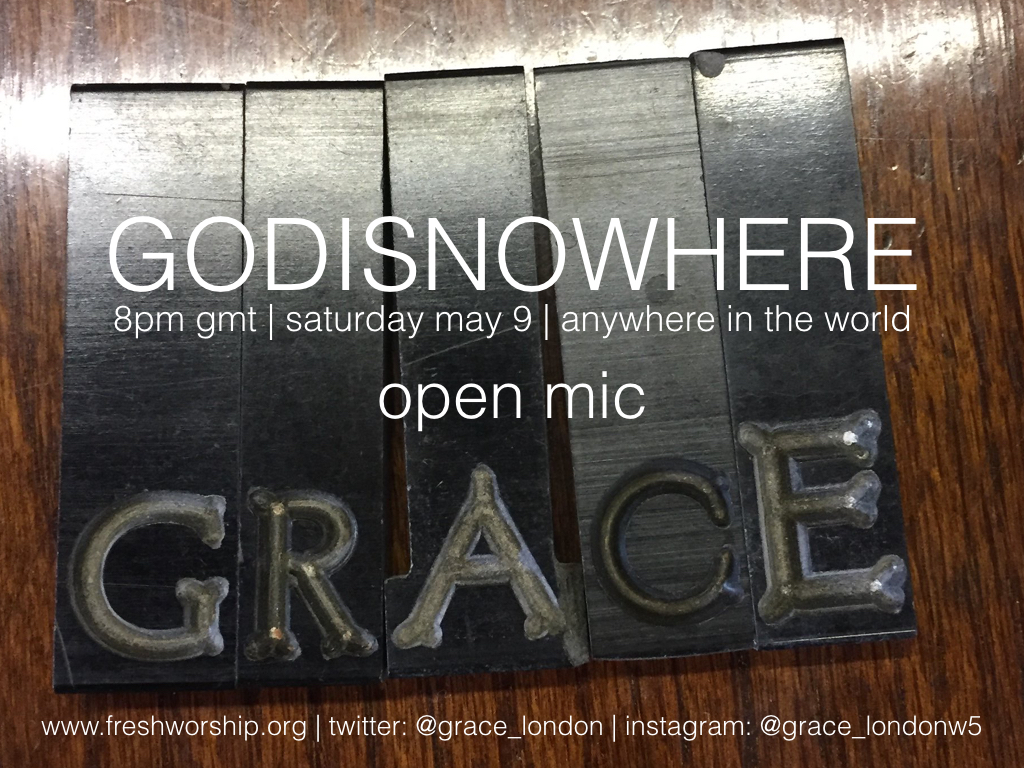 We had planned for May Grace to be outdoors in a woodland but that isn't going to happen for obvious reasons! So what we are suggesting is that we have a zoom gathering online at 8pm on May 9 - GODISNOWHERE Grace Open Mic.
Here's how it will work:
We'd like to invite all of you to create or make something to do with faith in the midst of lockdown. That could be an expression of the difficulty of it, of where you have found moments of grace in it, it could be to do with God's presence or absence in it (NOWhere or NOwhere). If you need a start point the stories of the resurrection appearances contain many of these emotions and themes.
And it can be any art form - poem, prayer, photo, sound recording or whatever. We encourage you to make or pen something rather than share someone else's art. If you don't create anything please still come along. There's no pressure through we hope some people will or it will be very short! Thanks to Richard Passmore for the title which he says he first saw via Pete Rollins.
If you would like to join us please email freshinfo@freshworship.org and we will email you an invitation. We were going to post the link on the website but have been informed that is not a good way to do it and Zoom have changed their security.
It would be really helpful to know ahead of time who is participating so email to let us know and we can then compile an order and work out any technical challenges. Contributions are welcome from all ages.
After the Easter vigil people hung out for a while chatting and drinking which seemed to work well so the Grace cafe will be open at the end though you will need to provide your own drinks and snacks! If anyone wants to DJ via Facebook or instagram let us know and we can add the link.
---
Easter vigil - liturgies and photos
2020-04 Easter Vigil: Hand washing meditation
2020-04 Easter Vigil: Communion liturgy
Some photos of the event here.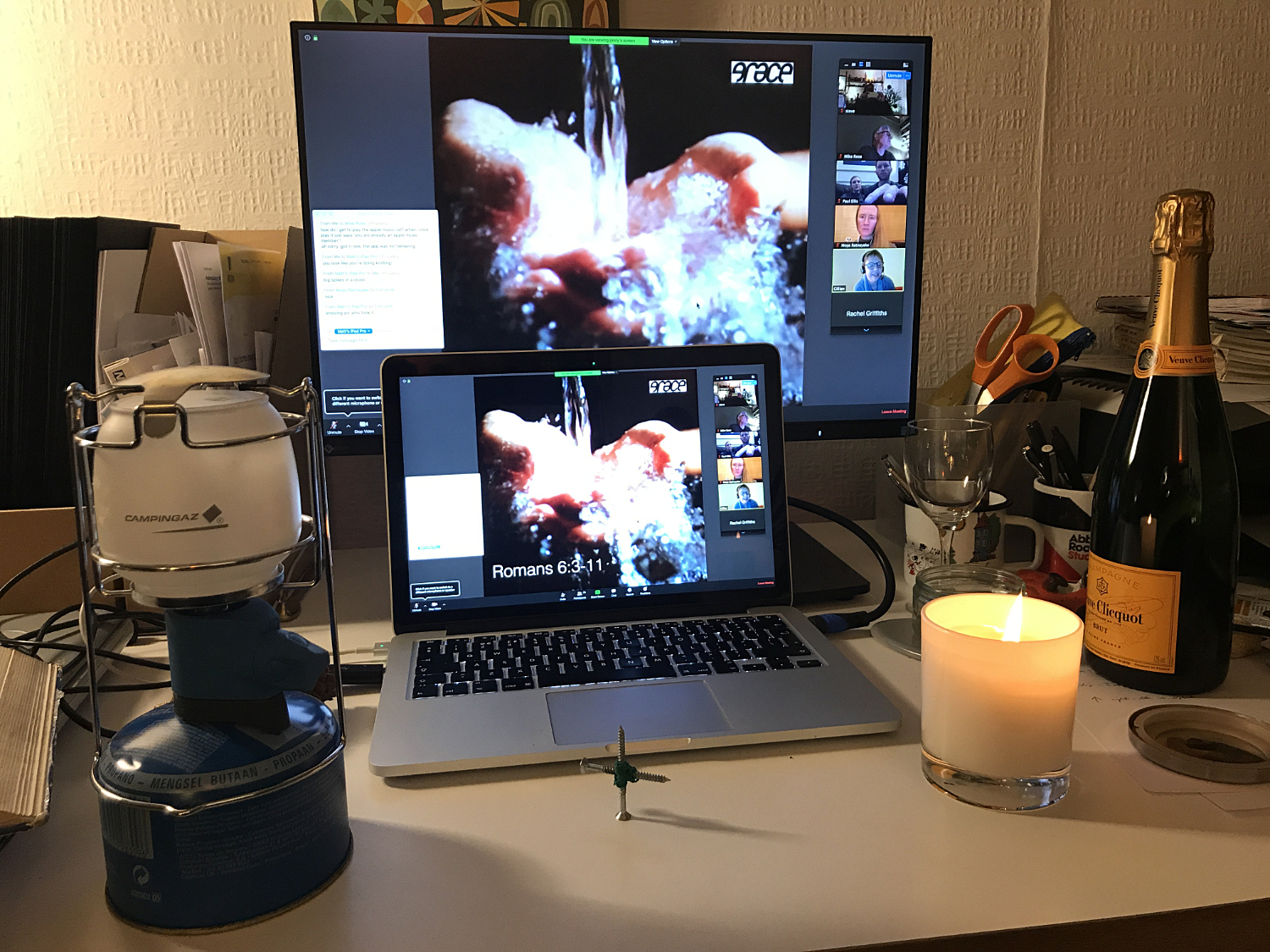 ---
Easter vigil - Saturday 11th April
Tonight Grace will be hosting an Easter Vigil online from 10pm to midnight. There are two ways you can join in.
The first is via Zoom. Email freshinfo@freshworship.org any time up until 9pm and we will send you a link to join.
The second is to follow the hashtag #graceeastervigil2020 on Twitter or Instagram – to do so you simply click on the tags in the search and type it in. You could also follow either @grace_london on twitter or @grace_londonw5 on Instagram as another way of doing it if you don't want to see anyone else's posts with that tag.
There are four sections to the vigil – light; readings; renewing baptism vows; communion.
If you follow on the hashtag our suggestion is to linger with the parts that resonate with you and take your time. You don't need to do all of it and can always come back to it. Give it space to breathe. If you are on Zoom you too can linger with something and turn the sound off!
There are a few items to collect so you are prepared as follows:
Two nails and either some twine, or wire to tie them.
If you have the facility for a fire in your garden, prepare that to be ready to light, but alternatively get a candle or a torchlight.
An object - like a piece of fruit, or take a picture - or find a picture to look which represents creation.
A tent peg or something that represents camping, even if you would not be seen dead in a tent.
A bible or access to one on your phone.
A candle and match.
A bowl or glass of water.
Bread and wine – we suggest sparkling wine if you have it to celebrate Christ's resurrection.
At midnight do tune in for the after party on facebook where Steve Leach will be DJing live from midnight to 1am with some resurrection tunes -
www.facebook.com/stevejohnleach
---
Easter vigil - Saturday 11th April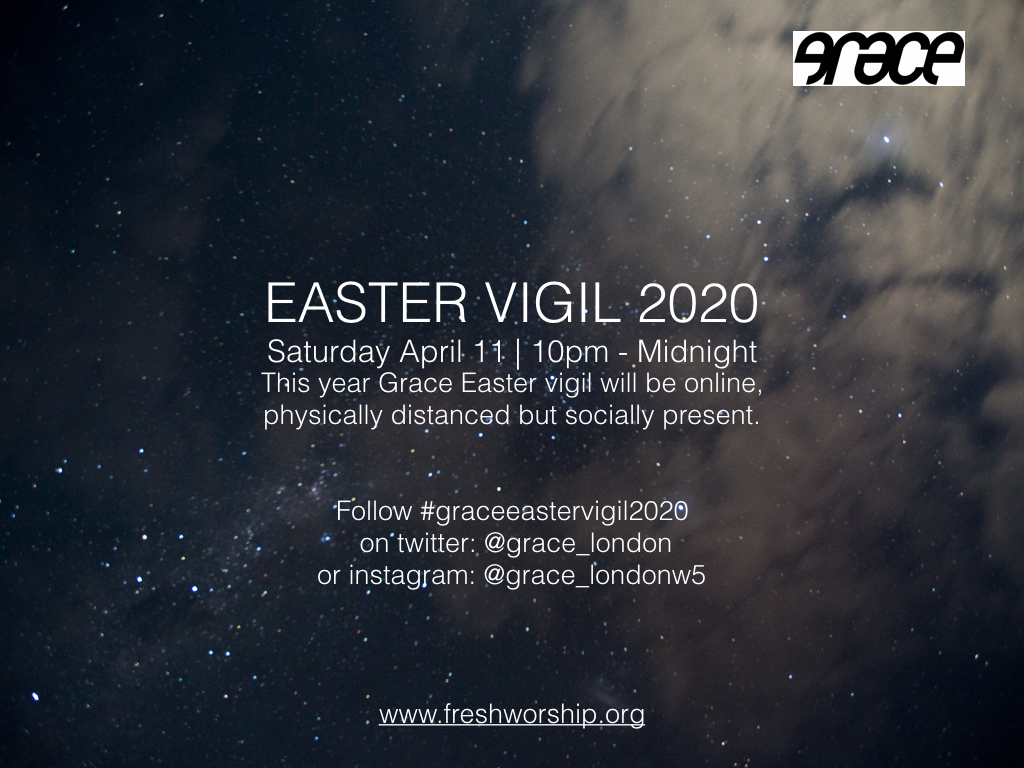 This year Grace will be online, physically distanced but socially present, for an Easter vigil on Saturday April 11th.
There are two ways you can join us:
The first is via Zoom. If you would like to join us please email freshinfo@freshworship.org and we will email you an invitation. We were going to post the link on the website but have been informed that is not a good way to do it and Zoom have changed their security. That will run from 10pm-midnight.
The second is to follow #graceeastervigil2020 on Twitter or Instagram. The way to do that is to search in the tag section and you can follow. Alternatively you can follow the twitter account @grace_london or instagram @grace_londonw5 where we will be posting various pieces as we go that you can pick and choose from, either then or when you choose, for your own reflections and prayer.
Please visit the website nearer the time for a few more instructions on gathering some simple items that will help you participate fully (simple things like a candle).
Easter Saturday is when hope is lost and we wonder where God is. Christ has been killed when we thought he was going to overthrow the empire. We sit in darkness, God is dead, hope is gone. All we can do is watch, and pray and wait for the morning to come.
---
Space - Saturday 14th March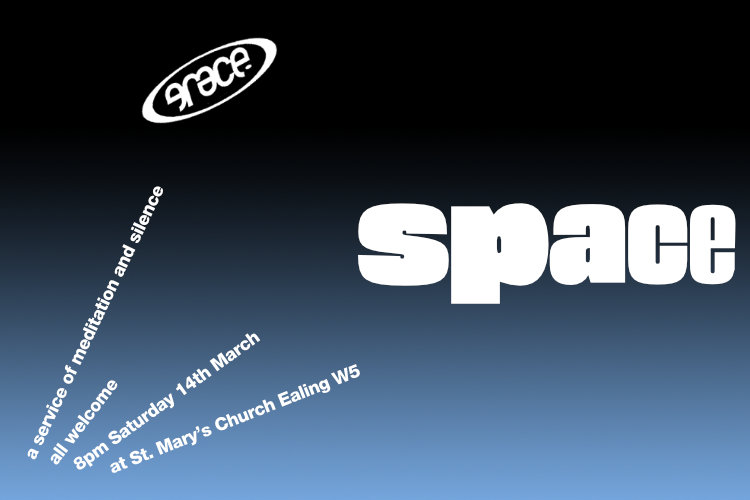 All welcome to join us for a mid-Lent service of quiet, prayer and contemplation. Relax and enjoy the images and music. Café afterwards as usual.
---
Eucharist of Light - Saturday 8th February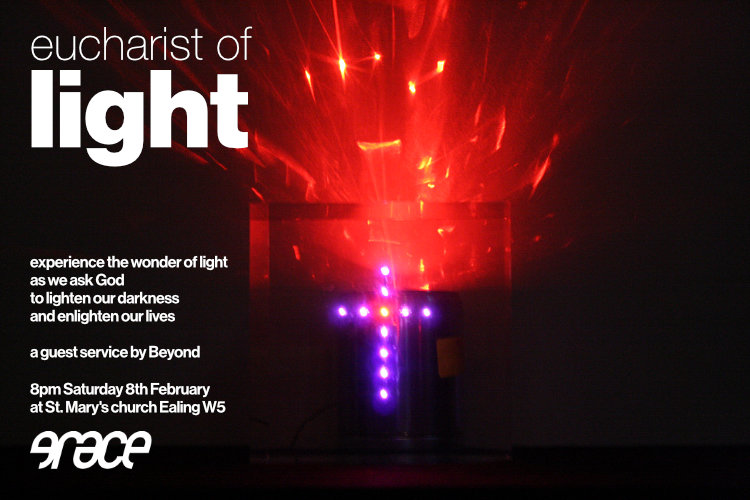 Light is a metaphor for life. Going from dark to light reminds us of the journey from death to life, from ignorance to knowledge, from sin to grace, from bad to good.
Advent and Epiphany remind us of these themes and as we journey from Winter towards the light and warmth of Spring and Summer, Beyond combines these themes with the symbolic action of breaking bread and sharing wine and adds an opportunity to experience the wonder of light as we ask God to lighten our darkness and enlighten our lives.
Guest curation by Beyond who are a creative worship community based in Brighton. Cafe afterwards as usual.
Some pictures of other things Beyond have done or curated
---
Labyrinth - Saturday 11th January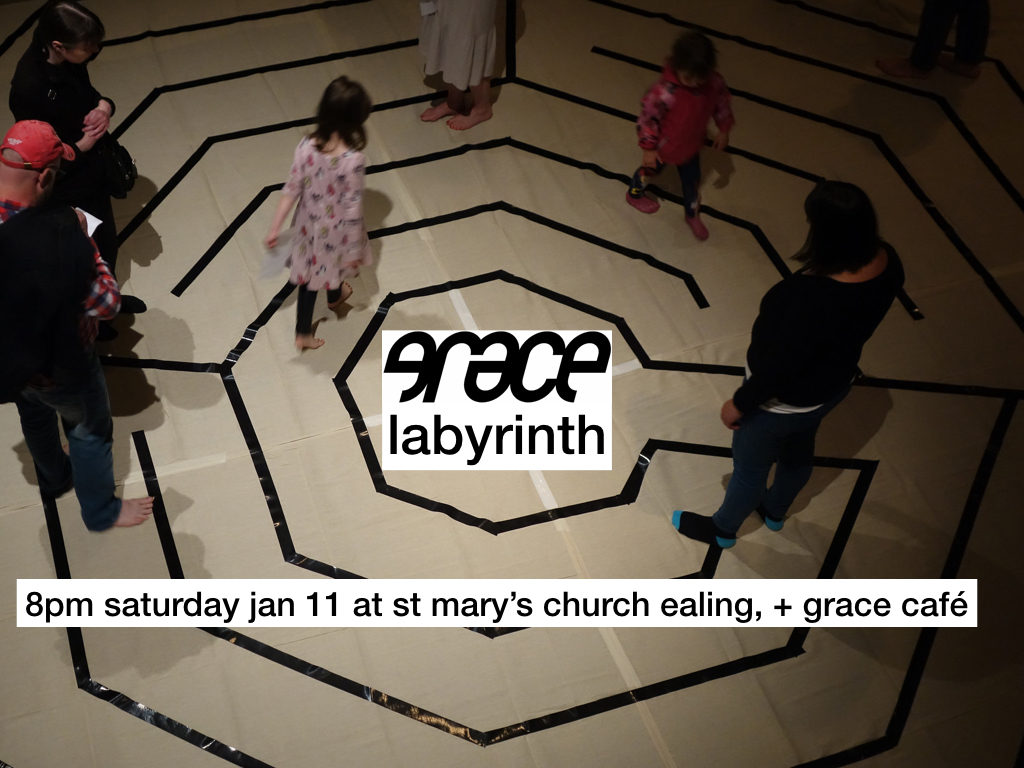 Join us on Saturday January 11th and walk a labyrinth. If you have not walked a labyrinth before it is a lovely prayerful space surrounded by candlelight and ambient tunes. You meditate by walking.
It's a perfect way to start the new year, reflecting on what has gone before, giving thanks and letting go. It's a space to be still, to be with God, to place yourself into God's care. And then it's a journey into the decade that lies ahead with all of its possibility, challenge and adventure.
There will be a cafe afterwards as ever with space to chill and catch up.
Coping with the Politics of Despair
Peter Tate wrote a blog post based on his intro to the Advent service.
---
Advent Calendar photobook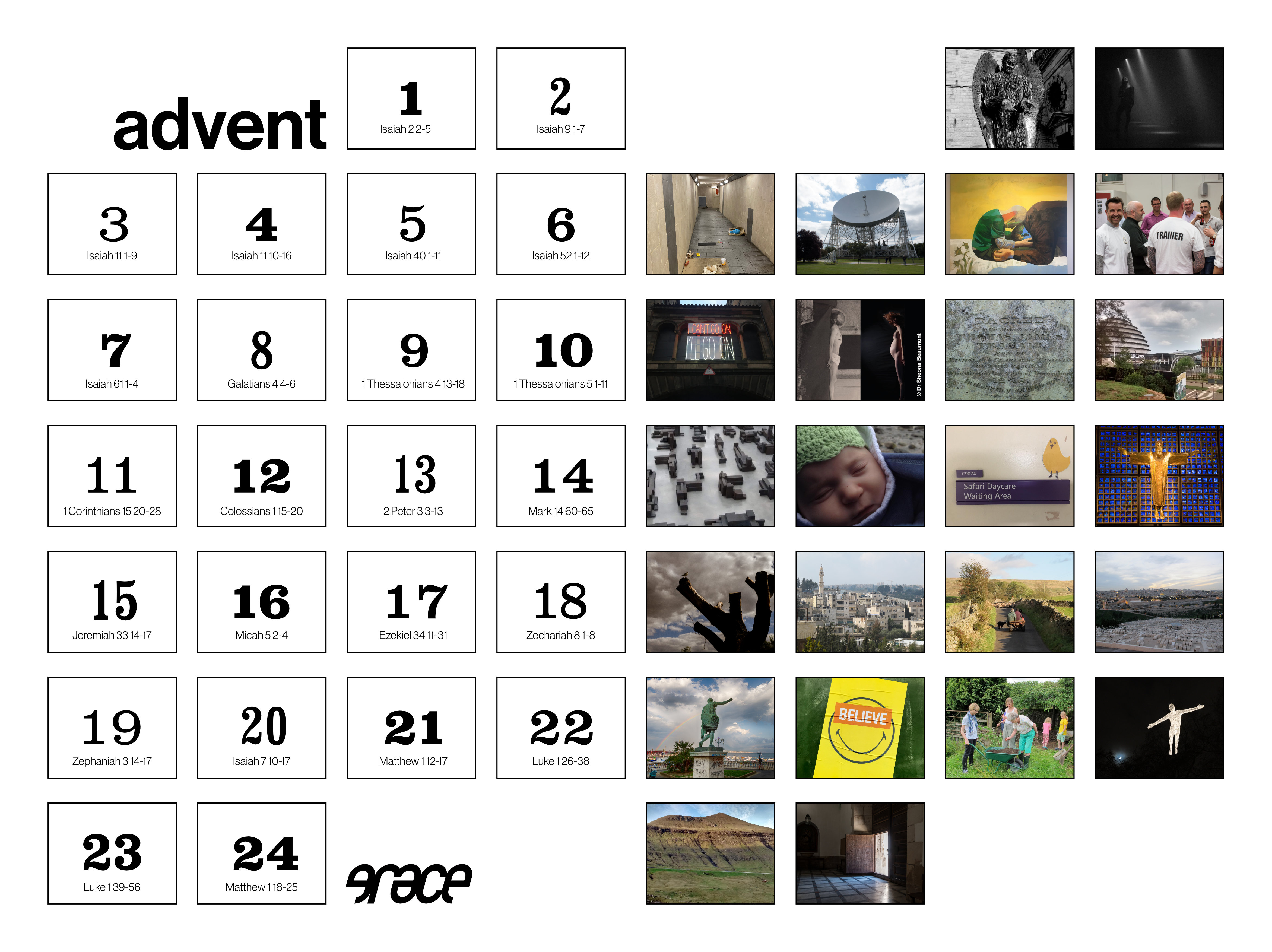 The Advent calendar full Bible texts and photos are now available here as a PDF.
---
Advent - Saturday 14th December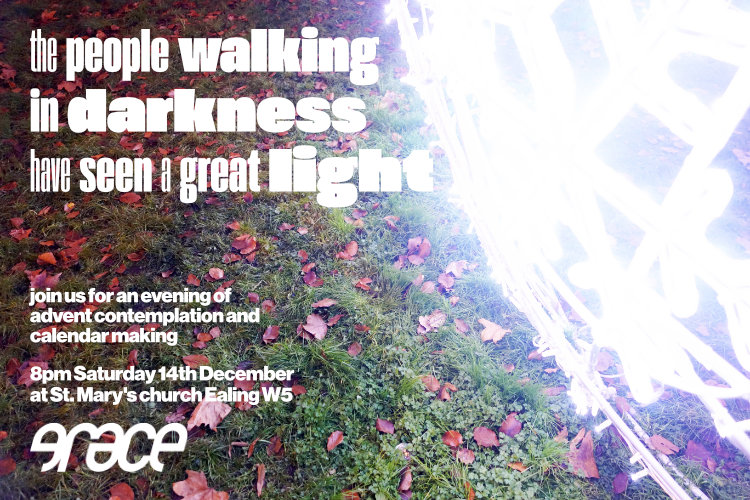 Join us for a mid-Advent meditation, featuring photos by members of Grace that have been inspired by the season's traditional Bible texts. We will make our own Advent calendars, that we can continue to fill with images up to Christmas.
Everyone is welcome to stay for mulled wine in the cafe afterwards.
---
Coming home - Saturday 9th November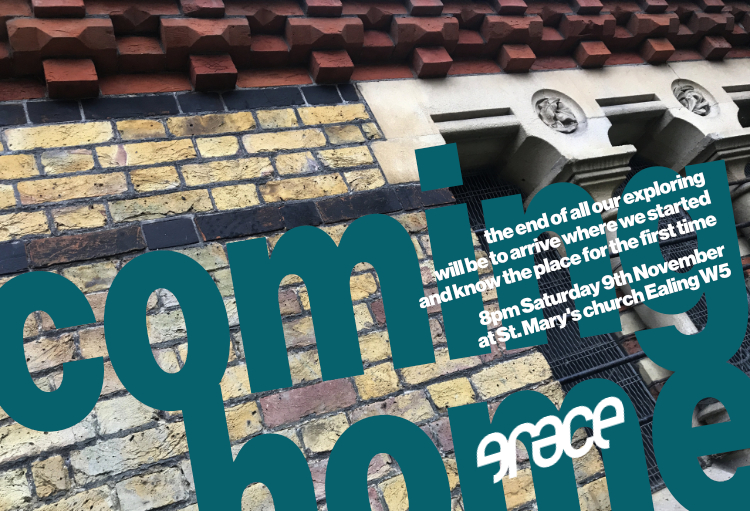 After six months away from St. Mary's, we will be returning on our 26th birthday, for a service of recommitment and rediscovery. All are welcome even if you haven't committed to or discovered us before.
The physical version of the Grace xxv zine will also be available at the service - it was published in late April and we haven't been in the church since! It's a little bit improved from the previous pdf download. Cost £5.
---
October 12th: Home: Planet Earth - climate emergency day of action
This Saturday Grace is not at St Mary's. If you go you are likely to find a church barn dance as part of St Mary's weekend at home!
In the evening we will gather at Richard and Sue's - 23 Disraeli Rd, Ealing for 7:30pm. We will share food and will be reflecting on the theme of Home: Planet Earth. If you would like to come please email Grace so we have an idea of numbers. It would be great if people could bring nibbles, a salad or a cake/dessert.
In the day for anyone who can or would like to, there is a faith bridge as part of the Extinction Rebellion fortnight - info here. This is an area where Christians for Climate Action and others are gathering to pray and protest.
For anyone wanting to reflect on the planet but not join in XR then Water Aid who Gill works for are presenting an exhibition at Somerset House called Water Life which looks good and is obviously related to climate change.
Please come in the evening regardless of whether you engage in the day.
---
Grace in September and October
Grace is unable to meet at St Mary's in Sept and Oct due to building work and the wider church having a Church weekend . Over those two months while we are homeless we will be exploring the theme of home!
September 14th: Home: Photo exhibition at the Rickyard in Walpole Park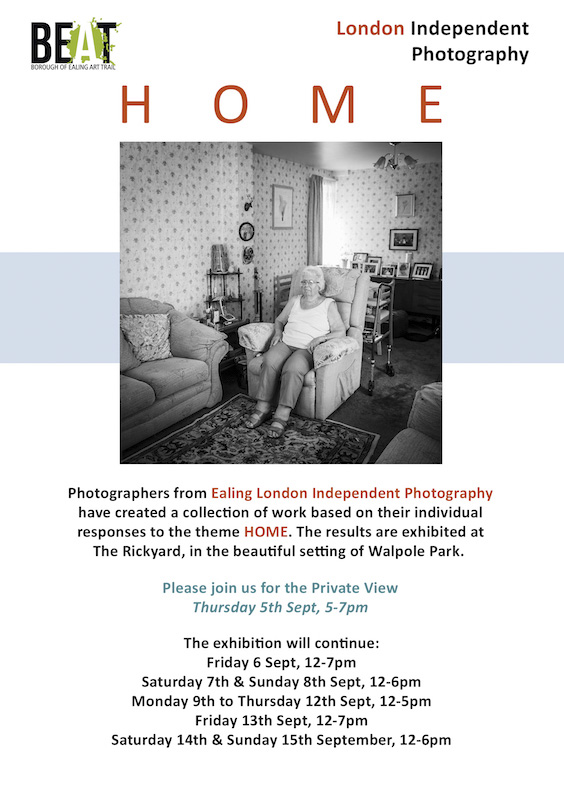 This is part of the Borough of Ealing Art Trail. See the above flyer for details. Jonny and Richard both have photos in the show. Jonny is giving a talk at 4pm on 14 September open to the public.
So we suggest:
Going to the talk at 4pm - it is called 'Longing for home' and an explanation is below.
Have a look at the exhibition after that - say between 5-5:30.
At around 6pm we will walk to Mike and Jill's, 51 Green Avenue, which is fairly close by for food and drink. Please bring something to contribute by way of food and drink.
Longing for home:
For some of us we take home for granted as somewhere we can return to. But for others in the world conflict or occupation has meant they have had to flee and are unable to return home. Meanwhile they make home in a new place but still have memories of home from their homeland and a longing or an ache for it. Many Palestinians who have been exiled from their homes carry a key to remember home and as a sign of their longing. Hear stories of home, exile and longing. It will be facilitated by Jonny Baker who has a photo in the exhibition 'The Key'.
October 12th: Home: Planet Earth - climate emergency day of action
October 12 is going to be the middle of two weeks action in London around the climate emergency. We don't yet have details but it was clear at Greenbelt that Extinction Rebellion will be highly active. They are a movement committed to non violent protest - see rebellion.earth and there is an Ealing group.
So following the theme of 'Home' in September we will consider Home: Planet Earth by getting involved in whatever is happening in the day for those that can or want to. And in the evening we will gather for a meal at Richard and Sue's - 23 Disraeli Rd and perhaps some reflections or lament or prayer for our world.
If anyone is concerned about the protest very few protesters are 'arrestibles' - i.e. those involved in direct non violent action. But there are plenty of people needed to be there. There will be one bridge dedicated to interfaith groups and prayer. We will be back with more info nearer the time.