Newsfeed archive 2018-19
---
The Table - BBQ & labyrinth at Wolf Fields Community Garden - Saturday May 11th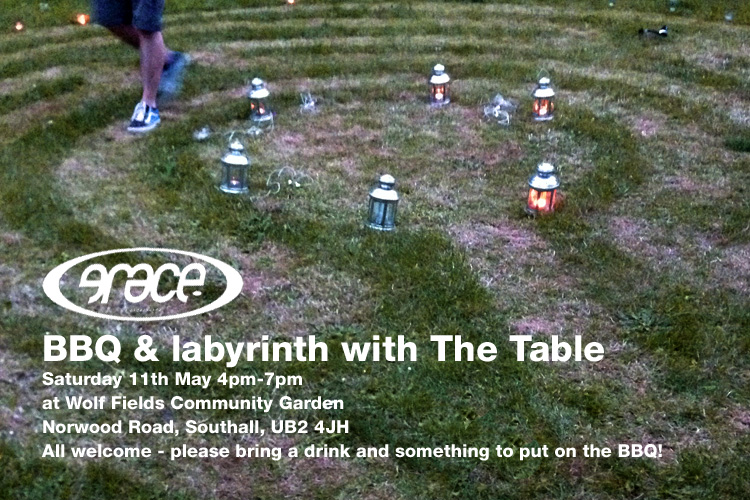 On Saturday May 11th we have been invited to join The Table at Wolf Fields Community Garden in Norwood Green. This will be for a BBQ outdoors and a mown labyrinth, running from 4pm - 7pm.
[Note there will be no Grace service at St Mary's Ealing]
The address is: Norwood Road, Southall, UB2 4JH (access via alleyway between Wolf Pub and Park). You can read more about the garden here.
All welcome - please bring something to chuck on the coals and something to drink.
---
This is Great Britain - Saturday 13th April
What does it mean to be 'Great'? What do we want to be recognised for? How can we live together as a community and country?
All are welcome. We will not be having any meaningful votes, we only want to start a meaningful conversation. You are welcome to continue the discussion in the café after the service. The only red lines might be if someone spills some wine.
---
United Kingdom Come - Saturday 9th March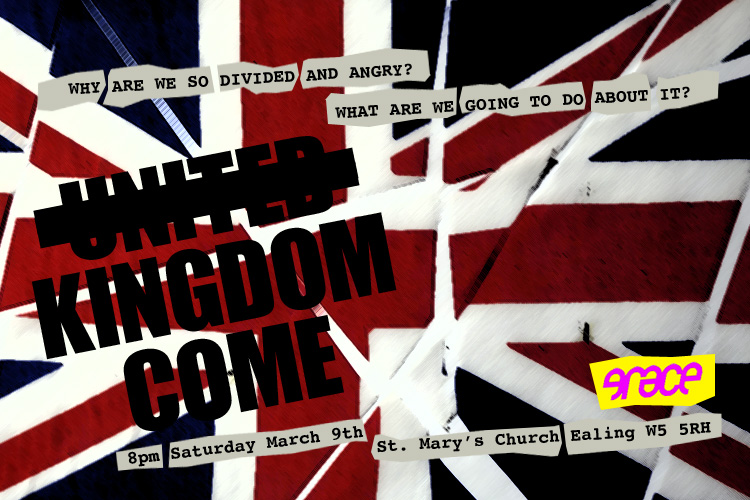 Why are we so divided and angry? What are we going to do about it?
All are welcome. After the service you can either Remain for the café, or Leave to look for a better deal elsewhere.
---
Space - Saturday 9th February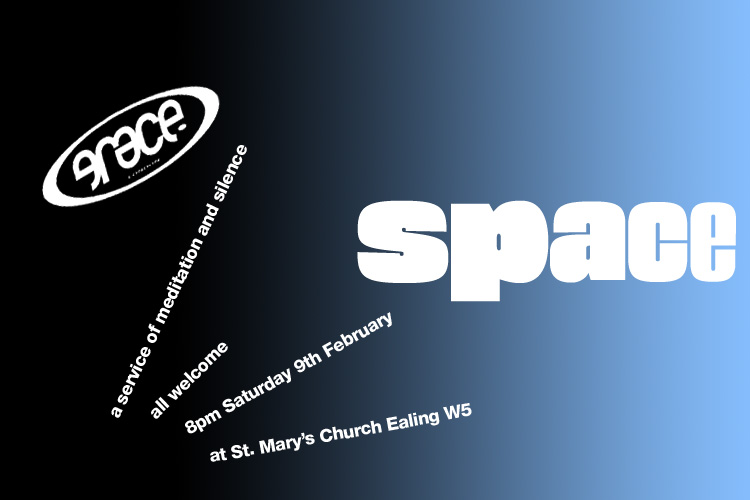 Everyone is welcome to join us on 9th February for a service of meditation and silences, followed of course by a less silent café!
This year our February service falls in a space between church seasons - Christmas and Epiphany are past, Lent does not begin until March, so we find ourselves in an in-between place, a place to pause for quiet reflection.
---
Epiphany labyrinth - Saturday 12th January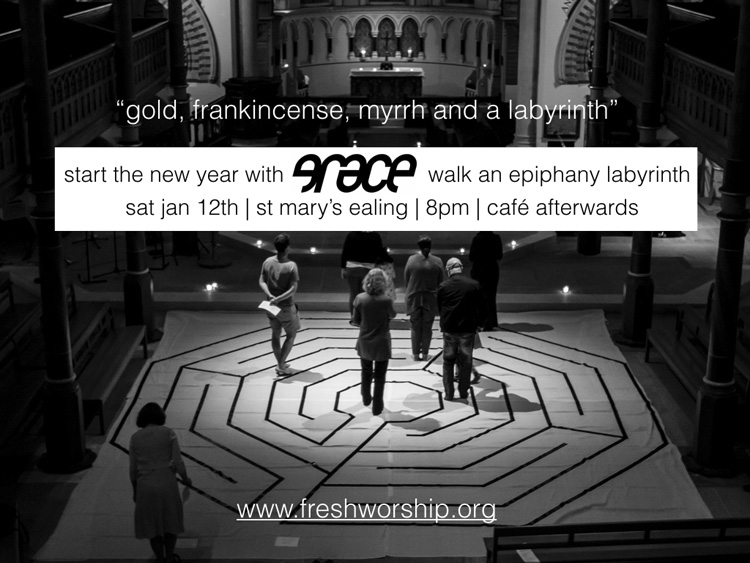 ---
Grace Advent - Saturday 8th December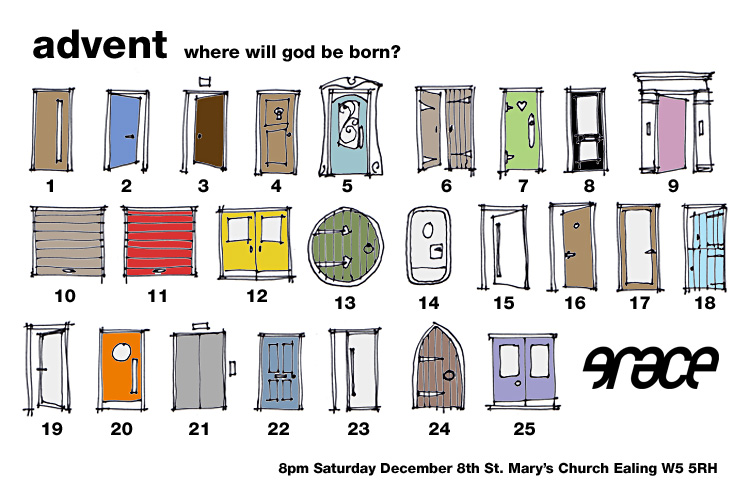 This year Grace is as early in December as it can be, so we've gone for an Advent theme to be explored in reflections, music and prayers.
However, we will still be doing mulled wine and mince pies in the café afterwards!
---
God in the House - Grace on TV 1996
'God in the House' was a series of 6 programmes shown on Channel 4 24th-30th December 1996. Each one featured a 'radical alternative Christian service' and the final one was Grace. We finally had it digitised and put it on YouTube here for your entertainment!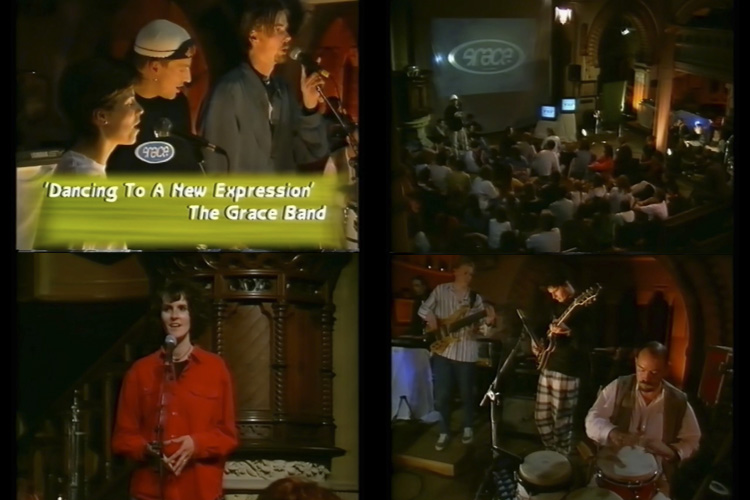 Of course it's an artificial situation. The church is lit for filming, there are more people than was usual, the emphasis is on live music not recorded - probably due to performing rights issues for TV programmes (although a bit of Inner City Life can be heard at one point). And there was a Communion which was edited out. This explains why Jonny is suddenly singing with a glass of wine!
---
Grace 25 video clip
A walk around the space at about 11pm. The meal is over and some people have gone.
Grace 25th anniversary celebration from steve collins on Vimeo.
---
Grace XXV zine

We have created a 64-page full colour zine to mark 25 years of Grace - it grew into a small book really. But it could have been two or three times as big!
Click here or on the image above to open it in your browser. You can then download it to keep. It's 50Mb so maybe best to open it when you're on wifi. Takes a few seconds but it's worth it!
---
Grace 25th Anniversary Celebration - Saturday 10th November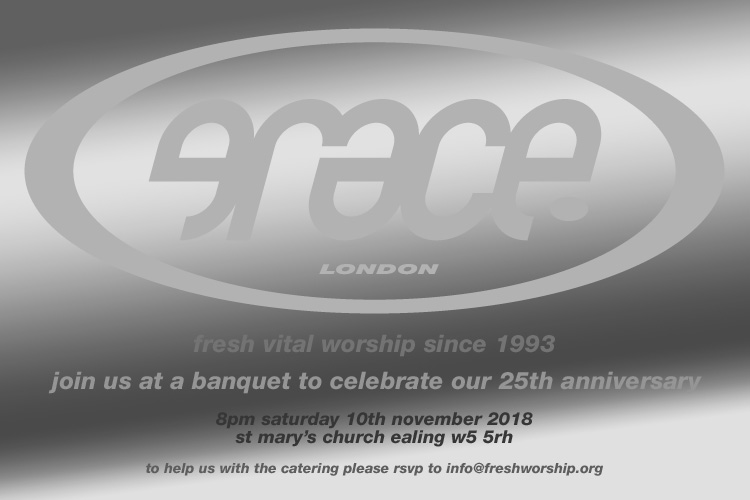 We would love to see you on November 10th for a meal and celebration of our 25th anniversary.
Grace began on Sunday 7th November 1993, with a service called 'Grace' and Dave Tomlinson as guest speaker. We can't quite believe that was a quarter of a century ago. The evening will revolve around a celebratory meal, with plenty of stuff to bring back memories, and also look to the future - Grace 50th in 2043? It will be great to see as many old friends and members as possible.
Please let us know at info@freshworship.org if you intend to come, it will help with the catering.
---
Hünkerîng Døwñ: Harvest, Hospitality, Thanksgiving - Saturday 13th October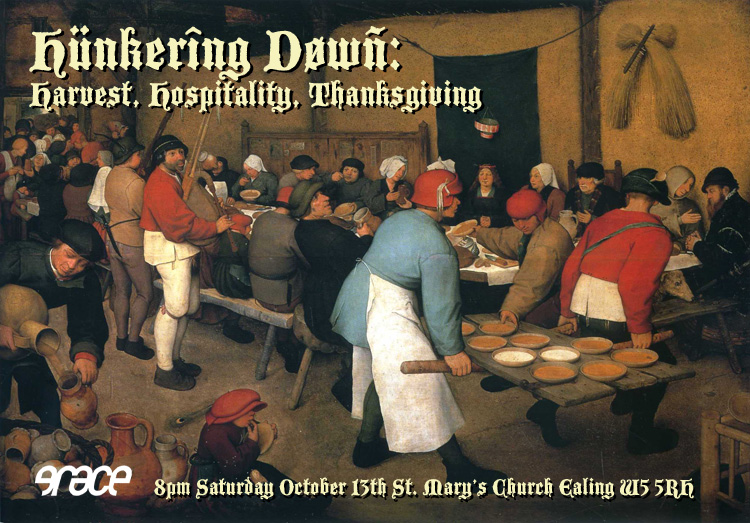 Join us at Grace for an evening with unusual punctuation.
---
Oblique Strategies - Saturday 8th September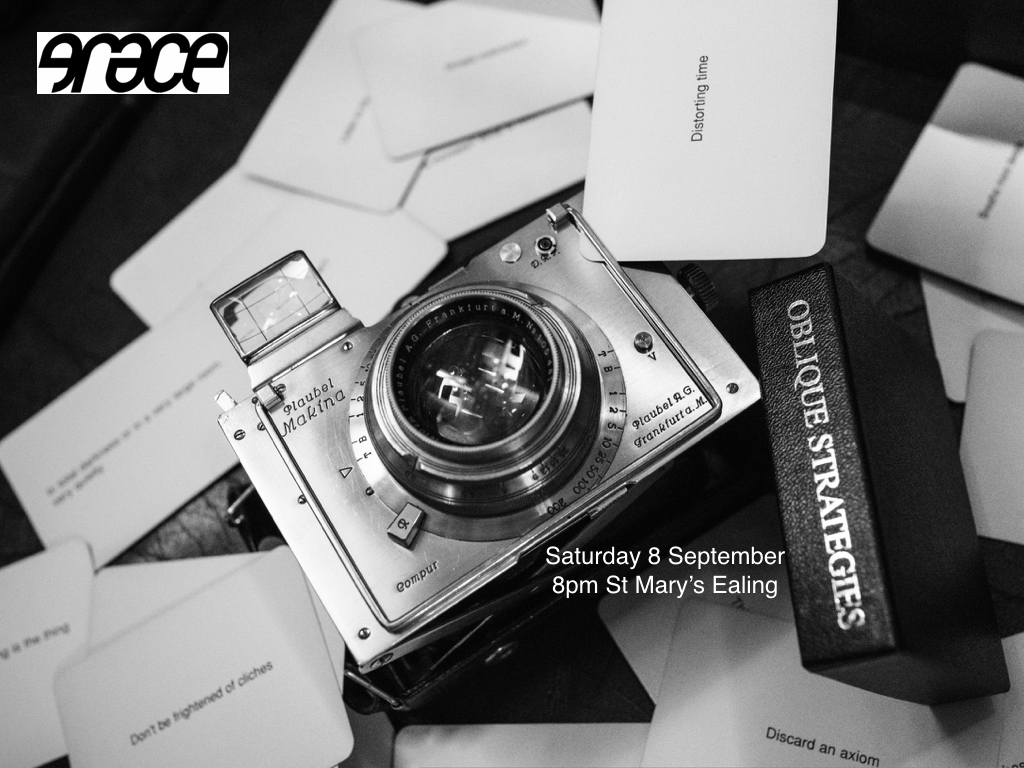 A new season of Grace kicks off this Saturday with Oblique Strategies. There is a photography exhibition that will be hanging in St Mary's church put together by the Ealing London Independent Photography group which has a couple of Grace members as part of the group. The exhibition is part of BEAT - the Borough of Ealing Art Trail. It's called Oblique Strategies inspired by Brian Eno's cards of that name - each photographer was given a card at random and the photos are a response to that. It will look great suspended in St Mary's and it's wonderful that we are able to use the space in the middle of the exhibition for Grace. Grace itself will interact with the photos and explore a couple of spiritual practices using photography. As ever there will be a cafe afterwards.
Below is the flyer for the exhibition.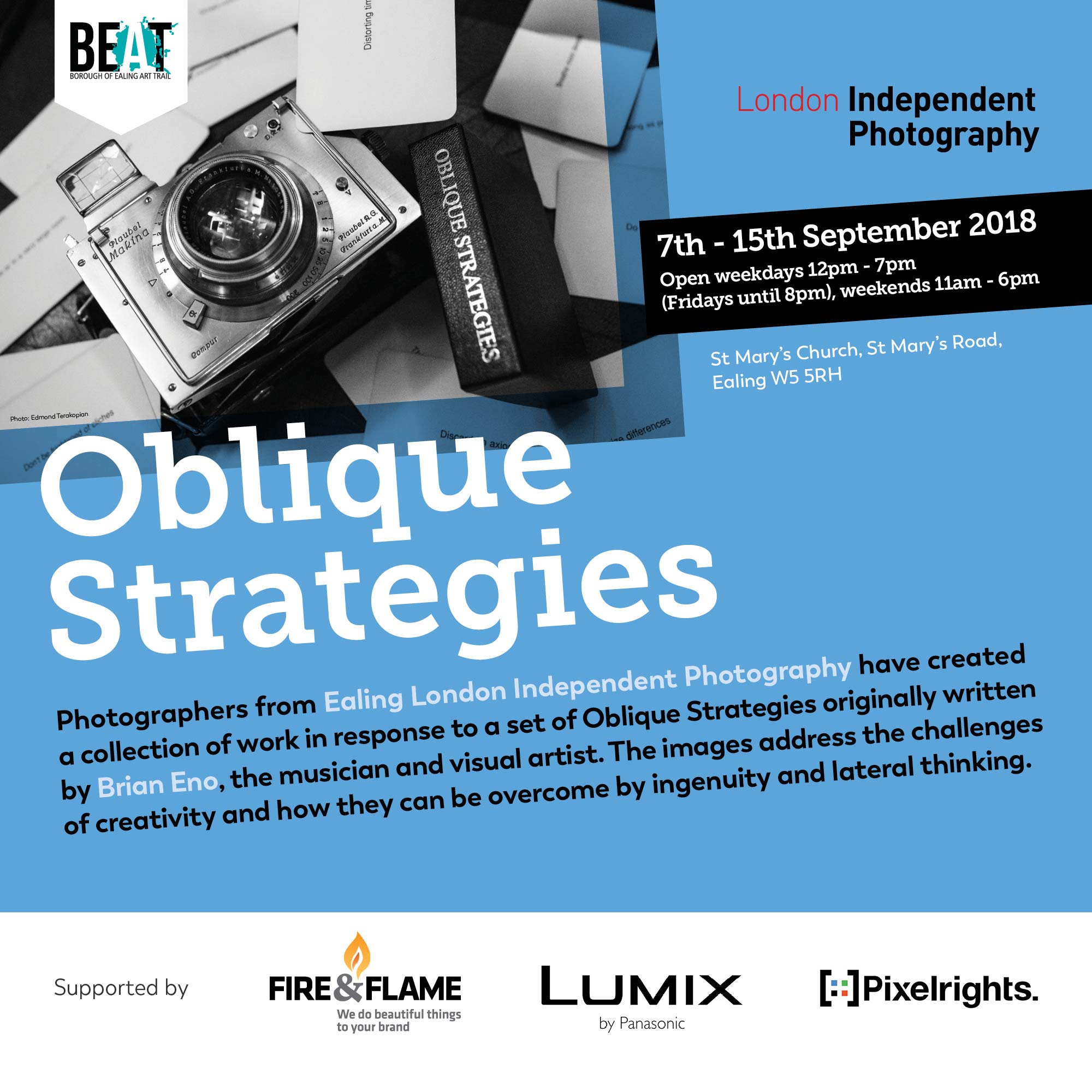 If any of you would like to come to the private view/opening night you would also be welcome at that which is Weds 5th September 7-9:30pm