Newsfeed archive 2016-17
---
BBQ - Saturday 8th July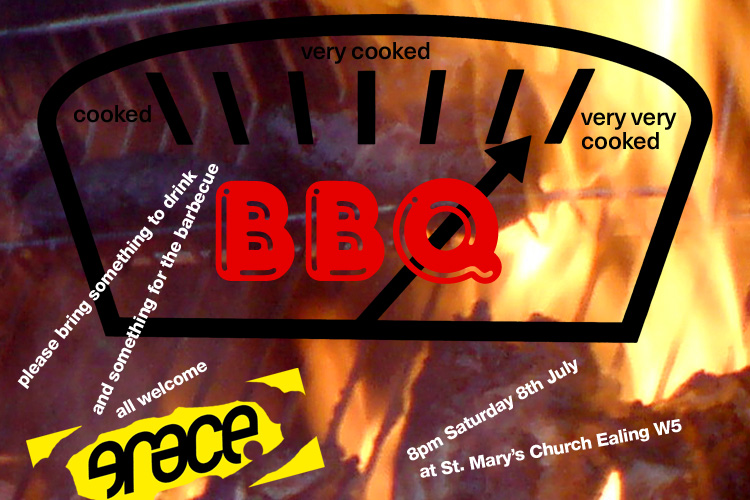 Time for the summer barbecue again! All welcome - please bring something to drink and something for the barbecue. It will be helpful if you can let us know that you're coming via info@freshworship.org, so we have some idea of numbers.
---
Good - Saturday 10th June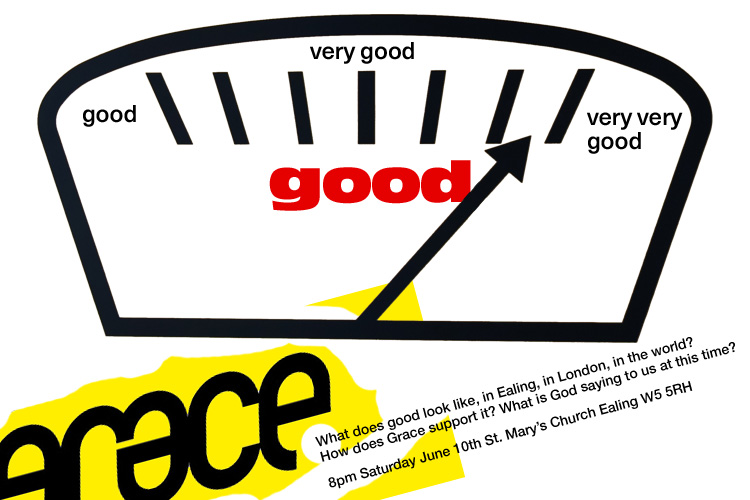 Jeremiah 29:7: Work for the peace and prosperity of the city where I sent you into exile. Pray to the Lord for it, for its welfare will determine your welfare.
Proverbs 11:11: Good people bless and build up their city, but the wicked can destroy it with their words.
What does good look like, in Ealing, in London, in the world? How does Grace support good and how do we support one another as we do good? What is God saying to us at this time? Join us for Communion, conversation and prayer.
---
Retreat - Saturday 13th May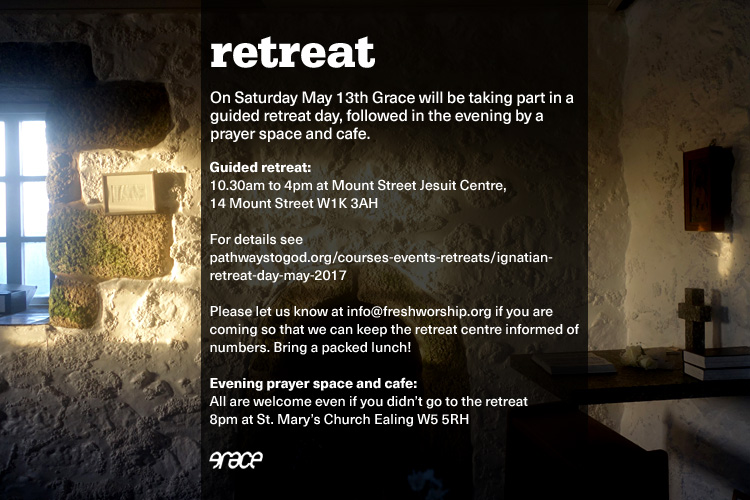 At last year's planning day we came up with several aspects of community life to reflect on, one of which was the value of pilgrimage and retreat. So for Saturday 13th May we will take part in a day retreat 10.30am - 4pm at the Mount Street Jesuit Centre in the West End. For details see here. All are welcome to join us, but it will be helpful if you can let us know that you are coming so we can keep the Centre informed about numbers. The retreat is open to all comers so it may not just be Grace people there. And please bring a packed lunch!
In the evening we will run a quiet prayer space in St Mary's from 8pm, alongside the cafe. You're very welcome to join us even if you weren't at the retreat.
---
Easter Dress Rehearsal - Saturday 8th April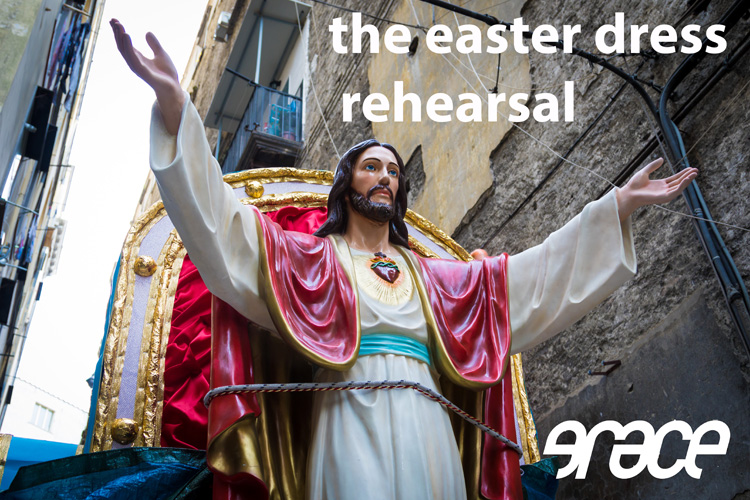 Join us at Grace for an Easter Dress Rehearsal - an opportunity to reflect on some of the themes of Easter in advance.
---
Beloved - Saturday 11th March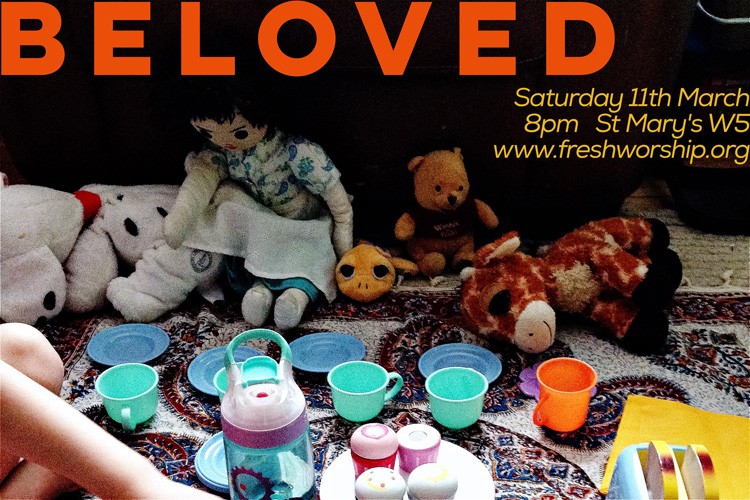 You are beloved. Will you be loved?
Join us to think about how we are loved by God and what holds us back from accepting that love.
Saturday March 11th, St Mary's Ealing, 8pm
---
Unwelcome - Saturday 11th February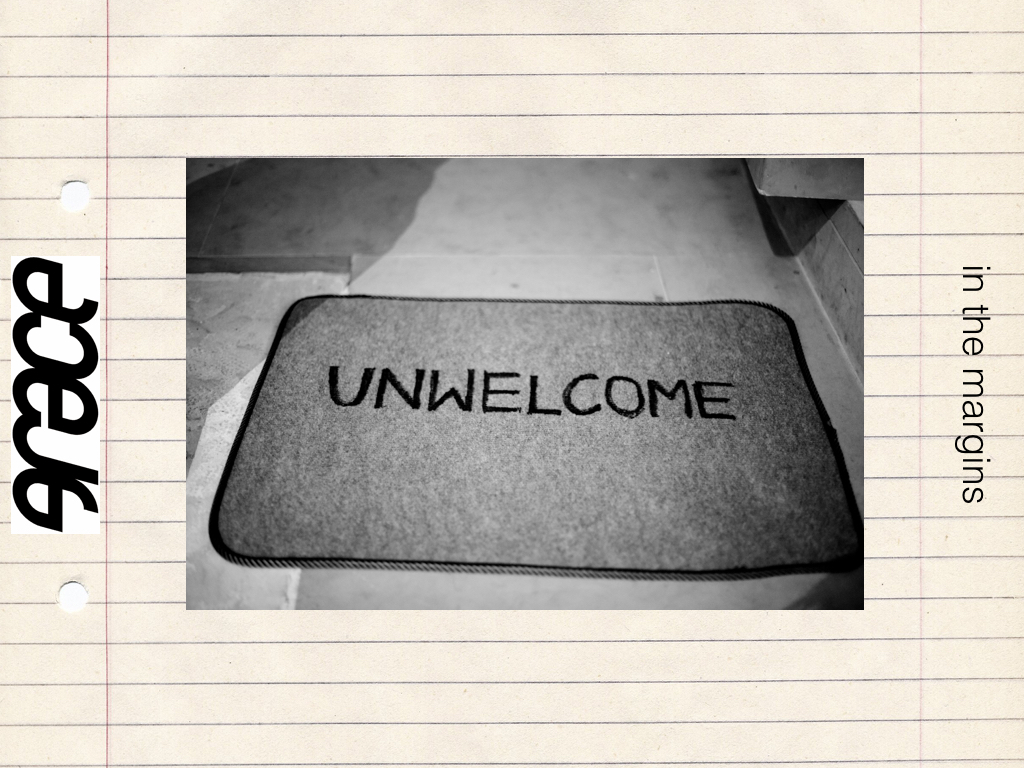 In light of the mood of escalating unwelcome for those in the margins in Britain and the USA, February's Grace will be a space to revisit the story of Jesus and see what light that might shed on how we might respond. Bring your troubles, questions, conversation, anxieties and prayers. There is room round the Grace table.
Saturday February 11th, St Mary's Ealing, 8pm
---
Progress - Saturday 14th January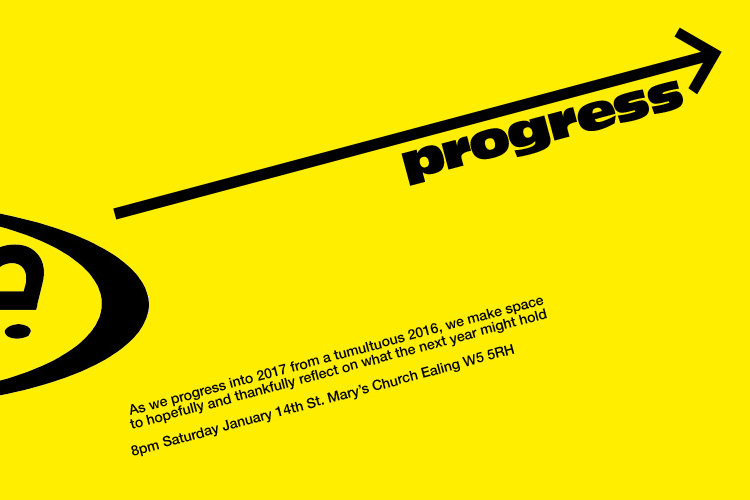 Join us for the first service of 2017, in hopeful and thankful reflections as we step into a new year.
---
Seeking Light was pretty dark
In reality it was even darker than these photos! People had only a candle in their hand to read Ian Adams' texts that were hung up around the space. The archive liturgy is here.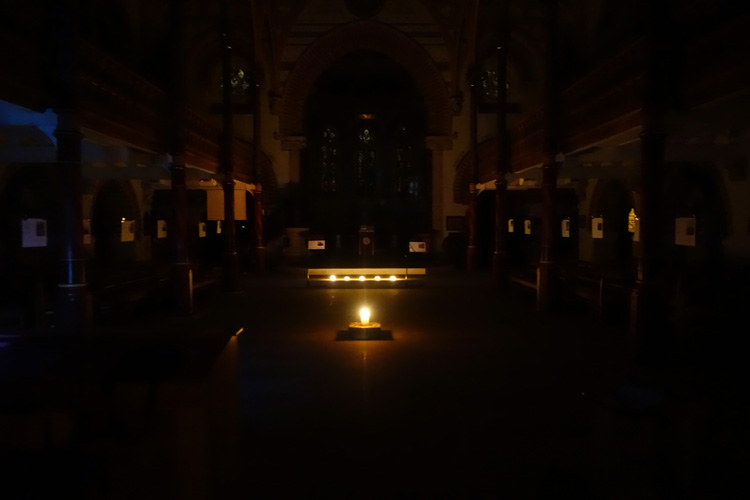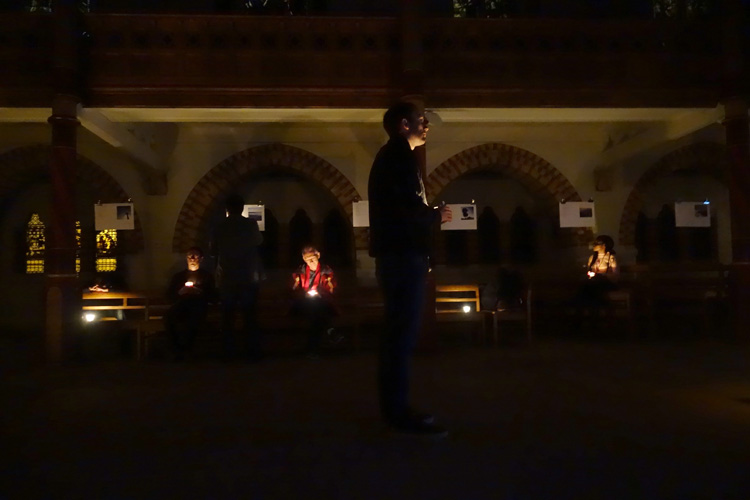 ---
Seeking Light - Saturday 10th December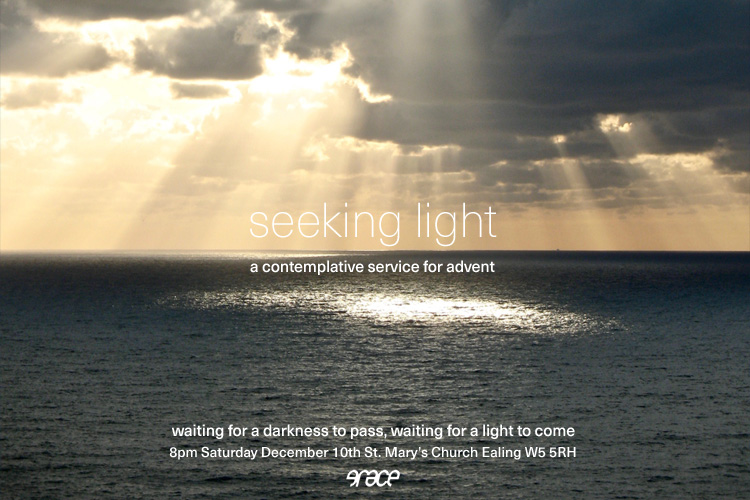 Advent is particularly associated with waiting. But if we can work out how to wait here, in this season, we may better understand how to negotiate the waiting times whenever they come. Whether we are waiting for a darkness to pass - or yearning for a light to come, the waiting and the yearning deserve our care and our attention.
Join us in a contemplative service of darkness and light, based on reflections by Ian Adams.
---
Stranger in a Strange Land - Saturday 12th November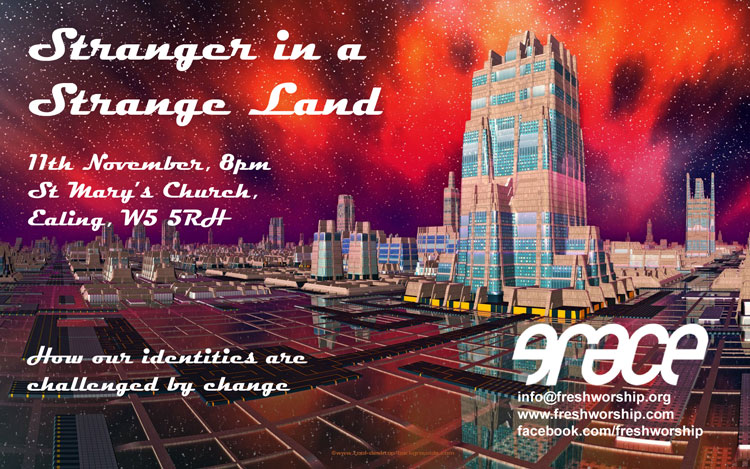 How does change challenge our identity? How do we handle situations in our lives when things familiar seem no longer so? We in British society are coming to terms with a future Brexit. Come and hear from those who have had to face even greater change, both individually and for their society.
---
Iceberg - photos and archive
Some Iceberg photos here.
The service materials including slideshow are in the archive here.
---
Iceberg - Saturday 8th October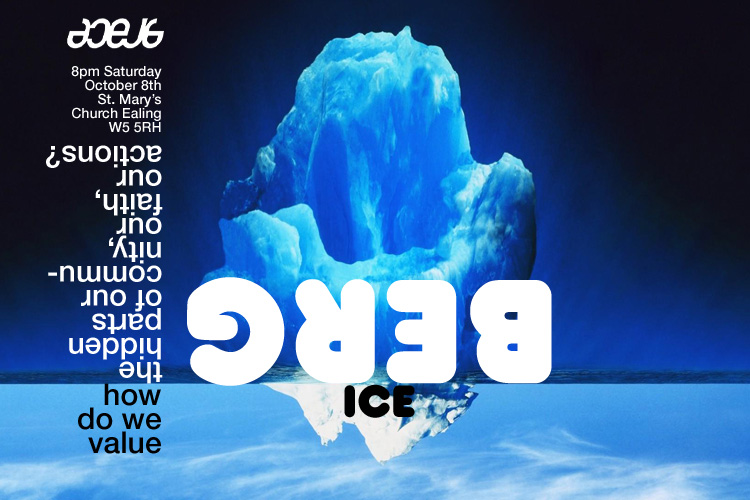 The lower part of the iceberg is invisible, immeasurable - and yet it supports everything that we see. How do we measure the worth of the hidden parts of our communities, our faith, our lives? All are welcome to join us in an 'underwater' exploration.
---
Seeds photos
Seeds photos here. It was beautiful.
---
Seeds - Saturday 10th September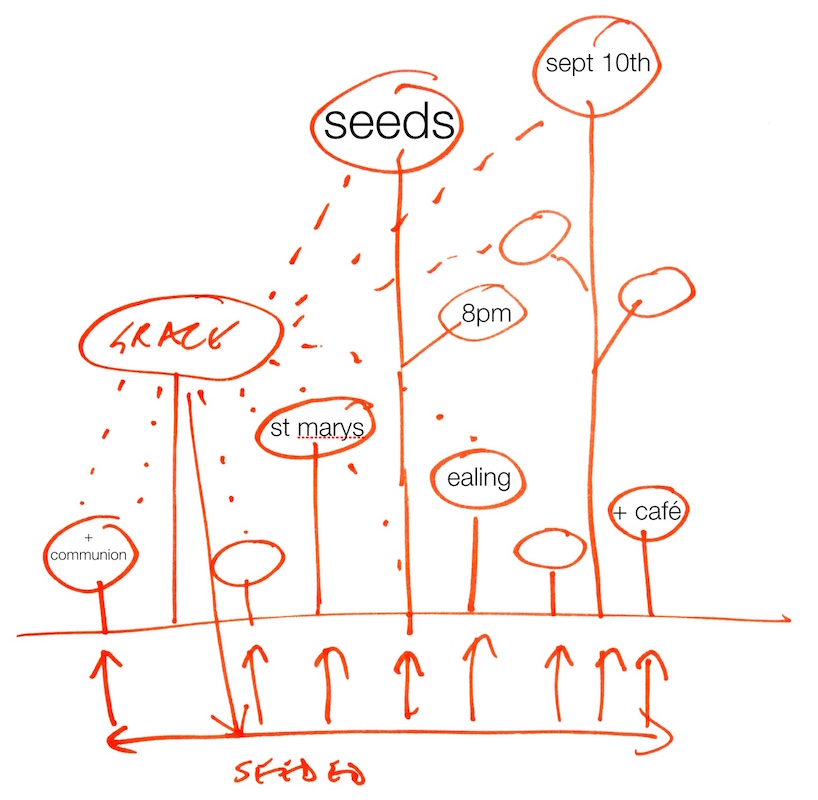 Join us for the first Grace of a new season. Seeds are everywhere in early autumn, falling and drifting, eaten and buried by humans, animals and birds, waiting secretly in the ground until the spring.
---
2016-17 dates above
Service dates for 2016-17 are now in the drop-down menu above, for your diary. More information about some of the strange-sounding titles will be forthcoming later! In addition we are thinking of doing a Holy Week installation in St. Mary's, and a series of Lent meetings.
Our primary focus this year is community - how to make it, how to strengthen it. As part of this we intend to remake our monthly planning meetings as community meals and let the planning happen in other ways. Whatever the pressures of our lives, we can always find time and energy for eating and drinking together!